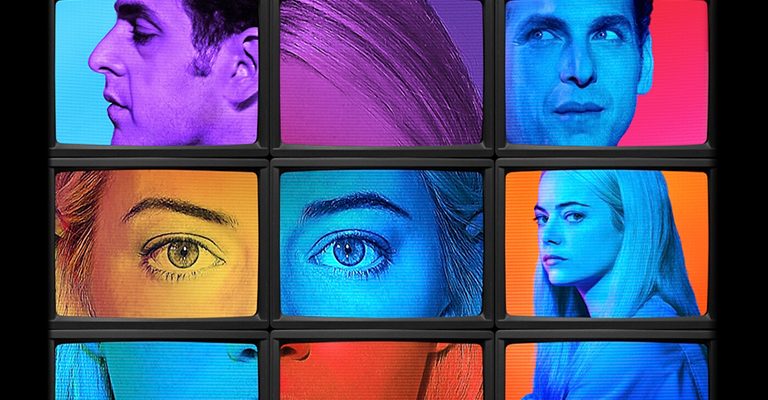 Claudia on 9/13/2018
TV show highlights in autumn - when it's getting cold outside
(Photo Credit: Netflix)

September has always been the strongest month of the year - in terms of new tv shows at least. The summer holidays are over, the days are getting shorter again and you make yourself comfortable at home on the couch with the various streaming services. Singles are not feeling lonely anymore as soon as they are united with their serial heroes and couples escape the gray everyday life with "Better Call Saul", "Ozark" and Co. But not only the sequels are amazing - especially the upcoming ones promise a lot. Netflix, Amazon Prime, Sky, the good old free TV - we've collected some highlights for your next bingewatching marathon.
"Maniac" starring Emma Stone and Jonah Hill
Another series with an all-star cast: Academy Award winner Emma Stone ("La La Land") and Academy Award nominee Jonah Hill ("The Wolf Of Wall Street") go crazy ... Entrepreneur son Owen (Jonah Hill), who is suffering from schizophrenia, and relationship-impaired Annie (Emma Stone) are participating in a drug study by Dr Mantleray (Justin Theroux). The doctor promises to be able to eliminate all mental pain with his drug. However, the side effect seems to be that Owen and Annie prefer to stay in their fantasy mindset than to return to reality. The ten-episode adaptation of the Norwegian series by Espen PA Lervaag was realized by director Cary Fukunaga ("True Detective") and author Patrick Somerville ("The Bridge - America"). Start is on 21 September at Netflix.
"Kidding" starring Jim Carrey
In "Kidding" Jim Carrey is an entertainer of America's children television named Mr. Jeff Pickles, whose life in front of the camera is always colorful and happy, but in reality it's a mess. Soon, the boundaries between show and reality blur in his head and a nice man in a cruel world is slowly going insane. The ten-part Dramedy was realized by Michel Gondry and starts on September, 9th at Showtime. Jim Carrey and Gondry had already been working together for the movie "Eternal Sunshine For The Spotless Mind" starring Kate Winslet and Kirsten Dunst.
"Sharp Objects" starring Amy Adams
And another series in which a Hollywood star has inherited the leading role. A heroine who cuts words into her flesh. The HBO series "Sharp Objects" tells why injured women often hurt themselves. Camille Preaker (great: Golden Globe Winner Amy Adams), a crime reporter who suffers from alcohol abuse and was recently released from a psychiatric hospital after years of self-harm, returns to her hometown Wind Gap, Missouri, to investigate the murders of two young girls. The task leads her back to her parents' house under the critical eye of her mother Adora, a small-town personality who forces Preaker to confront some personal demons. Available on Sky!
"Counterpart" - Cold War in a parallel universe
Academy Award winner J.K. Simmons ("Whiplash") plays the UN bureaucrat Howard Silk, who works in a Berlin office - without realizing that the transition to a created in the Cold War parallel world is monitored in this office. When Silk suddenly sits face to face with Howard Prime (also Simmons), his confusion increases.The first ten episodes of the series by Justin Marks ("The Jungle Book") is availabe at the new Starzplay Channel of Amazon Video on September, 28th.
"Somewhere Between" starting September, 28th on Netflix
The ten-part mystery thriller by Stephen Tolkin ("Brothers & Sisters") is the adaptation of the South Korean series "God's Gift: 14 Days" from the year 2014. In the US remake Paula Patton ("Mission: Impossible - Phantom Protocol ") plays the role of the journalist Laura Price, whose daughter Serena (Aria Birch) is killed by a serial killer. When Laura wakes up a week in the past for some unknown reason, she tries to stop the unknown killer with ex-cop Nico (Devon Sawa) - and gets in the way of the fate.
"Babylon Berlin" finally in Free TV
Almost one year after their Sky debut, the most expensive German series production, based on the best-selling thrillers by Volker Kutscher, celebrates its free-TV premiere. The central character of the 16 episodes, directed by Tom Tykwer, Achim von Borries and Hendrik Handloegten, is commissioner Gereon Rath (Volker Bruch) who has to move from Cologne to Berlin. Shortly before the collapse of the Weimar Republic he has to solve the case of an unidentifiable corpse what torns him into an abyss of organized crime, corrupt police and political conspiracy. From September, 30th you can watch the series every week at 8.15 pm in Das Erste.
But enough the read - whether Google Chromecast, Amazon Firestick, Smart TV or just the good old laptop... Start your favorite "Flimmerkiste" and get into binge watching mode ...