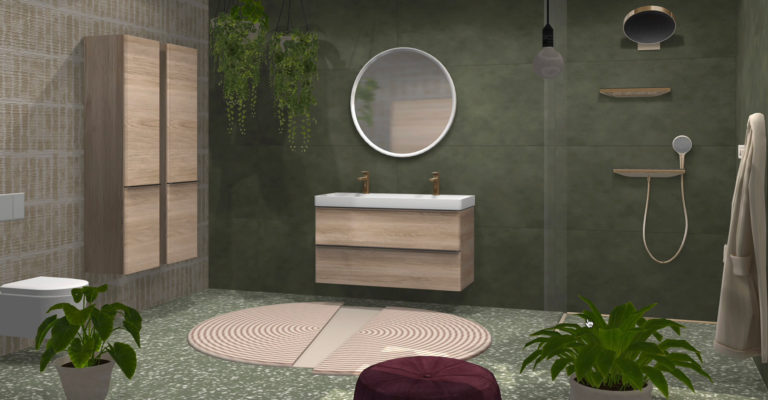 Philipp on 7/24/2023
Digital Industry Innovation: hansgrohe and Demodern launch the first "Inspirator Tool" for individual bathroom design.
Schiltach/Cologne, July 24, 2023 - As part of its realignment as a designer of comprehensive bathroom experiences, premium manufacturer hansgrohe is embarking on a completely new path and significantly expanding its digital offerings with the "Inspirator-Tool." Developed by the technology agency Demodern, this tool reimagines the user journey for hansgrohe's target audience by engaging potential customers during the inspiration and orientation phase. Creating and providing such digital services, like the Inspirator-Tool, are integral to hansgrohe's digital strategy. The application is now accessible to all interested parties through the hansgrohe website and is expected to be utilized in collaboration with retail and trade partners in the near future.
"With our expanded product portfolio, we are responding to a changing consumer behavior. Today, customers want to create holistic bathroom experiences rather than searching for individual sanitary products from different manufacturers, and they prefer it to be as uncomplicated as possible," says Marc André Palm, Head of Global Brand Marketing at hansgrohe. "So, we asked ourselves how we could make it easy for them to achieve their ultimate dream bathroom. The Inspirator-Tool is the answer - an invitation to be inspired and try out different combinations and product variants. It also helps them find the right implementation partners."
The WebGL-configurator, which is also optimized for mobile use, covers a wide range of new and existing hansgrohe products, including bathroom furniture, ceramics, fittings, showers, and accessories. Utilizing high-end 3D real-time product visualization, users can gain an accurate impression of what their dream bathroom could look like. With the ability to make real-time design changes, they can experiment with different configurations until they find the perfect look for their bathroom.
"We are convinced that our new Inspirator-Tool will elevate both the purchasing and sales processes to a whole new level," says Björn Ohnemus, Team Lead Global Digital Marketing at Hansgrohe. "By directly involving the users and integrating it into the consultation processes at the point of sale, we will be able to offer an even more personalized and, therefore, better service." "This real-time configurator sets completely new standards for the industry with its visual quality," emphasizes Kristian Kerkhoff, Co-Founder, and Managing Partner of Demodern. "Moreover, we have created a fantastic foundation that can benefit other products from hansgrohe's diverse range in the future."
The Inspirator-Tool was showcased for the first time at this year's ISH in Frankfurt, the world's leading trade fair for water, heating, and air. This marked the starting point for the company's new direction. The application is now accessible on the company's website in Germany and will also be launched in Belgium, Denmark, France, the United Kingdom, the Netherlands, and Austria.