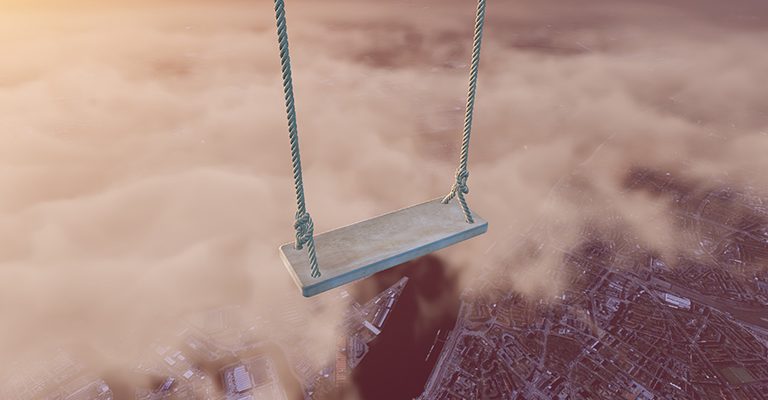 Claudia on 10/17/2019
Swing Above Hamburg: Virtual Reality Swing at the Reeperbahnfestival
"Simply sit on the swing and the world's at your feet. The only way to enjoy a festival feeling, with your head in the clouds." Following this feeling, we let the visitors of the Reeperbahnfestival swing into infinite expanses and heights...
Our Virtual Reality Swing Experience conquers the Reeperbahn Festival
With the Virtual Reality Swing "Swing above Hamburg" we wanted to give the visitors of the Future Playground at the Reeperbahnfestival a playful approach to VR. That's why we adapted and changed the concept of the experience, which we originally developed for the Lufthansa Group together with Kolle Rebbe, in order to create a connection to the festival and the Demodern location Hamburg.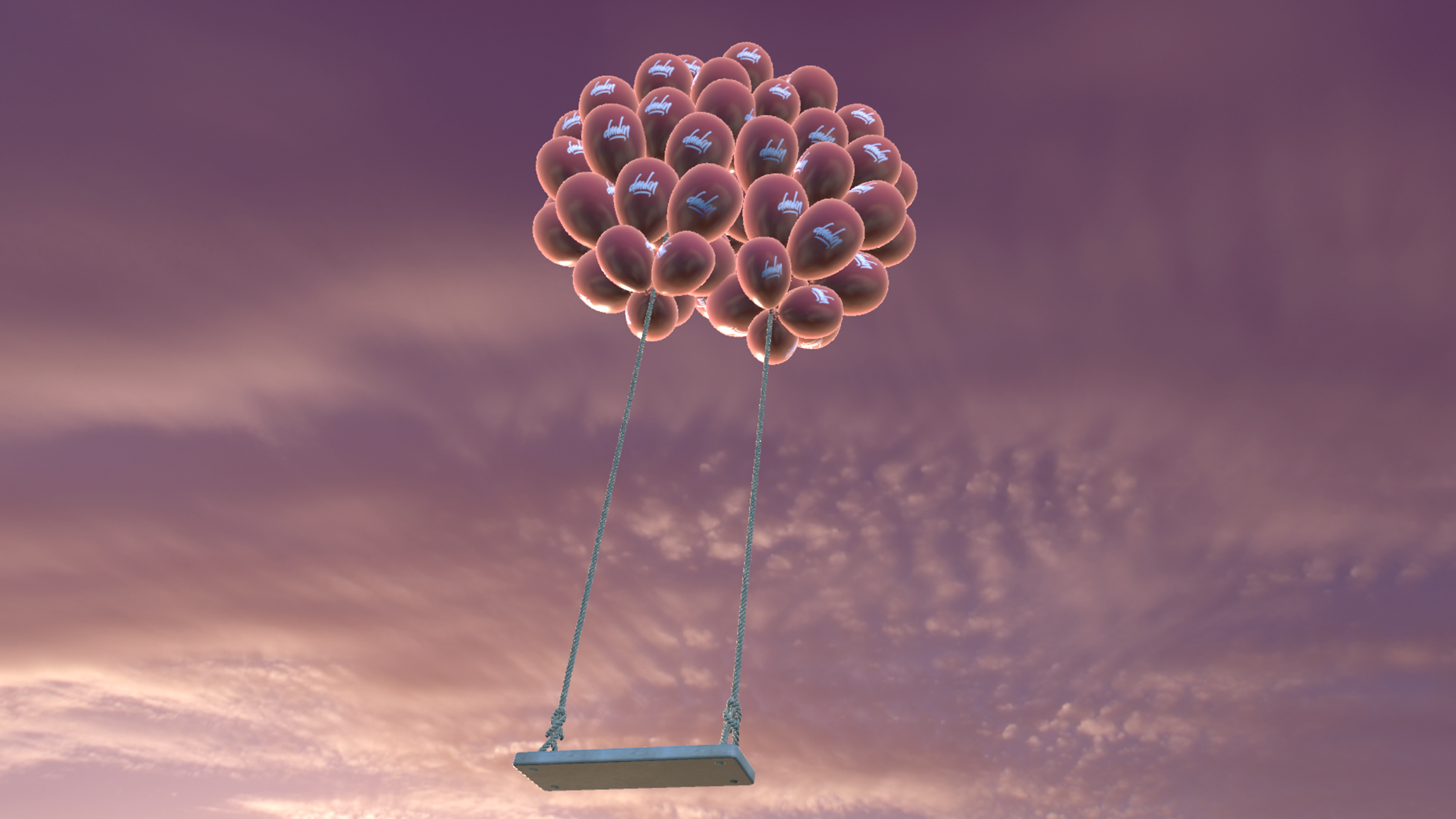 The visitors were swinging above Hamburg's notorious St.Pauli Kiez and the Reeperbahn. This approach enabled them to identify themselves with the application and made the experience more immersive than it was before.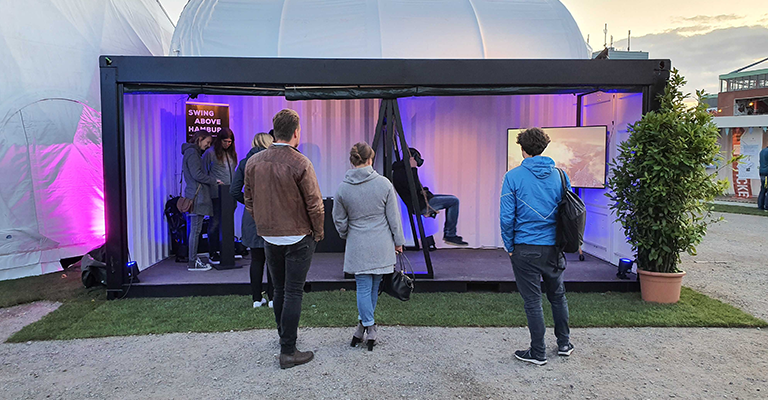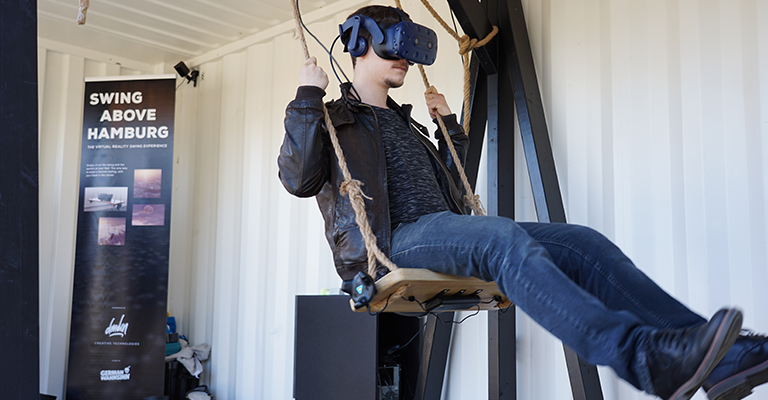 Extended concept
The concept was extended by an interaction of the audience with the user in virtual reality: They could control events (e.g. fireworks) via buttons on a micro-keyboard outside the experience while watching. So we could kill two birds with one stone: The next user knew what to expect and we aroused the interest to try out the VR swing directly.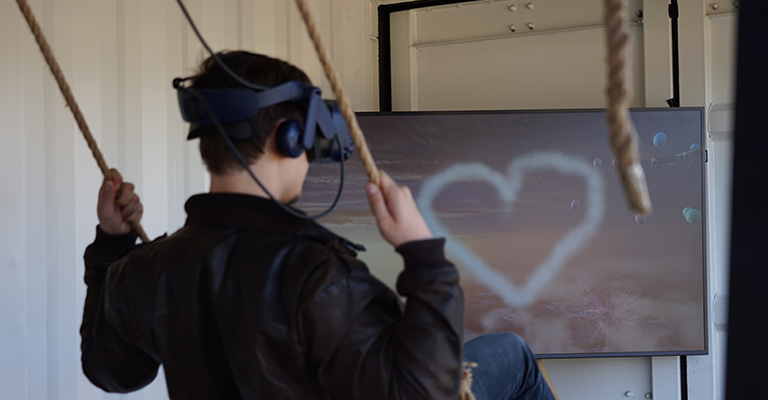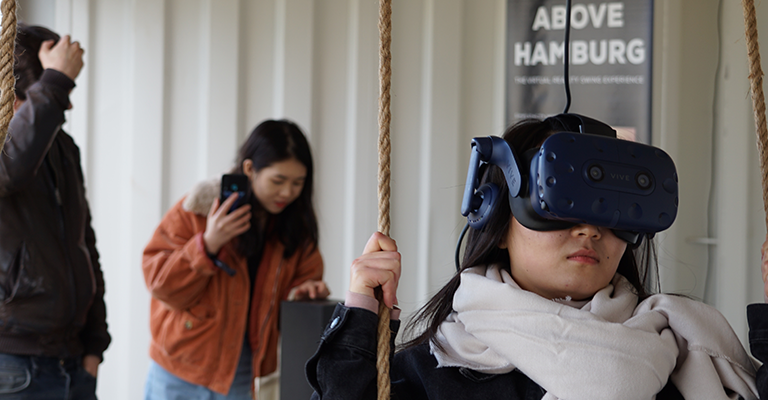 Technical challenge
The biggest technical challenge was the integration of the stream deck so that the viewer could control the events within the VR experience from the outside. Both systems, the stream deck, and the virtual reality application had to be as intuitive as possible that not much explanation had been necessary and both users could enter the experience independently. This allowed us to ensure mutual pleasure and a high throughput rate in a publicly available application.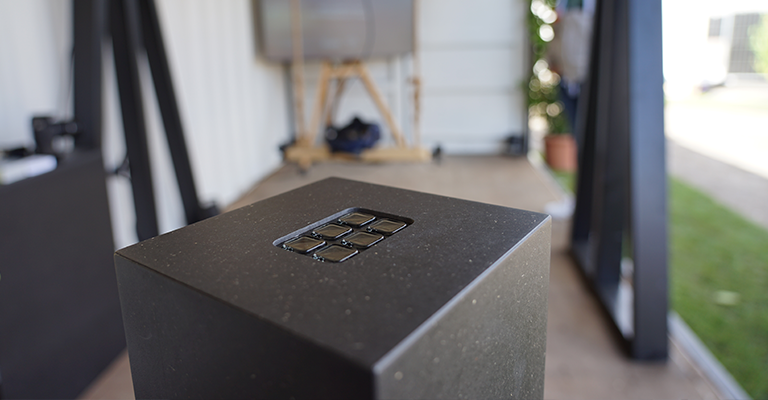 Application development
Based on 3D renderings in Maya, ZBrush and Substance Painter, we then developed the interactive experience and the real-time 3D elements in Unity. The use of the stream deck to involve the audience was a new feature of the experience.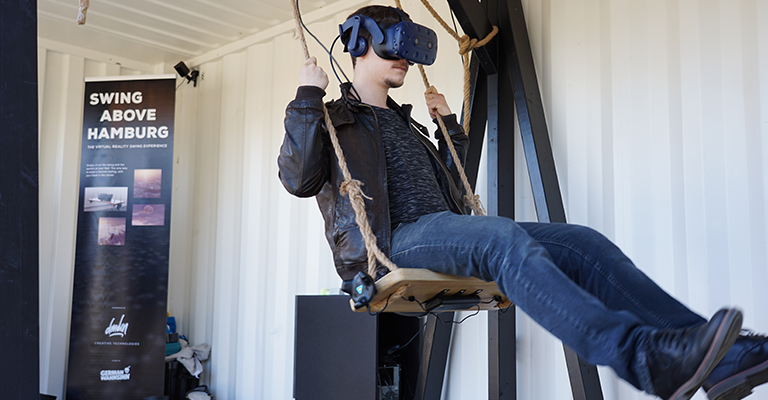 What else you should know...
The visitors are about 5,000 meters above the Reeperbahn Festival in Hamburg, which enabled most users to identify themselves directly with the application.
Immersive experience with binaural sound (by German Wahnsinn).
The viewer can start events in the VR Experience via six buttons and interact with the user in real-time.