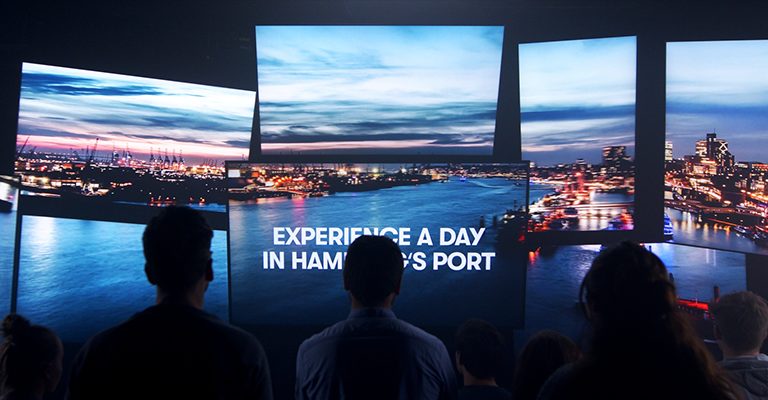 Claudia on 7/25/2019
Micro Amusement Parks: Experience innovative communication
Put on VR glasses, start the application and the visitor of the Senckenberg Museum in Frankfurt is already in the middle of an aquarium. However, there are no underwater animals from modern times swimming around, but primeval dinosaurs!
Here, the visitor experiences the birth of a Jurassic fish in a tropical sea (virtually, of course). In order to both inform and inspire the user, more and more companies are now relying on interactive 3D games, multi-level AR/VR experiences, mixed reality worlds and touch-installations.

It is not so much a question of the domestic pleasure of individual users with VR glasses or 360° content, but rather, of on-site experiences at trade fairs, events, cultural institutions or point-of-sale. They combine innovative technology and entertainment, providing unforgettable events through experiential and playful interaction.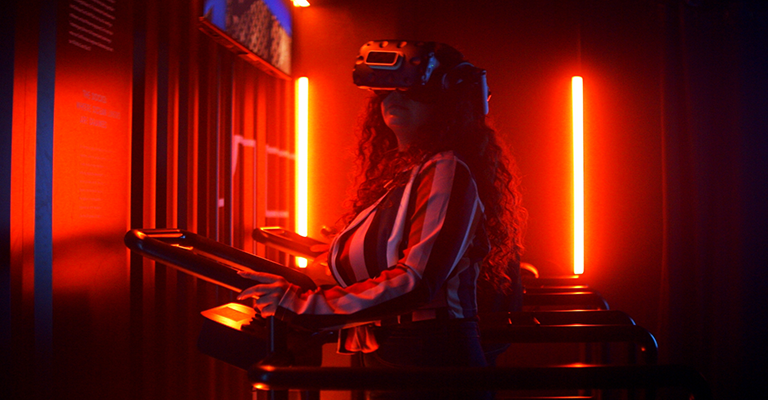 Bild: Virtual Reality Experience in the Discovery Dock in Hamburg
Entertaining Edu- and Infotainment
The stringing together of attractions to form so-called 'micro amusement parks' is primarily aimed at entertaining the guests and evoking childlike enthusiasm. Micro Amusement Parks are also suitable for transforming informative content into an experience opposed to a tutorial or interactive textbook. The decisive factor for success is to combine storytelling and gamification in such a way that the user perceives a story as dynamic and that the content fits organically; For example, when the user plays a key role in interactively shaping a story or its events.

A central theme and self-explanatory technology
In order for individual AR/VR applications to become a series of comprehensive experiences and thus a Micro Amusement Park, an overall conceptual and technical strategy is required, a sort of 'red thread'. A concept based on this alone serves as orientation for all trades in the project - from scenography, UX design and storytelling to programming and developing software.

However, the underlying technology must not become the event itself. Instead, it should be self-explanatory and accessible, so that it does not become a barrier for the user or distract too much from the content and the story.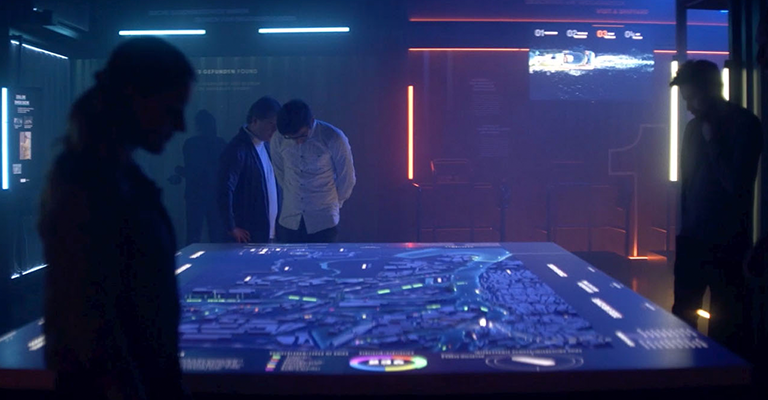 Bild: Interactive port model with real-time data in Discovery Dock in Hamburg
Whether museum or city marketing: Versatile experience moments
Wherever an extraordinary brand experience can be created in addition to purely factual or static information and products, it is worthwhile for companies and brands to consider Micro Amusement Parks as a marketing and live communication measure.
These parks are particularly suitable for trade fairs and live communication - also in the B2B sector. Nowadays, due to the multitude of digital messages and channels, people are often a little indifferent to 'standard content', which they can also consume at home.
If someone decides to visit a trade fair, they want to be inspired by the various exhibitors. Be it educational or playful. This enthusiasm is generated on the one hand by personal contact with the people working at the booth and on the other hand by physical, interactive installations. Visitors will remember a brand that they associate with an exciting, unique experience rather than exchangeable give-aways at inconspicuous exhibition stands.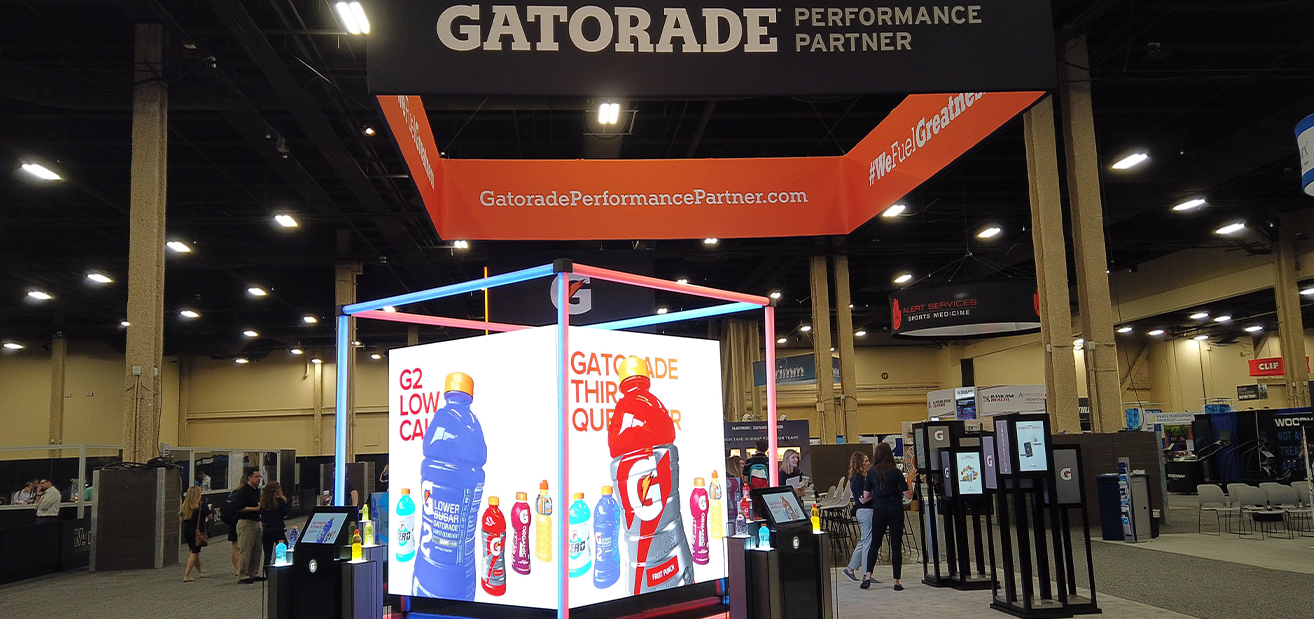 Image: Gatorade booth at NATA in Las Vegas
Micro Amusement Parks are also interesting and relevant for cultural institutions such as museums. But not only there: Especially the tourism segment and the city marketing profit from the advantages of the Micro Amusement Parks, as an example from Swedish Lapland makes clear: An expanding iron ore mine forces a part of the arctic small town Gällivare-Malmberget to a complete relocation. An expensive project that takes almost two decades. In order to share the drafts for the move in advance with the public and obtain their feedback, a Swedish consulting firm developed a virtually walk-in model of the city. In a visually appealing way, the citizens learn what their city will look like in the future and can interfere in the urban planning discussion.
With a series of interactive Mixed Reality applications, historical or tourist places and sights become an experience. This is what happened at the Discovery Dock of DuMont, a completely new interactive permanent exhibition in the Port of Hamburg that is visited daily by hundreds of visitors from all over the world.
The Discovery Dock offers a glimpse behind the scenes of the world of the Port of Hamburg and conveys the multifaceted nature of the Port of Hamburg in a playful way using state-of-the-art virtual reality technology.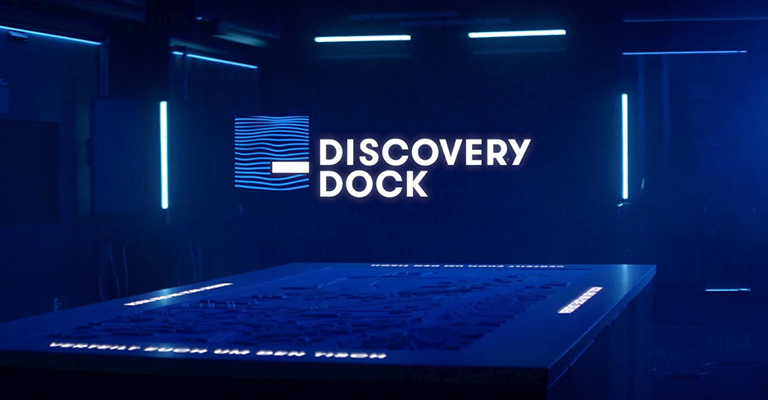 Image: Discovery Dock in Hamburg
Monetarized Micro Amusement
However, Micro Amusement Parks are not only suitable as a marketing measure, but also as a sales channel: By providing a part or individual exhibits of the Micro Amusement Park on Virtual Reality platforms and stores (e.g. in the Steam or Oculus Store), companies can monetize Micro Amusement Parks - or parts of them. Especially museums or the trade profit from this, because they enable a virtual visit or a virtual showroom for the broad mass and completely location-independent.
In this case, the experiences are no longer site-specific - as in the case of Micro Amusement Parks. The aim is to generate and inspire attention and visibility through a sneak peak into the Micro Amusement Park. At best, this attracts the user to the actual location of the applications, for example to the museum itself or to the stationary trade.
And this is also the trend: the combination of a site-specific Micro Amusement Park and individual applications that can also be used at home offers great potential for companies in many sectors. It remains exciting and hopefully eventful.
Quelle: Lead Digital - article by Alexander El-Meligi - Managing Partner and Creative Director at Demodern Creative Technologies