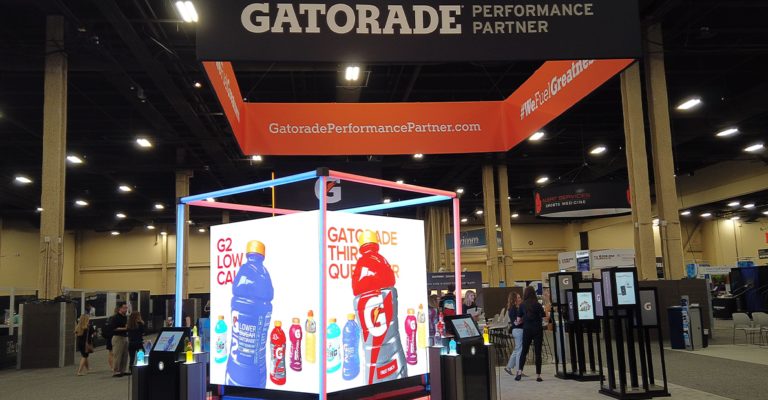 Claudia on 7/2/2019
Gatorade at NATA 2019: Hypeboxes and the hydration cube meet Las Vegas
For the fourth time in a row we partnered up with Mirror Show Management for Gatorade. This year's focus was all about adding enhancements to the customer experience, through a few large scale interactive additions, to UI and UX updates. At their booth for NATA 2019 in Las Vegas people were not only able to experience our updated hypeboxes, they were also able to train some athletes at the hydration cube. We are super happy that from year to year Gatorade has given us the chance to improve and push our exhibits and digital installations for their brand experience forward.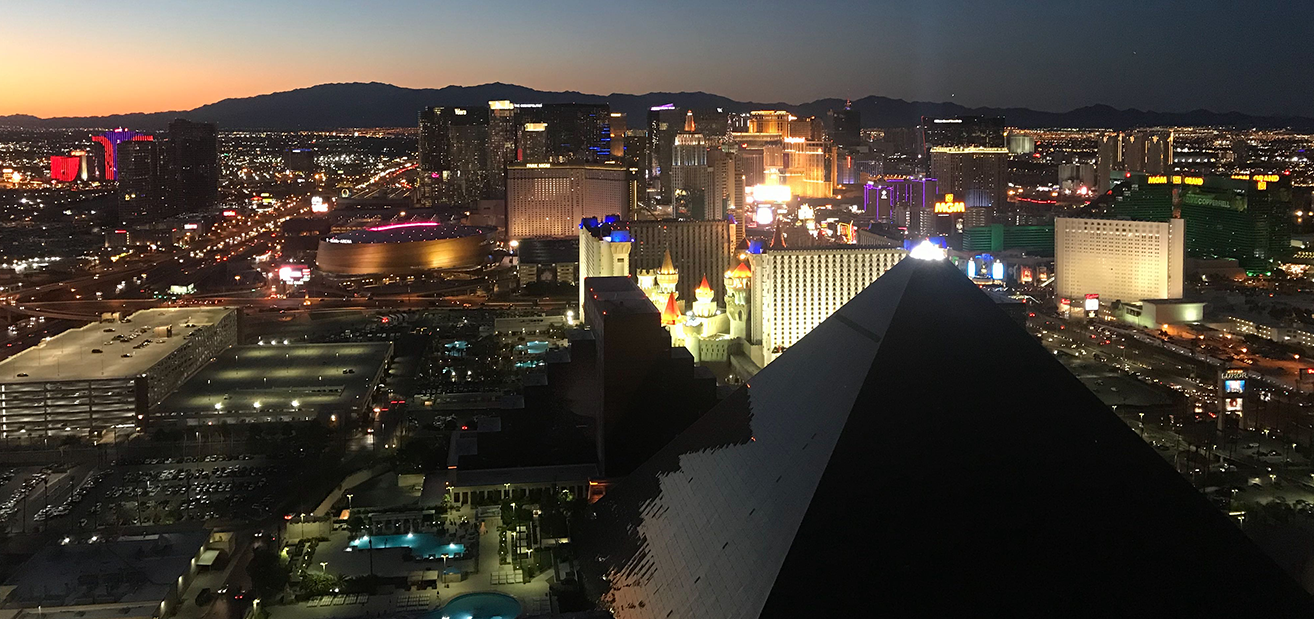 Welcome to Las Vegas
Nice side-effect: Besides the NATA trade fair we again visited the city that is famous for its wedding chapels, Elvis Presley (and not only one of him), many many lights, games for sure and - obviously - its amazing nightlife (Las Vegas hangover included). BUT!!! As some people say: What happens in Vegas stays in Vegas...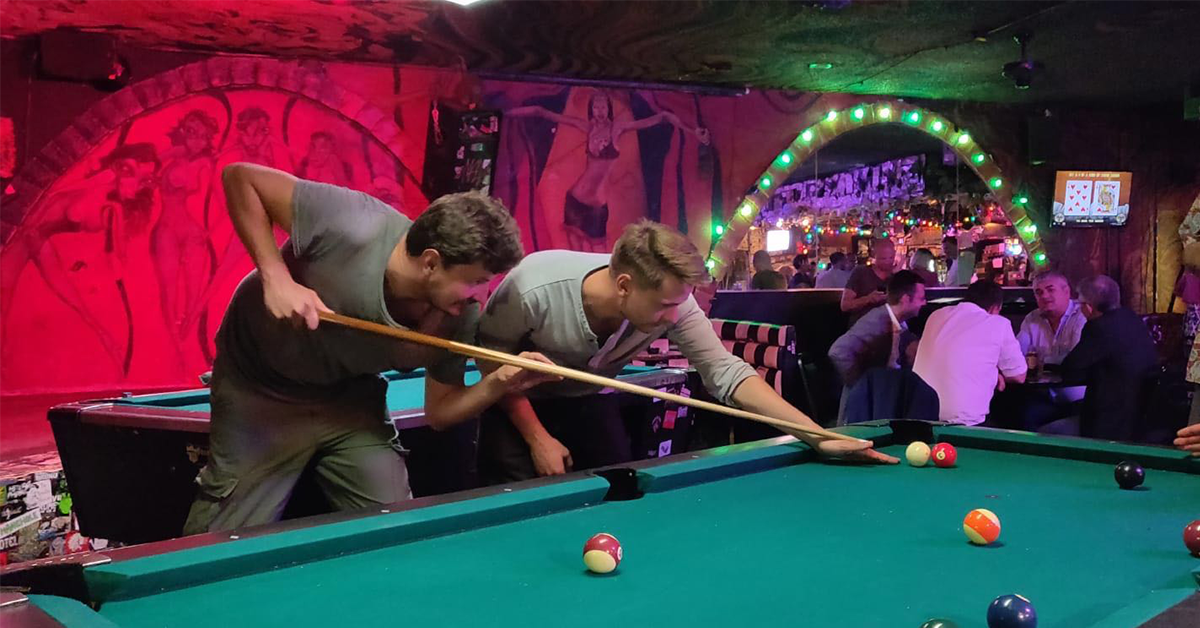 The experience: New UI guidelines and UX updates
Following the new Gatorade UI guidelines we changed the design style from dark to even more bright colors. UX wise we focussed on the players as coaches instead of being the athlete.
The Hypeboxes - still an innovation
Our "Hypeboxes" enabled the users to explore the properties regarding hydration products. Contained in a transparent LED box, we developed interactive animations which gave us the opportunity to reveal the composition, use and properties, as well as a better distribution of the explorable content. Our designers did amazing work by animating the products in 3D.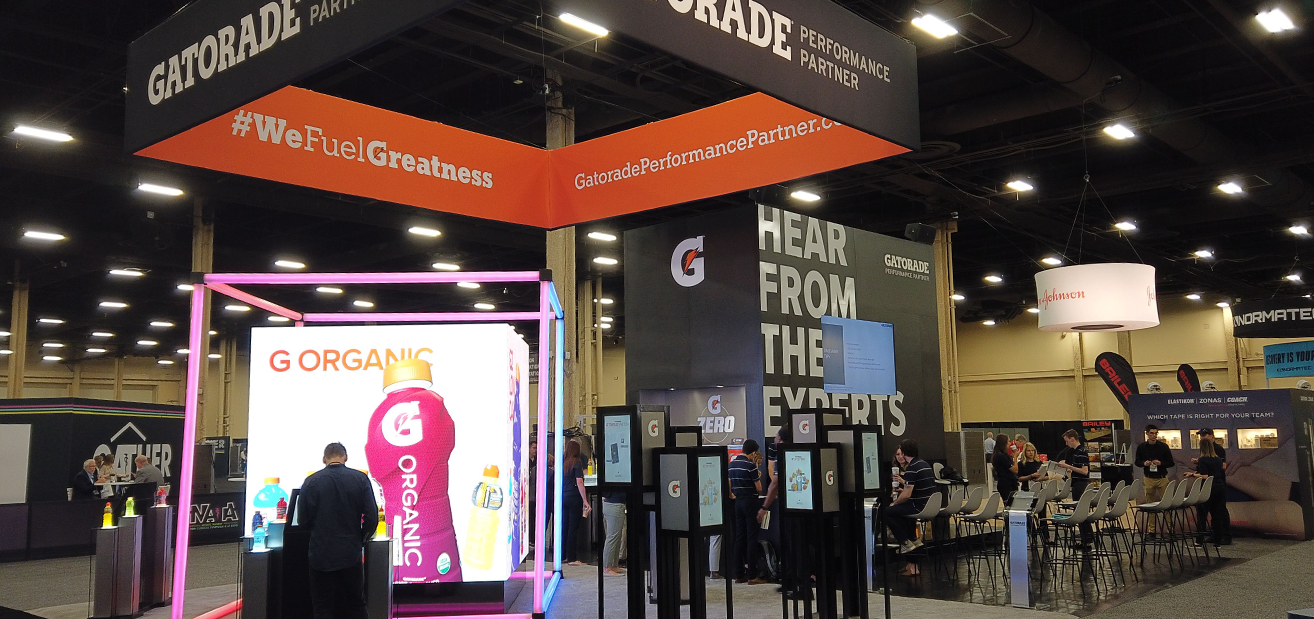 The Hydration Cube - 3D modelling as its best
The cube installation was at the center of the Gatorade experience. Composed of a 3x3 Meter LED Wall and additional frontal touch screens, the installation introduced the hydration information regarding highlighted Gatorade beverages. Visitors were also able to have a look at 3D animated athletes who are doing some sports. After logging in to a station, users were able to train the athletes, check their health and hydration while they are doing trainings like stretching, running, jogging, weight or kettle bell lifting. Our 3D artists did a great job - look at the details like the athletes' muscles for example.