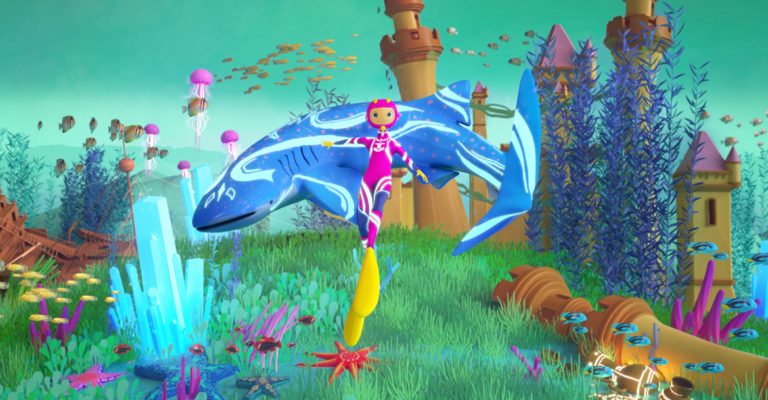 Claudia on 12/16/2019
Insights... Royal Caribbean - High Performance Gaming Area
After winning an FWA Of The Day for Sasu's Mystical Quest - the high-performance gaming area we created for Royal Caribbean International - we shared some behind-the-scenes material and insights.
What did you want to accomplish with the project?
We've always wanted to create a video game - but at the same time, we wanted to offer a tangible product that allows users of all ages to simply hop on and instantly start playing. Additionally, we wanted to create a dynamic game experience built into a mystical and colorful world that links to no specific cultural background in order to maintain a fully neutral approach.
What technical challenges did you encounter and how did you solve them?
Building the balance board was the most challenging task of the project. We had to consider the construction and the development, and it took several rounds of testing and iterations to finally end up with a long-term best feasible solution. This, of course, influenced the overall game concept and mechanics - so it was important for us to keep adjusting accordingly.
The board sensors are designed to measure a sudden weight difference, meaning the in-game result is delayed after jumping. This behavior, against the user's expectation, left us as interaction designers with the challenging task to overcome the technical delay with a proactive interface.
What did winning the FWA award mean to you?
Such a good impulse and good vibes for the team, we're very happy for everyone that was involved in this project, and we're sure they feel proud too.
We fell in love with the world of Sasu, it's such a rewarding feeling to know that others share the same feeling!
Tools used:
Wow! We used a bunch of 3D software for modeling, texturing and animating - some of which include Akeytsu, C4D, Zbrush, Substance Painter / Designer, and nearly every single Adobe Suite for concept and motion. In the end, Unity was the final hub that combined everything and got us to where we are!
Three hot facts:
Sasu was specifically designed as a gender-neutral character.
During the game, we challenged ourselves to exclude any sort of text, so everything had to be visually comprehensible
It was important for us to include users of all ages, genders, and disabilities. This is why we added a little extra controller, allowing users on wheelchairs to control the game by leaning to the right and to the left and to jump by using an extended physical controller.