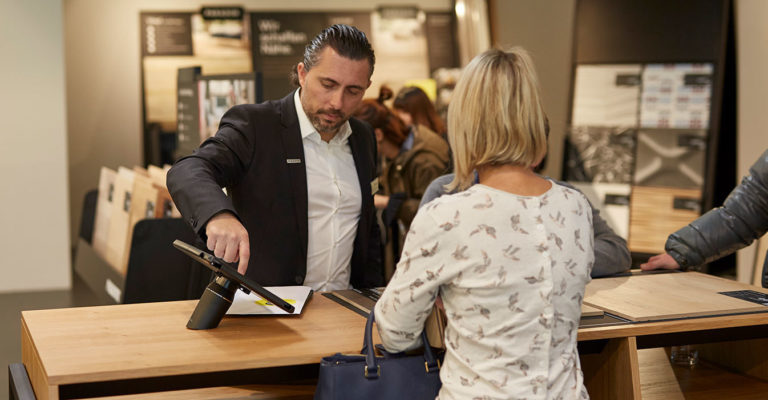 Claudia on 5/20/2019
Inside our Parador Interactive Table for Digital POS
After winning the FWA of the day for Parador Interactive Table for Digital POS we shared some insights with FWA about the installation. Read the blog entry and find out why buying flooring doesn't need to be a kick in the pants anymore.
What did you want to accomplish with the project?
Buying flooring can be a kick in the pants. It's expensive, usually includes getting your hands dirty, and it's hard to visualize how it will actually look when all is said and done. We wanted to help Parador make this process easier and more user friendly, having to cater to both the end user and valuable dealerships that actually control the point of purchase. We didn't want to use technology for the sake of using technology, so we looked to find a hardware solution that would be retail-proof, easy to use, and replicable to other stores.
What technical challenges did you encounter and how did you solve them?
A major challenge, as with most retail applications, was the need to keep the setup as unobtrusive, easily shippable, remote maintainable, plug and play as possible. This meant we also also couldn't rely on stable internet connections (or internet at all), so we created the mobile app as well as the RFID reader infrastructure to be offline ready and only sync whenever internet is available.
What did winning the FWA award mean to you?
It is always fantastic to have the team recognized for their great work, and this especially the case with this project. We take a lot of pride in winning an FWA, and while it was a little unexpected with this project, it makes it all the more meaningful.
Tools used:
iPad App written in Ionic
Raspberry Pi connected to balena.io
RFID readers and RFID tags
Backend to manage the products written in Vue.js
Three hot facts:
There are currently Parador Interactive Tables installed in over 50 locations across the world.
Parador has 460 unique flooring options to chose from.
We created custom PCP boards for the RFID readers, so that's pretty cool.