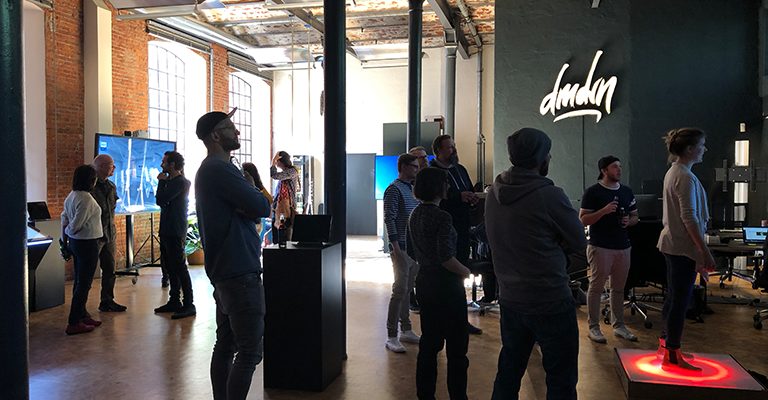 Claudia on 5/17/2019
A lot of Creative Technology and a sneak peak into the Discovery Dock: The Demodern Showroom in Hamburg
At our showroom event, we repeatedly show innovative technologies and creative high-end solutions to touch and experience. Our visitors get inspired by the latest trends and use cases, and have the chance to talk with our experts in concept, design and development, showing them how our ideas and technologies come to life. For this we have transformed our beloved Werkhalle at the Schulterblatt in Hamburg into a micro-amusement park. Big (and also small) came by to hover above the clouds of different cities in virtual reality, configure the IKEA showroom in real-time VR or the dream car at the smart Cities Retail Table, try a digital pinball, moving a small diver through a virtual underwater world or get a sneak peak into the Discovery Dock. Our visitors were able to get to know and try out two of the exhibits exclusively before the official opening of the mixed reality world.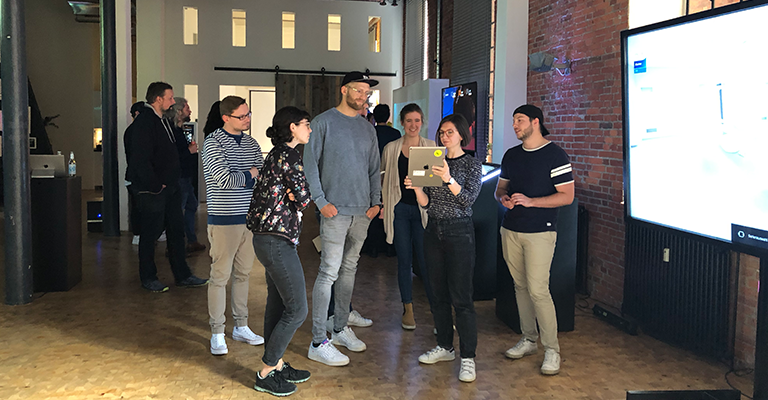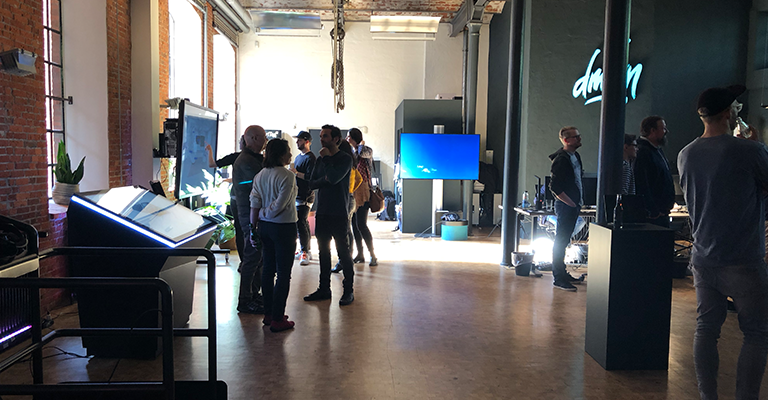 VR-Swing, digital pinball or Jump'n'Swim in a virtual underwater world - Demodern Micro-Amusement Park has been opened
Our VR Swing is already well-known beyond our office borders - it's hanging around in our offices and visitors have the chance letting their feet dangling over Berlin, Hamburg or Cologne virtually. In cooperation with Kolle Rebbe, we expanded this immersive VR swing for Lufthansa's amazing booth at ITB and developed an exclusive Virtual Reality Travel Experience. Our showroom visitors as well as the visitors of the trade show could or can take a look at Vienna, Cape Town, New York or San Francisco from above in Virtual Reality. Simply put on the VR device, select the destination and swing.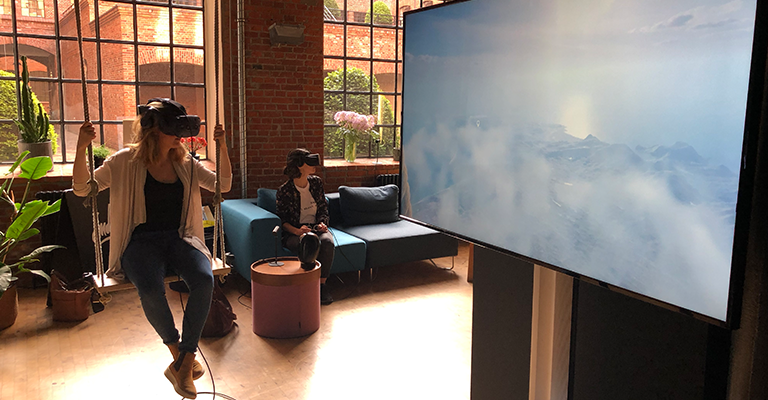 Exclusive Sneak Peak into the Discovery Dock
Discovery Dock is a new, permanent exhibition about the Port of Hamburg. Together with Dumont Media Group, we transformed an empty space next to the Elbphilharmonie into an immersive, interactive experience. Leading the project from initial research, over the idea, to final exhibition in less than a year. Thanks to a unique choreography of mixed reality, projection mapping, and real-time data, it takes visitors from Hamburg and all over the world to places in the port they'd never have access to – in a way they won't easily forget.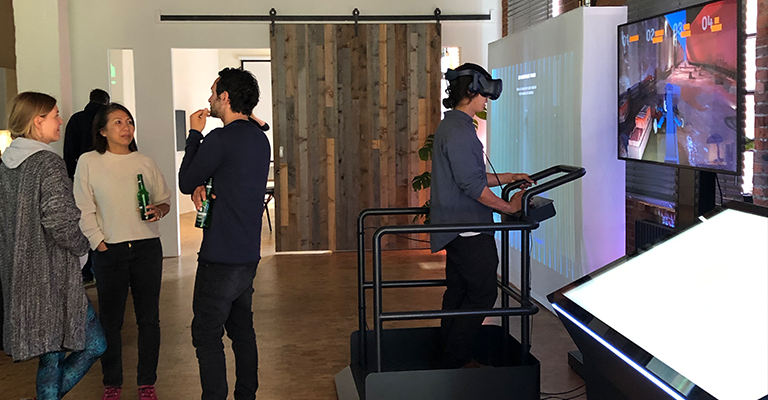 With love to every detail
In Virtual Reality visitors can have a look into Europe's largest dry dock and are able to stand next to a huge ship and have a close look at its huge ship's propeller during the so-called "Blue Hour". For an even more impressive and immersive experience the user stands on a lift and can clearly feel the upward and downward movements.

Incidentally, our 3D artists once again showed great attention to detail: In the dock you can even see bullet holes from World War II. Watch the wall.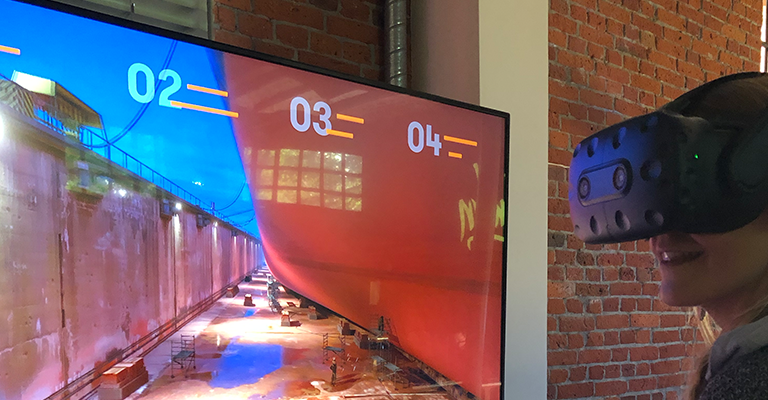 Search for smuggled goods...
Have you ever wanted to help customs find smuggled goods? Visitors of the Discovery Dock, but also those who came by to visit our showroom are able to pick up a flashlight exclusively built in a 3D printer and search with the support of a VIVE Tracker for smuggled goods like coke, alcohol, cigarettes or even animals on an interactive wall. Yes, animals - and some of them are huge...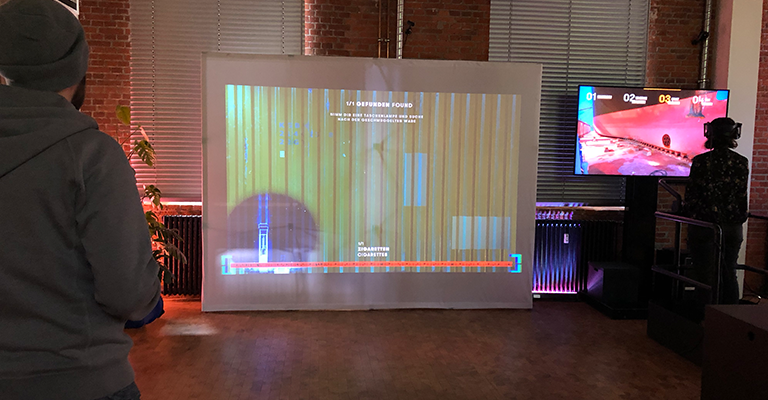 Forget the time while gaming...
... this is possible at us. After an exciting day in the Port of Hamburg our visitors could forget about the exertions of the day while playing a game of pinball or prove their bounce on our balance board we created for a project for our new customer Royal Caribbean. More about this coming soon ...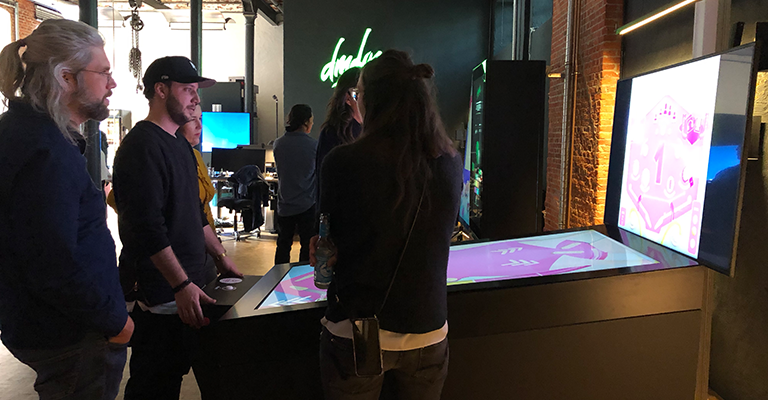 In Hamburg they say Tschüss...
We say goodbye and thanks to everyone who made the showroom in Hamburg happen. And for information: The showroom and its experiences is now permanent . If you are interested, you can simply send us an e-mail to hi@demodern.de. We're looking forward...