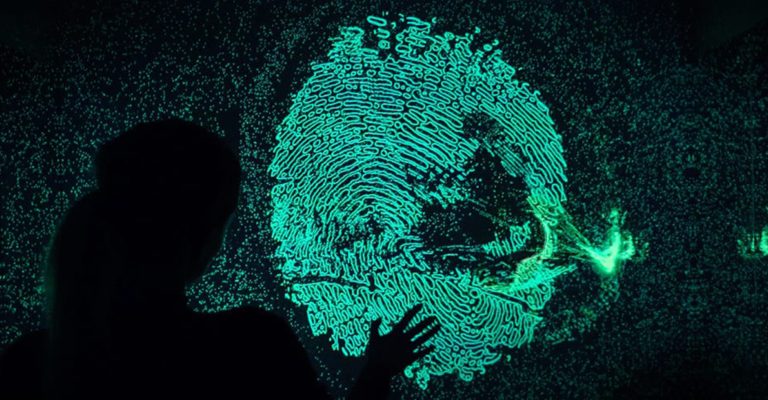 Claudia on 5/6/2019
Inside our Audiovisual Art Experience IM.PRINT
IM.PRINT is an audiovisual and immersive installation that overcomes the boundaries of the physical space. The art experience reveals the beauty of mankind and expresses the beholders inner self. With the spontaneous tap of a finger, each visitor dives into the heart of their identity. After winning an FWA Of The Day award for the experience they asked us to share some insights with their audience - and here we go.
What did you want to accomplish with the project?
The goal was to build an immersive installation for our showroom visitors by using their fingerprint, which corresponds to the core of their identity, as the central element of the visualisation. Additionally we wanted the installation to be easily scalable and modifiable for use in museums, festivals, and brand-related events. For us, it was refreshing to focus deeply on art and design, deferring the need for a problem-solving or product-centered approach.
What technical challenges did you encounter and how did you solve them?
One difficulty was to recreate the shape of the fingerprint with floating particles. This was achieved using image processing to detect and extract the main lines of the fingerprint, defining a specific anchorpoint for each of the numerous particles. The particles are distributed along those structural lines and continuously attracted back to them.
In result the fingerprint is visible until an interaction with the leap motion occurs. As soon as no interaction takes place or the particles are no longer in range of the hand position, they move slowly back to their intended point of origin, organically rebuilding the scanned fingerprint form.
What did winning the FWA award mean to you?
We were both excited and surprised to win the FWA Award on the first day! IM.PRINT started as a fun and explorative side project by playing around with artsy visuals, sounds and a simple concept. It proved that giving freedom to creative people to work on their own abstract or playful vision can evolve into a quality product, that in the end draws people into a magical spell…
Tools used:
The fingerprint scanner Futronic FS80H was used to scan the finger of the visitor interactively, the scanned image was processed using OpenCV to extract the main lines, and the particles were created and visualised using Unity3D. For real-time interaction with the particles the Leap Motion was implemented. Both the Leap Motion and the Scanner were crafted seamlessly into a custom futuristic terminal design, positioned in the center of the room. For the room set up, mirror glass was installed on the surrounding walls and floor to enhance the spatial immersion for an 'infinity room' affect.
Three hot facts:
The project was originally intended for a small TV screen but escalated into an entire room experience.
Sound design was crucial for the room ambience and made up 80% of the whole experience.
IM.PRINT ended up being the most exciting and fun highlight for all ages at our internal showroom event.