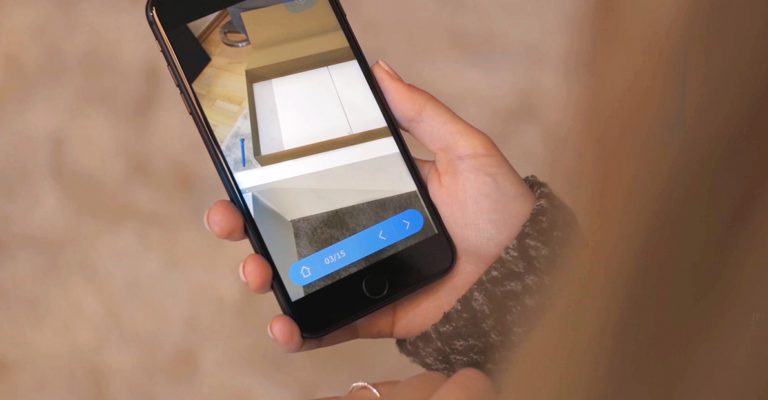 Claudia on 6/26/2019
Inside our little case study: The AR Build Assist
After winning an FWA Of The Day for our little case study AR Build Assist, FWA came back to us and asked for some insights. The AR Build Assist is a case study developed in our lab to make product building clear, comfortable, and collaborative. Augmented Reality redefines classic instruction manuals — becoming an enabler for successful furniture assembly.
What did you want to accomplish with the project?
Shortly before the announcement of iOS 11's ARKit release we identified a gap in the customer experience journey of home furnishing, shortly after, we had our goal: make product building clear, comfortable and collaborative with assistive Augmented Reality.
What technical challenges did you encounter and how did you solve them?
While "Augmented Reality" dates back to 1990, ARKit and it's 'visual-inertial odometry' technique was fresh. Natural light occlusion and detecting surface planes was great, but sadly, real world object recognition between a hammer and a cat is not a thing yet. Alternatively, each build is programmed to highlight (in the AR model) which piece is relevant and which tool to use; helping avoid errors.
What did winning the FWA award mean to you?
We cherish the FWA community and some day would like to join the influentials at club 100 — with AR Build Assist being our second FWA at the beginning of the year, who knows… Additionaly we appreciate the reach and great visibility we achieve with our work.
Tools used:
Early prototyping was with Google Tango (RIP), then with the ARKit release we started from scratch. The build of this prototype was conceived entirely in Unity. This way the performance of the 3D assistive animations was directly and seamlessly connected with the app UI and functionality itself.
Three hot facts:
The modular IKEA KALLAX shelf can be built in under 10 minutes
Building furniture with your partner doesn't have to end in an argument
Your pets can't eat virtual instruction manuals (take care of your phone)