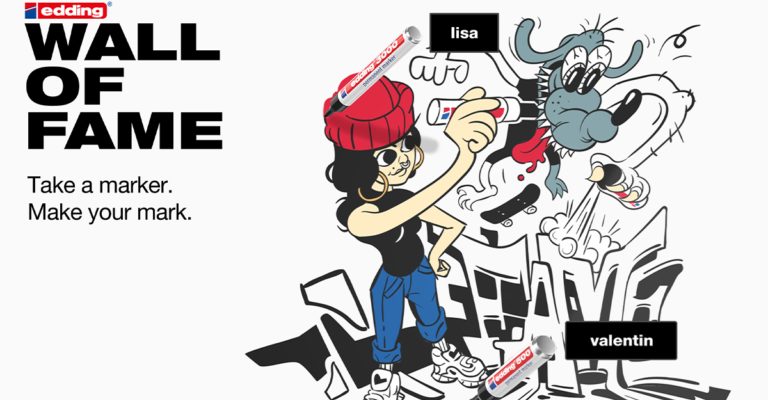 Claudia on 6/16/2020
edding launches "edding Wall of Fame" 2.0 - an online platform for art, expression and inspiration
The "edding Wall of Fame" is based on the idea of community, and is a digital canvas on which anyone in the world can express themselves individually on various topics together with other creatives and artists. The designs are made intuitively on your own screen (whether desktop, tablet or smartphone) using an interface with creative tools similar that achieve the look and feel of edding permanent markers. Uniquely, the creative and communal experience takes place live online, enabling real-time collaboration. From the colours available in stores to different sizes, everything is faithfully reproduced on the digital surfaces within the virtual space.
With the launch of the "edding Wall of Fame" in 2020, edding is pressing ahead with their innovation strategy that began in 2016. For some years now, the company, which was awarded the Innovation Prize in 2018, has not only been developing products such as compact printers or digitally readable inks and associated apps, but they are continually expanding their range with new products in the creative sector for edding's core market.
"For six decades, we at edding have been committed to giving people a means of expressing their thoughts, wishes and ideas. For our 60th anniversary, we want to use the "Wall of Fame" to give everyone the opportunity to do so digitally, and in exchange with other creative people around the world", says Per Ledermann, Chairman of the Board of Directors of edding AG.
"Our aim is that, especially in these challenging times, the 'edding Wall of Fame' should inspire many people in their creativity and enable barrier-free global exchange. For us, the digital experience of our writing and branded products represents a new and far-reaching instrument for winning and retaining customers. With our 'edding Wall of Fame' as a brand hub, we are able to reach many young people and in this innovative way, we are able to convey our brand claim 'Power of Expression' in a very credible way, also across the media", explains Heide Schiene, International Marketing Manager B2C at edding.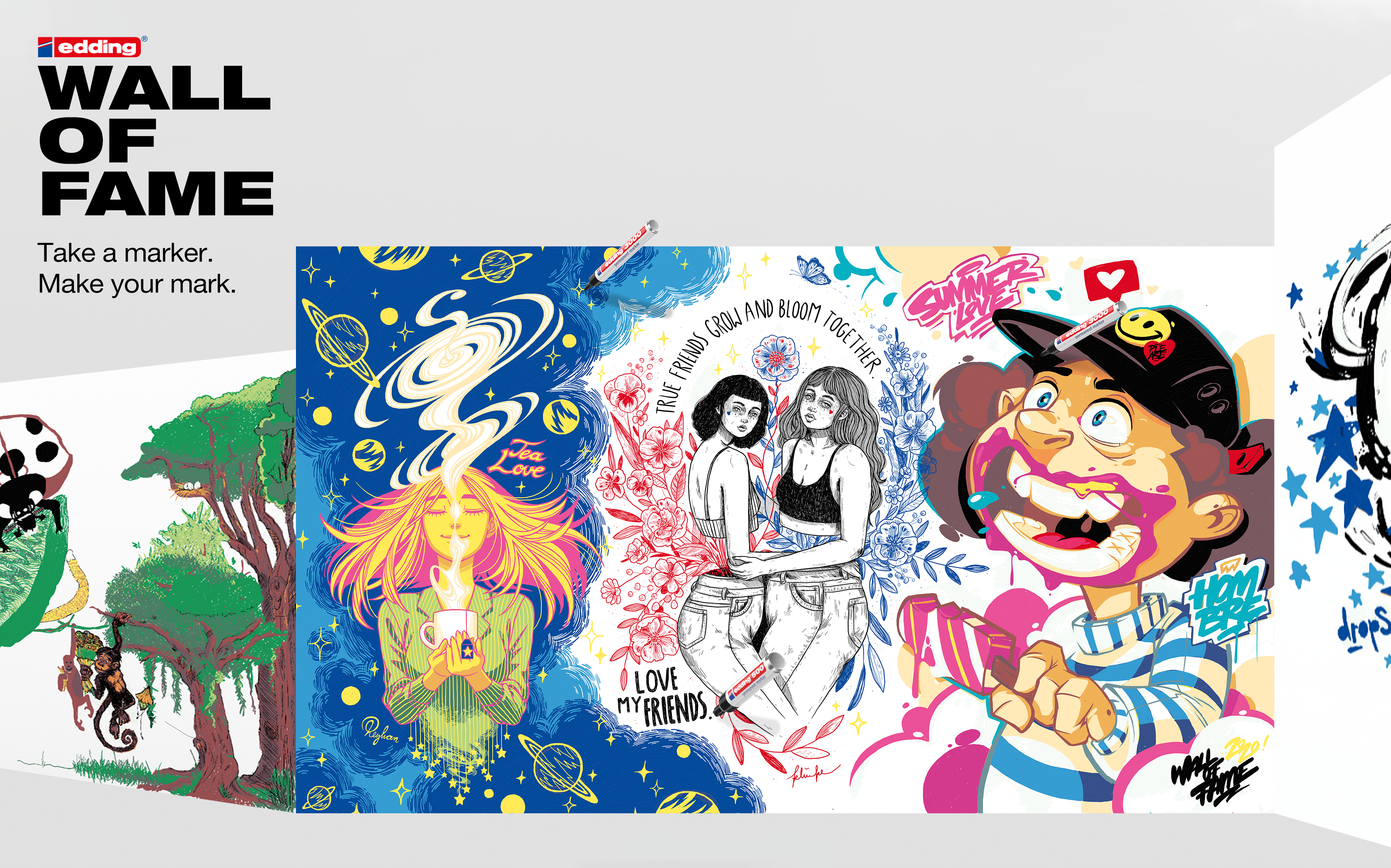 edding x Demodern
For the technical implementation of this anniversary project, edding sought out the digital expertise of Demodern. As specialists for creative technologies, Demodern was responsible for conception, design and technical implementation. The development of the platform took place over 15 months. One particular challenge for building the browser-based application, which functions like an app, was simulating a realistic use of edding products: in addition to the colour application, the handling of the tools should also convey the greatest possible realistic impression. In addition, the modular implementation of the side-scrollable spatial walls offers many opportunities to experience and expand the platform now and in the future.

A challenge that the Demodern team was happy to accept, as Alexander El-Meligi, Managing Partner and Creative Director at Demodern, confirms: "Together with our client edding, we have created a very special brand experience and look forward to observing how the launch of the 'edding Wall of Fame' develops. I hope that with this platform, we are not only giving creative people and artists the opportunity to present and make their art visible, but also to collaboratively create art across borders. For us, this is the core of the experience. That's why we have put a lot of focus on making it an exciting experience not only for the artist but also for art lovers who can watch the artists in real time using the latest web technologies."

Heide Schiene, International Marketing Manager B2C at edding spoke about the collaboration with Demodern: "The 'edding Wall of Fame' meets our expectations of a digital and interactive product, because it is intuitive, functional and extremely exciting. Working with Demodern has also inspired and enriched us. The agile teamwork on this project has been a lot of fun over the past 15 months, and we are looking forward to jointly designing further Wall functionalities".

Showcases from top artists
For the launch in June, edding was able to enlist artists Laura Klinke, Reyhan Yildirim and Pablo Fontagnier aka Hombre SUK, who will be boosting a powerful visual stimulus right from the start with their drawings on the wall in the styles of illustration, graffiti and comic/manga under the theme "Show your love".

Usability, technologies, and URL
After a simple sign-in, any online visitor can become part of the "edding Wall of Fame", and thus immortalize their own artwork in an ever evolving overall masterpiece. The browser-based 3D web application makes it possible to draw and communicate with other artists on different themed walls. Each artist has access to different markers from the edding range for each theme, as the special features of an edding marker are digitally recorded true to the original. If you particularly like a work of art, you can "fame" it or save it in your personal profile and share it with your friends.
The "edding Wall of Fame" can be accessed via this weblink: www.wall-of-fame.com

The following technologies were used for the development and implementation:
- WebGL
- WebSockets