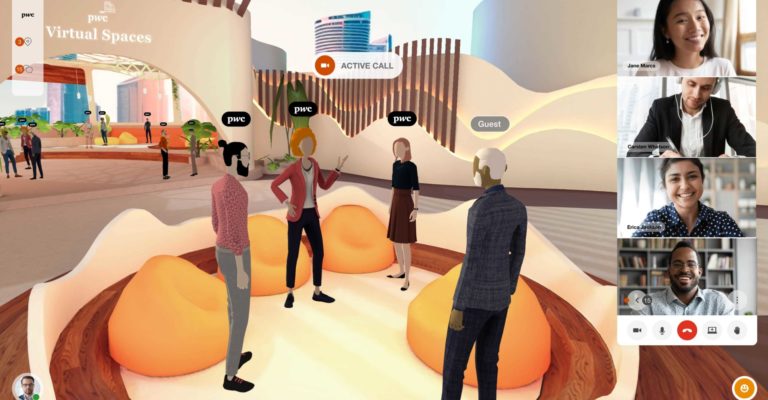 Demodern on 5/24/2023
Virtual Spaces: PwC launcht eigene Business-Metaverse-Plattform
Frankfurt am Main / Cologne, May 24, 2023 – PwC Deutschland, the auditing and consulting firm, is launching the first Business Metaverse platform based on its proprietary software, called "Virtual Spaces," designed for everyday business operations. This solution allows customers, partners, and employees to enter virtual spaces through avatars and collaborate across different companies: holding meetings, conducting events, sharing sensitive data, or exploring other innovative forms of collaboration. Virtual Spaces bridges the gap between the real business world and the digital realm, serving as an initial step into the Metaverse.
Developed in close collaboration with the digital agency Demodern, this solution remains consistent with PwC's core values, encouraging a strong brand identity. As an auditing firm, PwC places the utmost importance on security and trust, which is why Virtual Spaces ensures compliance and enables the handling of sensitive data.
"The Metaverse is a rapidly growing market, and we are still at the early stages. However, the German economy has already recognized the need to take action. At PwC, we are gradually introducing the concept of working in virtual spaces with Virtual Spaces. Our experiences can then be shared with our customers," says Clemens Koch, Member of the Management Board and Head of Markets & Financial Services at PwC Deutschland.
Various use cases for all business areas
Virtual Spaces offers employees and customers many new opportunities. For instance, HR departments can expand many of their initiatives in the digital realm. This includes everyday processes such as job interviews or feedback discussions, recruiting events, as well as training and other educational measures. Additionally, companies can use Virtual Spaces to extend activities like roadshows digitally, allowing them to reach new target groups beyond the planned tour stops. Users can customize the content in the virtual environment according to specific requirements, making it easy to find the right setup for each format quickly.
"With Virtual Spaces, we can collaborate with customers on a secure infrastructure at a whole new level and create entirely new types of brand experiences," says Holger Kern, Head of Metaverse at PwC Deutschland.
Establishing new forms of collaboration
As a web-based platform, Virtual Spaces offers maximum accessibility without entry barriers. The platform boasts numerous functionalities for various use cases. At its core, it establishes a new, more direct, and personalized form of digital collaboration through avatar-based interaction. Users can utilize the entire virtual space for their projects, visualizing data, combining different media, fostering team spirit, and creating natural conversation situations. Virtual Spaces is seamlessly integrated into the PwC IT infrastructure and can serve as a hub for everyday business operations.
"We are delighted to have jointly developed such an innovative and functional New Work and B2B Metaverse platform with PwC and now launch it online," says Kristian Kerkhoff, Co-Founder, and Managing Director of Demodern.
Currently, PwC Deutschland and Demodern are developing a VR version of Virtual Spaces, which is expected to go live in the coming months.
Virtual Spaces received recognition at the Deutscher Digital Awards 2023.