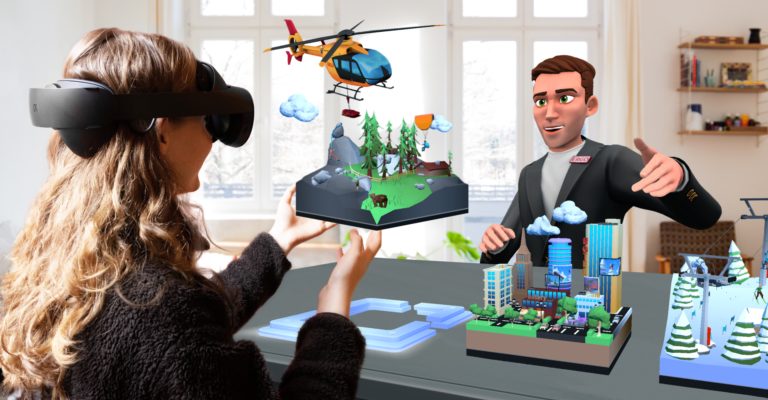 Philipp on 6/5/2023
ERGO und Demodern launchen erste Versicherungs-App zur LiveBeratung im virtuellen Raum
Düsseldorf/Hamburg – June 5, 2023 - ERGO, in collaboration with the technology agency Demodern with offices in Hamburg and Cologne, has launched the first virtual advisory app with LiveDialog function for insurance services. Through the innovation project "ERGO VR Experience," customers can now immerse themselves in a virtual insurance scenario and receive real-time advice. Interested individuals can use the VR app and headset to meet with an ERGO advisor, who guides them through the selected setting. The initial application provided is a 3D mountain environment, where customers can receive immersive advice on the "Travel Health Insurance" solution. Potential risks that may arise during a mountain hike are explained and visualized, and customers can ask further questions about insurance products during the conversation. To access the app in the Meta Quest Store, interested users can book an appointment on ERGO's website for free. They will need their own VR headset from Meta for the advisory session.
"With the 'ERGO VR Experience,' we have succeeded in making insurance products experiential in an immersive way. What was previously abstract and theoretical is now tangible, understandable, and experiential," says Mark Klein, Chief Digital Officer of ERGO Group AG and Chairman of the Board of ERGO Digital Ventures AG. "At ERGO, we believe that this form of virtual exchange offers genuine added value for our customers and distribution partners, and it complements traditional consultations wonderfully. Moreover, this is an important step for us towards the Metaverse."
"The VR application from ERGO offers an innovative service through personalized advice in the virtual space. Immersive storytelling and infotainment elevate the quality of consultation to an entirely new level," says Alexander El-Meligi, Co-Founder, and Managing Partner of Demodern. "The business potentials of creative mixed-reality technologies are enormous, and we are thrilled that ERGO, an innovation driver, is taking this step."
For ERGO, the app is another element in its already successful Omni-Channel strategy. By utilizing mixed-reality technologies, the application aims to pilot and establish a new and innovative advisory service for the long term. If positively received, it will be made available to ERGO intermediaries as a complementary offering alongside their traditional consultation services.
In addition to the current mountain scenario, further use cases are already planned, such as city trips, skiing vacations, or beach holidays. Moreover, the app will gradually be equipped with additional visual assets and insurance solutions, such as travel cancellation or baggage insurance.
The collaboration between ERGO and Demodern marks their first joint project, which commenced in October 2022. Those interested in testing the app themselves have the opportunity to do so from June 12 to 15. During this period, ERGO will have a stand at Düsseldorf Airport, Terminal A, where interested parties can test the application on weekdays between 9 am and 4 pm.