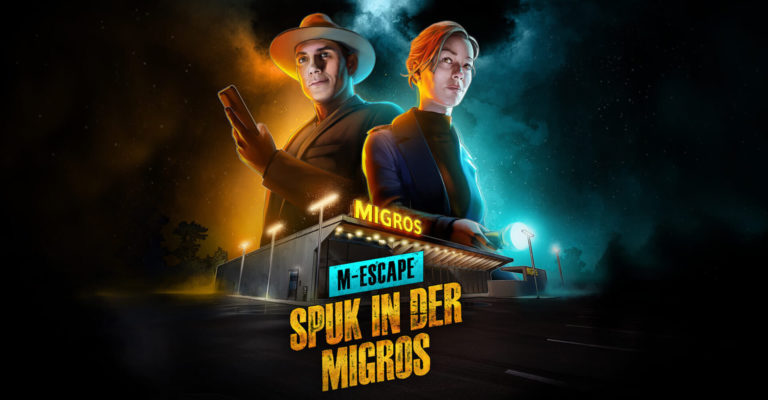 Philipp on 6/26/2023
Customer engagement through immersive riddle fun: Migros is leveraging gamification with the online game "M-Escape."
Zurich/Hamburg, June 26, 2023 - Those who enjoy investigating and solving puzzles are currently in for a treat at Migros, Switzerland's largest retailer. With "M-Escape - Haunting at Migros," the company is launching an innovative concept for a collectible promotion that bridges the gap between physical and digital shopping. What sets this promotion apart is that the motivation to collect arises solely from the enjoyment of continuing to play.
"With M-Escape, we are taking the unprecedented step of combining a digital game in a loyalty promotion, tapping into the current Escape Room trend," says Melani Zadro, Project Manager for Promotions & Activation at Migros. "With this consistently digital approach, we once again highlight our innovative spirit."
The game takes customers of the Swiss retail company on a journey through a digital escape room. The story is set in a remote Migros store that is rumored to be haunted. Divided into four chapters, users are tasked with collecting clues, solving picture and logic puzzles, and deciphering messages. The first chapter is free to play, while players can unlock the subsequent chapters by collecting digital stamps. These stamps are obtained for every 10 Swiss francs spent at Migros supermarkets. This creative approach by Migros establishes a connection between customer loyalty and entertainment. As an additional incentive, all players who successfully complete M-Escape participate in a prize draw. To play M-Escape, a Migros account and participation in the Migros loyalty program Cumulus are required. The target audience is primarily young adults aged 25 to 45. The concept and interface design are handled by Mutabor, while the technical development, illustrations, and level design are done by the agency Demodern.
"M-Escape is not just an escape game; it's a profound experience that brings the immersive world of Escape Rooms into the digital ecosystem of Migros," says Raphael Jung, Project Manager for Digital Campaigning & Promotions at Migros. "The blend of an exciting adventure, captivating puzzles, integration of real Migros touchpoints, and the connection to physical stores makes M-Escape a project that is both innovative and unique." Jung is convinced: "At Migros, we value the loyalty of our customers and always want to give something back to them. With M-Escape, we have achieved just that."
Sammelpromotion: digital & innovativ
"The Migros has been setting standards in retail marketing for years by evolving together with its customers," says Burkhard Müller, Digital Director of Mutabor. "M-Escape breaks with the established rules of collectible promotions and deeply involves customers in a long-lasting and digital manner. The project demonstrates how successful gamification can contribute to customer engagement."
"M-Escape is an outstanding example of technical innovation and creative execution," says Alexander El-Meligi, Co-Founder, and Managing Partner of Demodern. "The combination of state-of-the-art technology, 3D concept art, and sound design enables a comprehensive, immersive, and entertaining gaming experience directly in the mobile browser. For me, M-Escape is already a benchmark in digital marketing."
The promotion has seen successful nationwide launch in Switzerland, and there is active engagement and discussion on relevant forums and social media platforms. Customers spend approximately one to two hours per chapter playing and exploring the game. MEscape is available in the three national languages - German, French, and Italian - to reach all participants in Switzerland. The collection period continues until July 17, while the prize draw lasts until mid-September. For more information, visit https://escape.migros.ch/de/es...