Migros
Digital Mobile Escape Game
M-Escape is the new digital escape game by Migros, the largest retail company in Switzerland. It was conceived, designed, and developed by MUTABOR Technologies GmbH and Demodern. In the mobile web game, Migros customers become detectives and immerse themselves in an interactive adventure with numerous puzzles, lovingly designed scenes, and innovative technologies—all embedded in an exciting story that allows them to experience the brand in new and creative ways.
Mobile Escape Game
For years, Migros has been known for its special promotions in retail marketing. With this in mind, our goal was not only to develop a simple escape game but to create an interactive experience that seamlessly integrates into the digital ecosystem. Therefore, M-Escape was optimized for a variety of mobile devices and browsers to reach a wide target audience. By offering the option to log in via the Migros account, we can provide existing as well as new Migros customers (using OAuth) with a seamless interface into the experience.
4 Chapters, 8 Puzzles and More
In just a few months, we have developed a powerful escape game that consists of four chapters with subtasks. The game impresses players with eight individually coded puzzle mechanisms, numerous logic and search tasks, stunning concept art, interactive room features, and captivating sound design.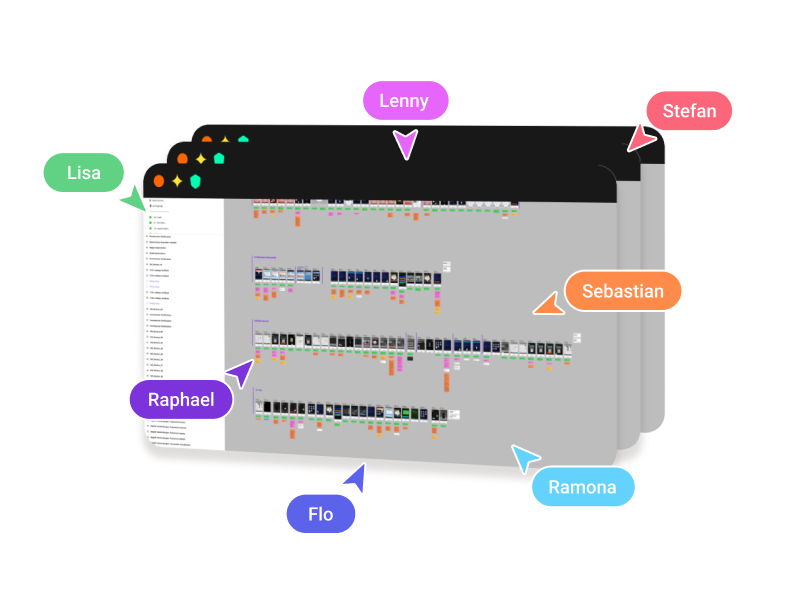 Unique Game Experience
The setting of the story unfolds within an isolated Migros store, rumored to be haunted. Immersed in this captivating storyline, users are invited to gather clues, tackle image and logic puzzles, and decode messages. To bridge the gap between the online gaming experience and the physical retail world, the initial chapter is made accessible as a complimentary gameplay option.
Puzzle Range
The project team worked closely with an experienced puzzle developer to craft an engaging array of challenges. By incorporating various puzzle types that demand logical thinking and strategic combinations, the gameplay experience remains consistently diverse. Players are not only immersed in classic escape game actions, such as collecting items and managing their inventory, but also encouraged to interact with the physical environment and conduct web-based research—all while maintaining a strong connection to the Migros brand.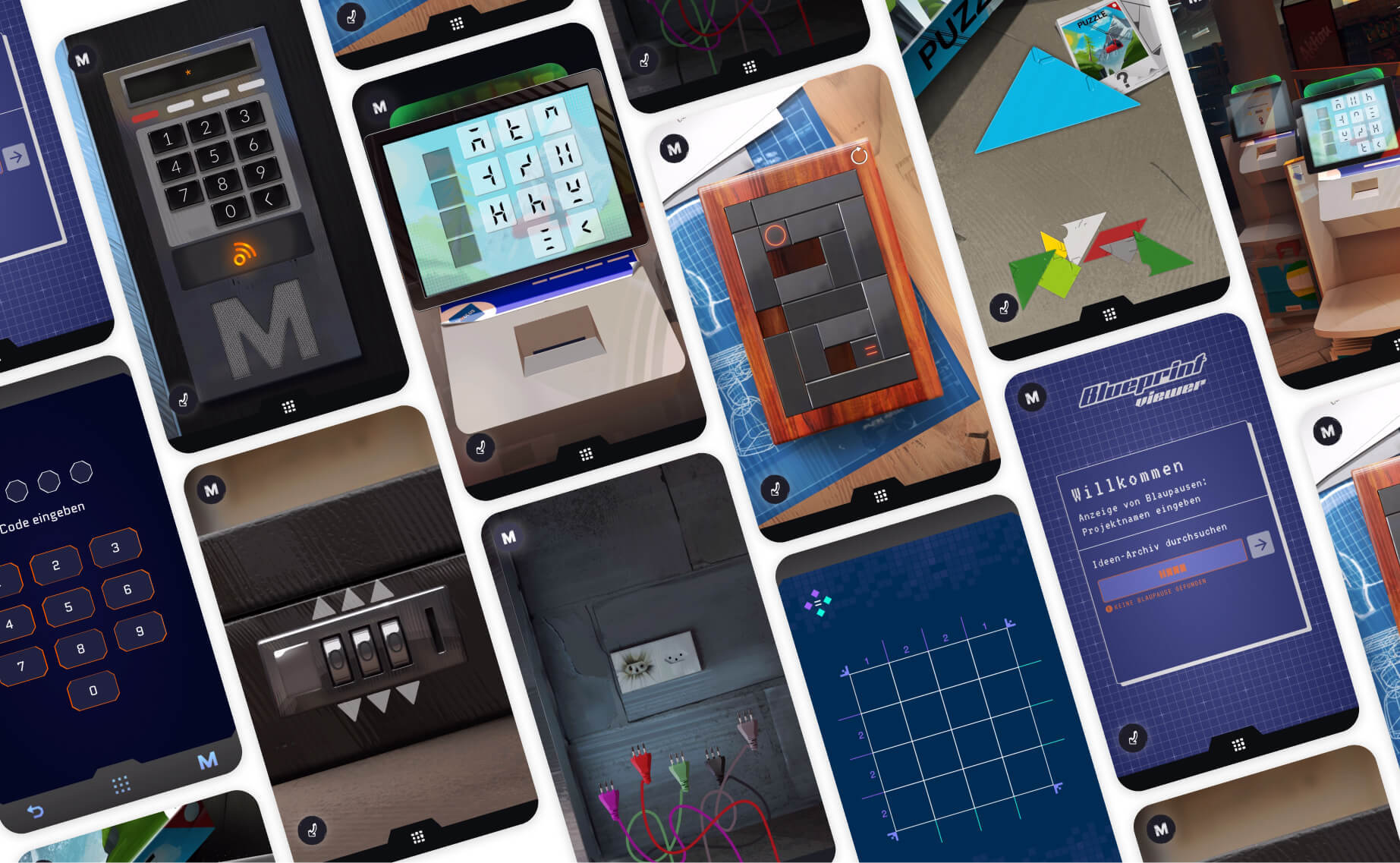 Journal & Hint-System
An intuitive journal system keeps users informed with a story introduction, tracks completed and ongoing tasks, and provides incremental hints along the way. This feature makes it easier to jump back into the game, even after a lengthy multi-day break.
The Target Group
M-Escape primarily targets residents of Switzerland between the ages of 25 and 45 who have an interest in puzzles, quizzes, and escape rooms. The game is available in the three national languages of Switzerland: German, French, and Italian, ensuring accessibility for all within the country.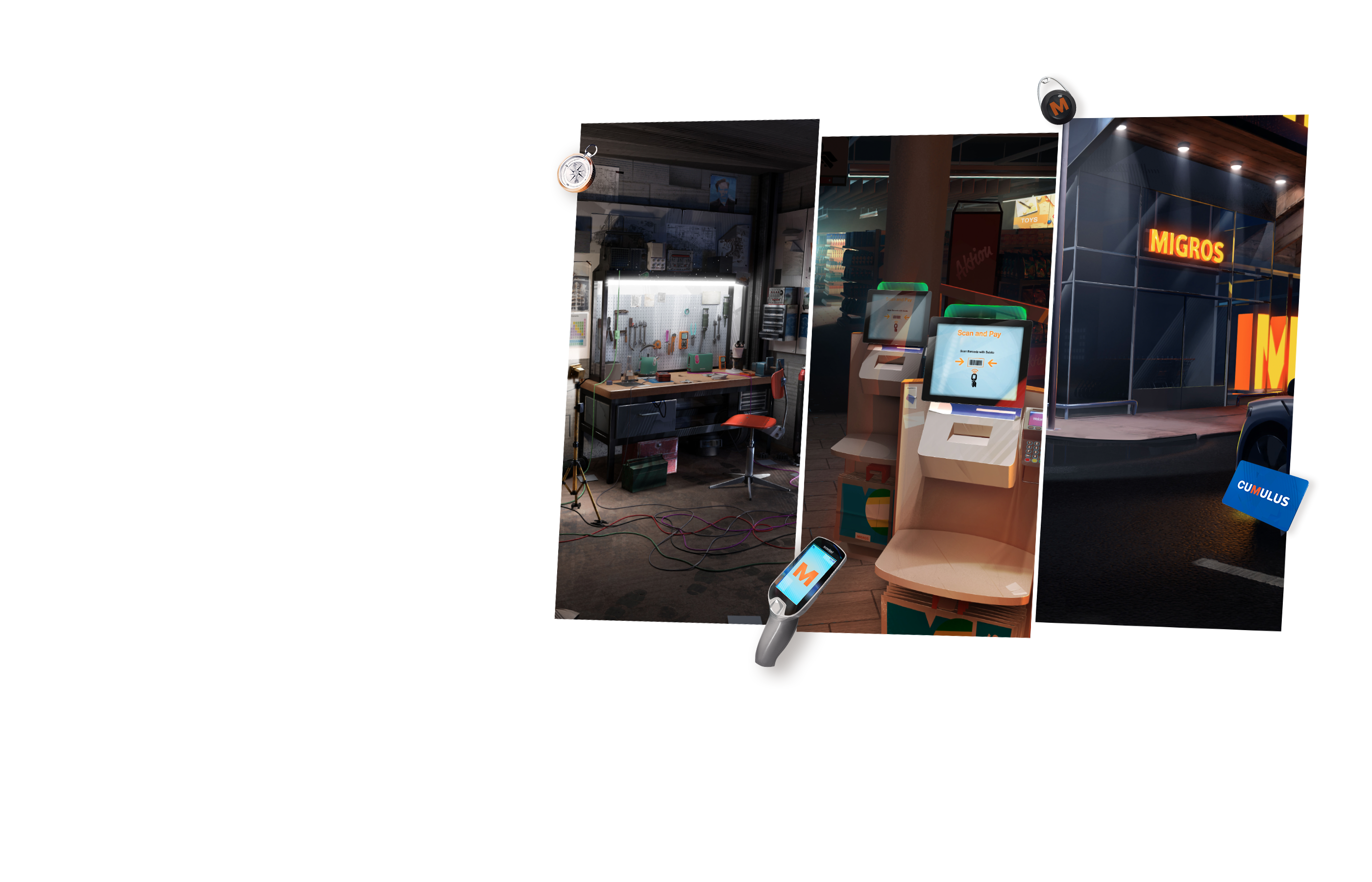 Pencil, brain, blender & photoshop
Our creative process embarked with a detailed briefing for each scene, encompassing the story, interactive elements, action sequences, and scenery assets. We began by sketching rough drafts to accommodate various requirements. Subsequently, using Blender, we crafted a 3D blockout, meticulously determining the optimal perspective. An inherent challenge was the navigation concept, which necessitated slicing the images into individual sections. This demanded that every part of the artwork maintain consistent aesthetics and provide clear orientation cues.
Custom-made Front- & Backend
We have built an adaptable game framework that serves as the backbone, supporting chapters, levels, asset loading, and a wide range of interaction mechanics. These mechanics encompass multidimensional navigation, object combinations within levels, locking and unlocking mechanisms, portals, an internationally localized dialog system, and audio integration. To ensure a captivating and fluid gameplay experience, we utilized Framer Motion and CSS transitions for seamless animations. Our technology stack centered around NextJS (React) and Strapi (Headless CMS), with the game content hosted on Migros' state-of-the-art infrastructure.
Play to Win
After completing each chapter, an exciting opportunity awaits: the chance to win an instant prize. Migros will conduct a prize draw among all participants who successfully complete their stamp card, with the grand prize remaining a closely guarded secret.
Sounds like fun
Sound is crucial for immersion and enhancing the overall gaming experience. Our in-house sound designer carefully selected over 150 sound effects and 5 unique tracks to create the perfect atmosphere in each scene. From creaking doors to mysterious whispers, every detail has been finely tuned. We even integrated authentic sounds from Migros stores, including the Subito scanner, adding a touch of familiarity. And of course, the iconic Migros jingle will accompany you throughout the game.