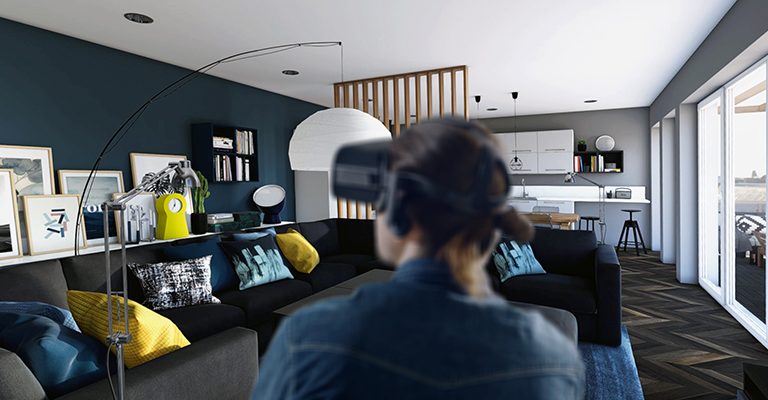 Alexander on 3/24/2020
Virtual Reality and its potential use cases: A virtual window into the future
It's no secret that in times of same-day delivery and discount battles, trade industries have to fight for the buyer's favor. Especially in today's situation, many people order from home; challenging traditional retailers to make the shopping experience as efficient, entertaining, and above all, safe as possible.
The furniture industry, for example, has already made developments thanks to virtual reality. For IKEA, we took visitors of selected furniture stores on an interactive living room tour. Using a VR headset and high-end 3D application, they could design and configure their dream living room - from the wall and shelf decorations to matching sofa coverings and mood lighting.

Overcoming spatial boundaries
What at first sounds like a nice gimmick to entertain the customer is of great benefit to the retailer. In our case, IKEA no longer needs to display every variable of couch to convince the customer that a blue bed-sofa fits their 32m² studio better than the red L-Form. This, in turn, saves costs for both personnel and merchandising logistics.
A similar scenario can be found in the automotive industry: today's car dealerships, with their limited display space and an array of car models, can be supplemented with VR applications that offer potential customers the entire product portfolio - tailored to unique consumer preferences.

In the field of cultural and city marketing too, informative content, as well as extensive worlds, can be effectively staged and made tangible in the smallest of spaces. An example is our interactive permanent exhibition "Discovery Dock" in the Port of Hamburg, where one of the touchpoints trains guests as crane operators, (virtually) loading shipping containers onto a full-scale vessel.
Enormous logistical cost savings
Not only those industries that have a 'space problem' benefit from VR however. Large industrial sectors such as construction and real estate, rely on immersive technology to optimize processes or to minimize risk, improve a product, and increase quality assurance. The main advantage of virtual reality for these sectors is cost reduction. Be it the production, travel, or planning costs that logistically consume budget for exhibition purposes. In this way of thinking, at the CMT trade fair in Stuttgart for example, a caravan to be exhibited and sold does not even have to be (physically) built or shipped.

Virtual walkthroughs of production/construction processes
With the help of the virtual world, complete production plants and processes can be tested without the interference of existing production. Car manufacturer BMW even used VR to plan the assembly process of their new 3-series, and did so before the production line even started up!
In architecture and construction, one can offer a 'sneak preview' of a property even though it has so far only existed on the drawing board. Investors, developers, construction managers or architects can thus enter and evaluate a complex construction project from the very beginning. This not only simplifies coordination processes immensely but also makes it easier to identify potential hazards in terms of occupational safety.
What works for individual properties also applies to entire cities: Fracture Reality, an agency for mixed reality solutions is currently developing a real-time urban planning platform for an island and city-state in cooperation with the Singaporean government. Here, VR technology is being used in an attempt to solve challenges associated with densely populated population groups on small landmasses.
Improved security and routine thanks to virtual training
VR-based training programs massively reduce the invest in important and necessary procedures for companies in the aerospace, transport, construction, and health sectors, while at the same time significantly improve employee performance. This is because dangerous or complex scenarios, such as working in underground construction sites, aerospace piloting or medical interventions can be trained virtually in a resource-saving and environmentally friendly manner.
Thanks to virtual reality, large scale worlds and complex scenarios along with technical processes and skillful procedures can be accurately visualized and simulated. In combination with eye-tracking, video analysis and organic human interactions within a 3D space, the possibilities with immersive technologies are almost unlimited.
Keep watching this exciting space.