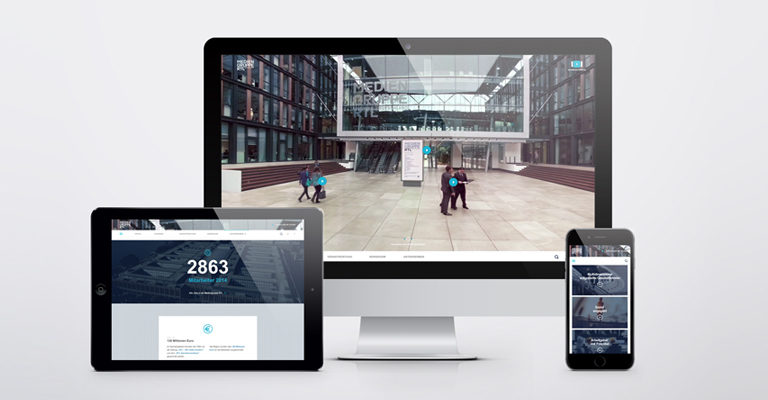 Demodern on 4/19/2016
Right in the middle of it all: Demodern sets the RTL Media Group in motion
Digital agency Demodern is making the online presence of RTL Media Group Germany fit for the digital future. The umbrella brand's website, which brings together channels like RTL, VOX, n-tv and RTL NITRO and marketers like IP Deutschland, is now offering state-of-the-art web technology with integrated moving image functions and brand new insights into the company.
Cologne, 18th
April 2016
– If you want to know where and how the employees of the RTL Media Group work, it's no longer necessary to travel all the way to Cologne: thanks to its new online presence http://www.mediengruppe-rtl.de, from now on website visitors can easily gain their own impression of the company. Up close and direct. One moment users might find themselves in the middle of the busy, light-filled glass foyer. And they might be beamed into the middle of an everyday studio production the next. On this discovery tour it's also possible to find out more about the company by clicking on the so-called hotspots: buttons allocated, for example, to an employee sitting at a desk or an office item like a tablet. The new website was designed and implemented by digital agency Demodern in cooperation with the production company Vision Factory.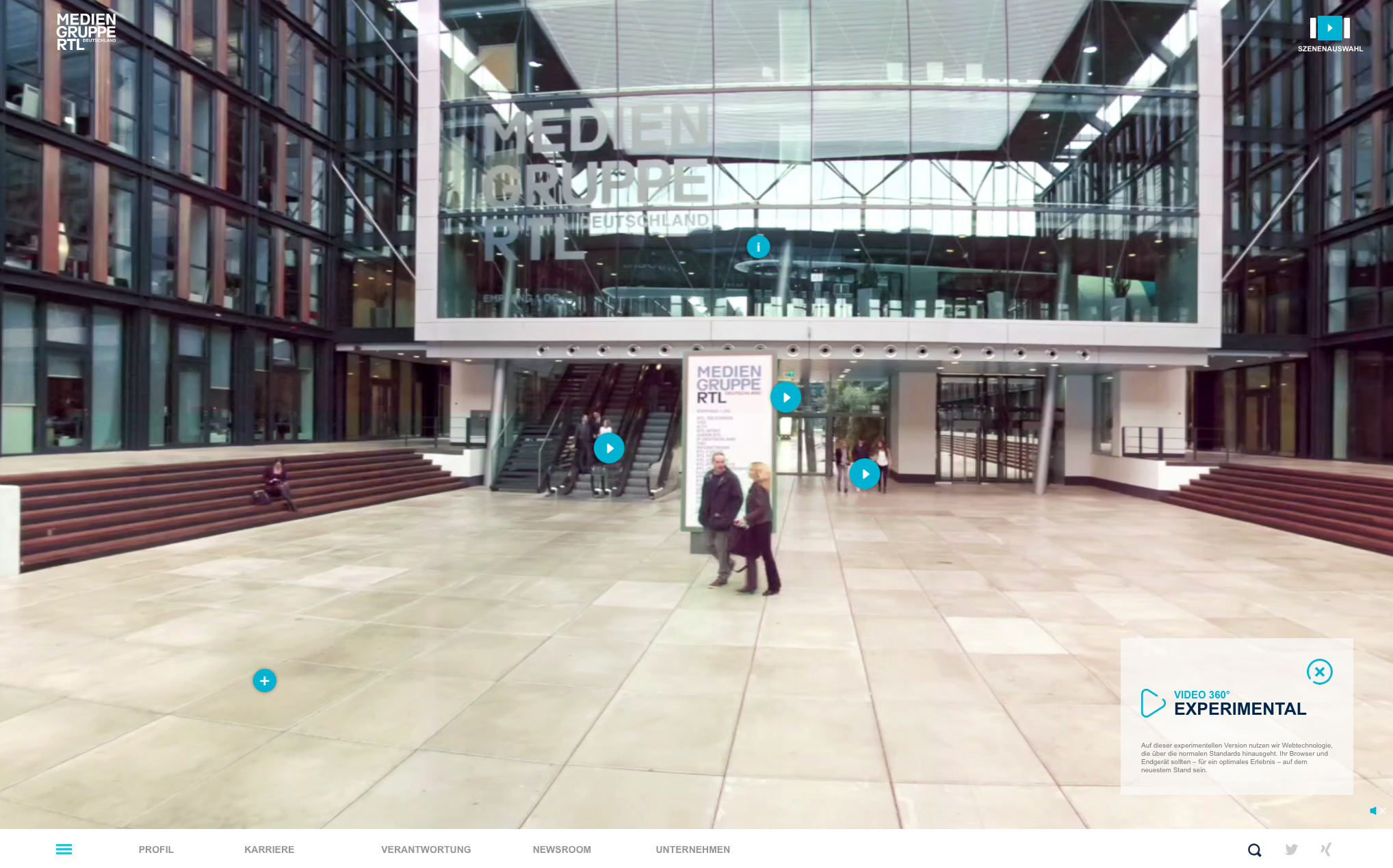 The key element of the website, which was developed by Demodern, is the integrated 360° view. It's up to the visitors to decide whether they switch from the 360° photo mode to the experimental 360° video view and visually immerse themselves further in the dynamic world of the RTL Media Group. For the experimental video view, Demodern specially developed a new player in WebGL, which enables this presentation format.
"By combining explorative and structural navigation we are creating an experience that links emotional and informative contents in equal measure," says Thomas Junk, managing partner at Demodern. "The clear structure of the contents and the visual quality both paint a positive picture that is befitting of one of Germany's biggest media companies."
Demodern acquired the RTL Media Group as a new client eighteen months ago.

––––––End of press release–––––
About Demodern
As an independent digital agency with offices in Cologne and Hamburg, Demodern has been creating innovative communication for the digital age since 2008. Under the management of Kristian Kerkhoff, Alexander El-Meligi and Thomas Junk, a team of 32 full-time employees works for noteworthy clients including Mazda, Nike, Edding and Montblanc.
Demodern has already received numerous international and national awards for its work, including Gold at the ADC Europe in 2010 for "Sounds of Hamburg", two Golden Lions in Cannes in 2011, two Gold distinctions at the New Media Award, for the Edding "Wall of Fame" in 2012 and "The Montblanc Worldsecond" in 2013 as well as the Adobe Cutting Edge Award 2015 for the Nike Digital Retail Experience.
Demodern Press Contact
Adryiano Richter, Demodern – Digital Agency, Brüsseler Straße 89-93, 50672 Köln,
Fon 49 (0)221 99 96 96 21, ari@demodern.de