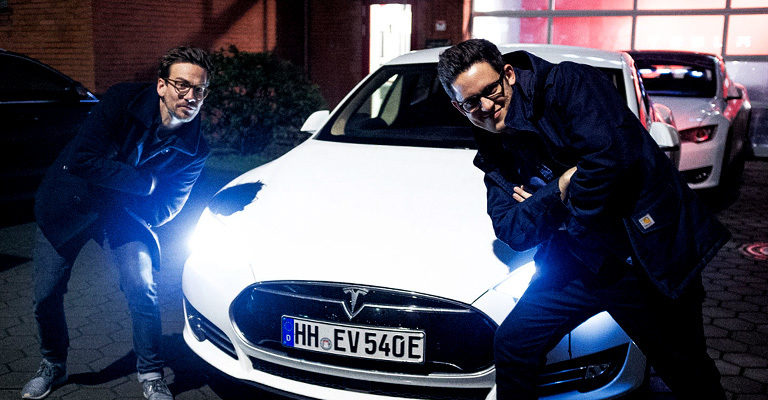 Florian on 4/1/2016
Driving a Gadget
It's something we're all familiar with. You can easily spend hours clicking your way through the world wide web, without rhyme or reason, or any specific goal in mind. And eventually find yourself on the most obscure websites, stumbling across YouTube videos of billy goats scratching their own backsides with their horns, or, on a day like today, a BMW competition giving away test drives with a BWM i3. Pretty cool, those electric cars, I think to myself. Why would I want to win one of those though? If you're going to take a test drive with an e-car, then surely it's better to set your sights on the very best: the Tesla.
But how do you wangle a test drive with a sports car when you can't even afford your own small used model? I give Tesla a call and am put through to an eloquent young lady, trained to divine my financial background with some clever questions: "Just so we know what you'll compare our car to…what are you driving at the moment?" I tell her about my girlfriend's old, rusty Ford Fiesta. And that was all it took – my Tesla test drive was in the bag. And I was even allowed to bring a plus one with me.
What could be better than a test drive for one of the most advanced and fastest cars in the world? Yes, that's right: a test drive when you're supposed to be at work! The only other self-confessed car buff in our Hamburg team was appointed my sidekick. Apart from one or two YouTube videos about the "Insane" mode, neither of us had any prior experience with a Tesla.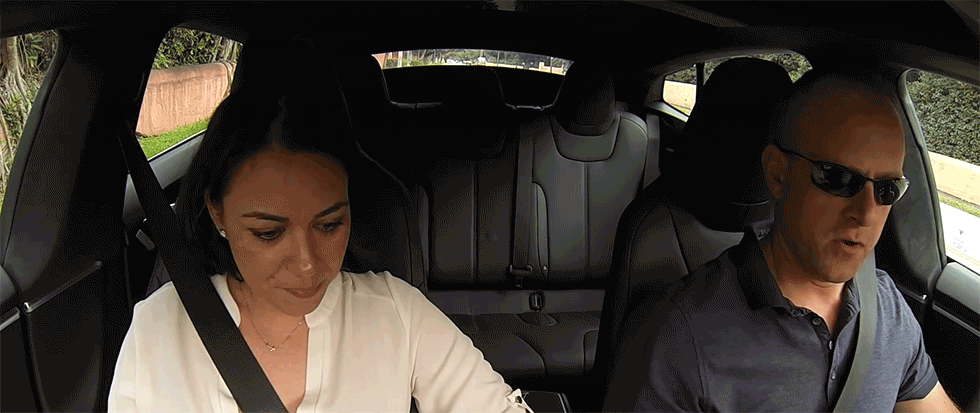 That's it: The Insane-Mode.
Here we go
Equipped with a smartphone sat-nav with out-of-date map information and a 20-year-old estate car, we set off on the journey to Hamburg's Poppenbüttel neighbourhood.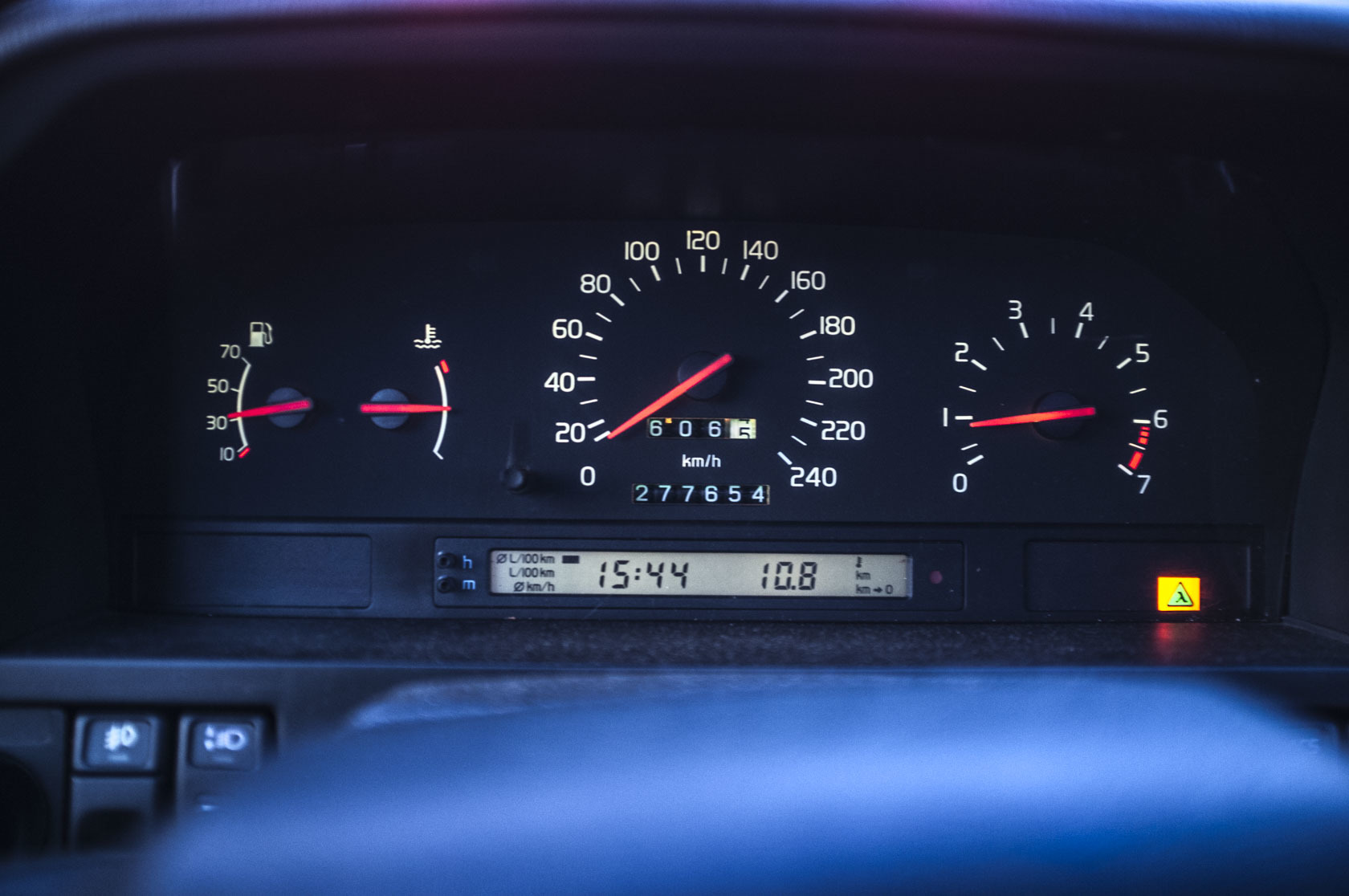 15:44, 10.8 ltr consumption. The lambda probe is burning.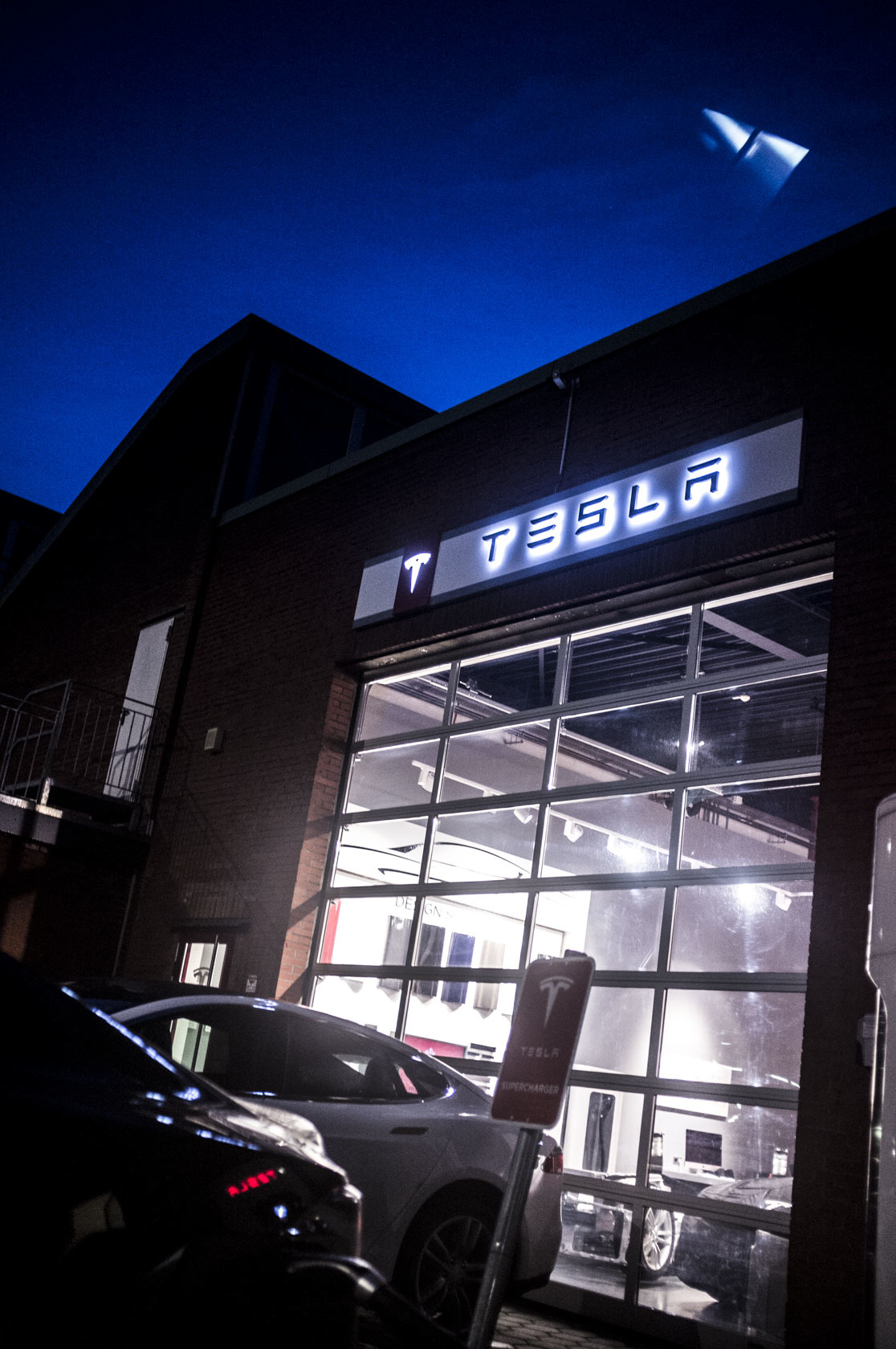 Awaiting us there, somewhere on an industrial estate, was the shiny Tesla showroom. At least that's what we had been expecting.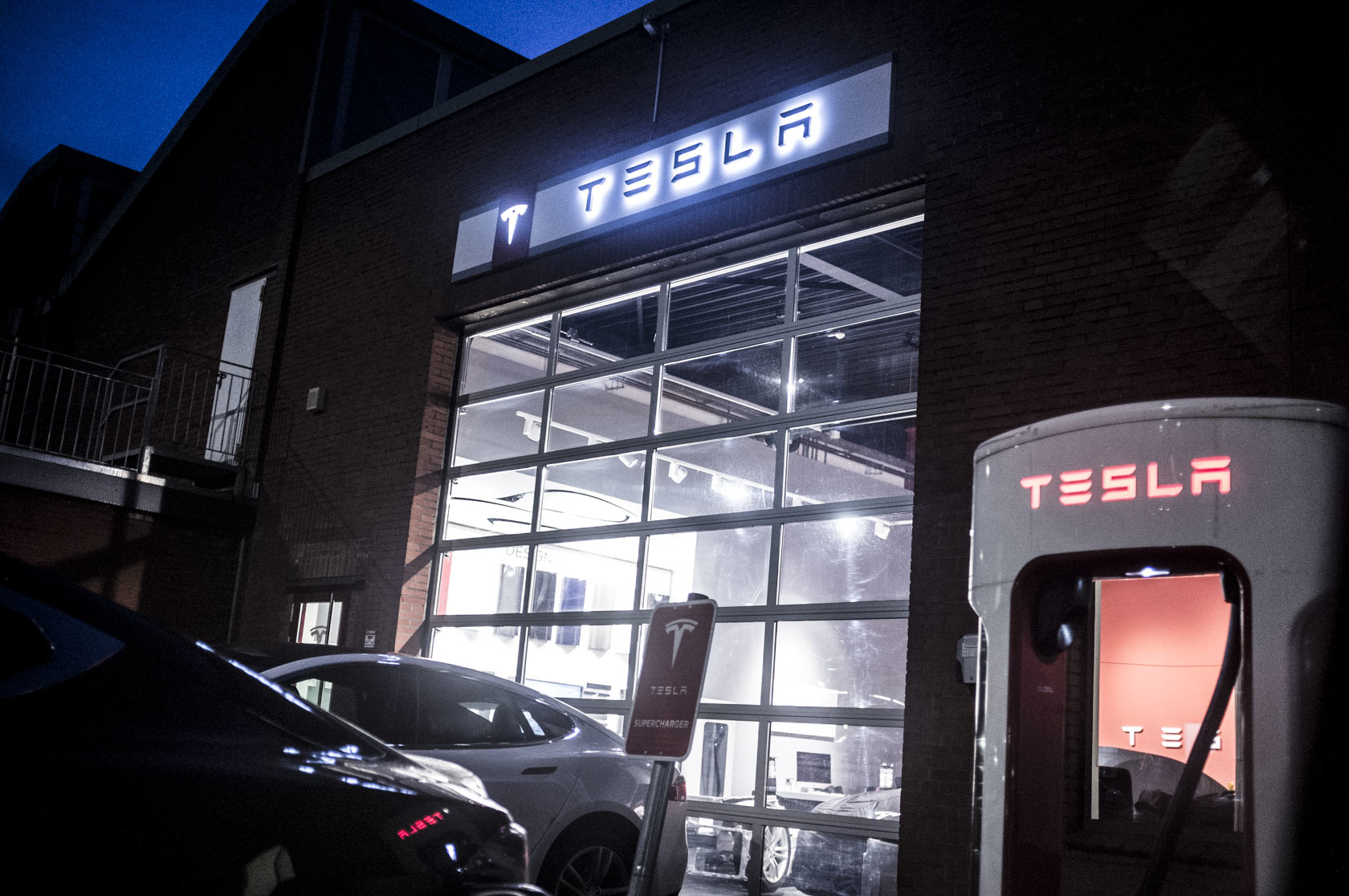 Glowing in the Dark. The Tesla garage with a pretty smooth retro-future touch.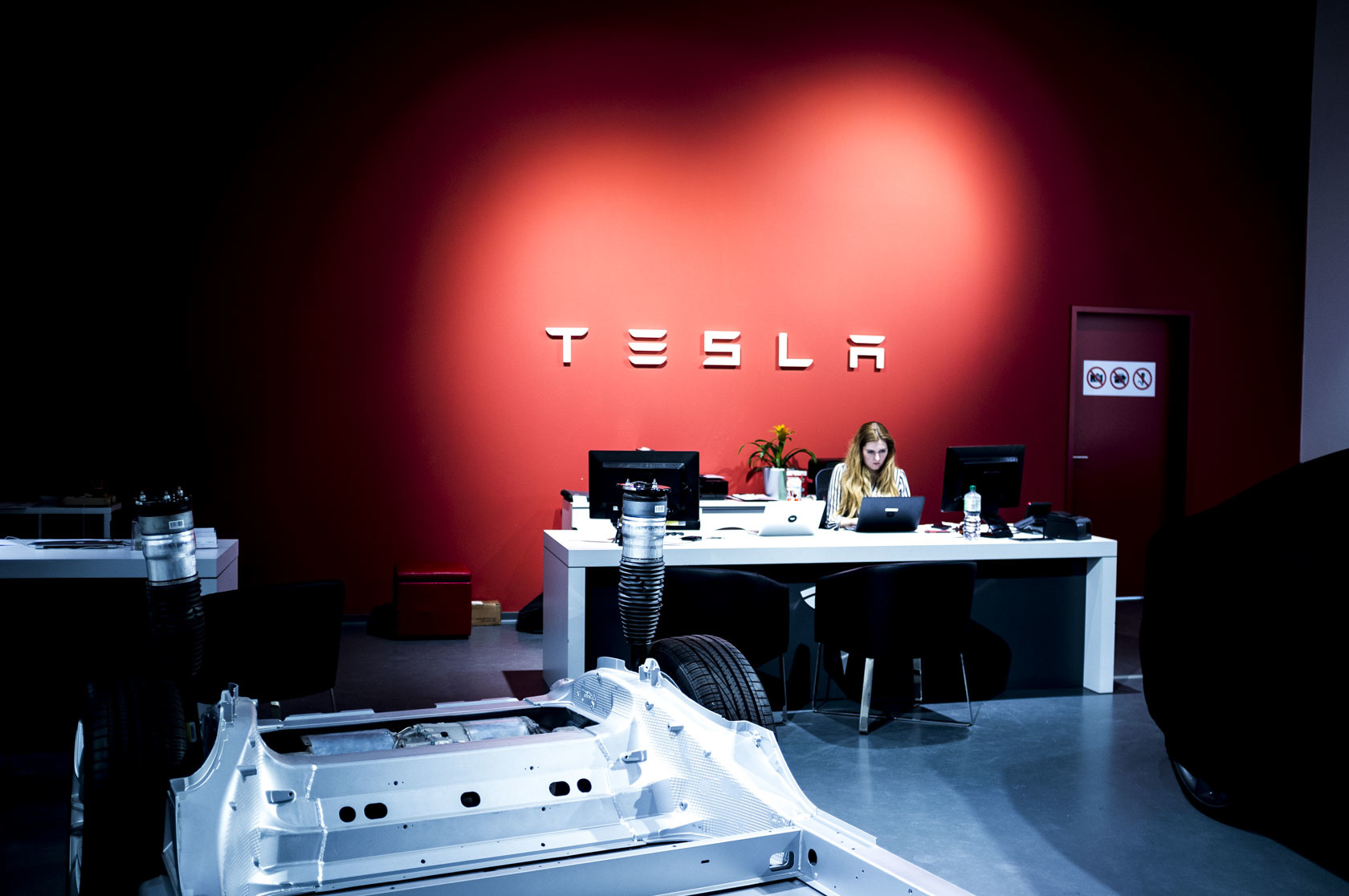 A heart for Tesla. Red colors everywhere.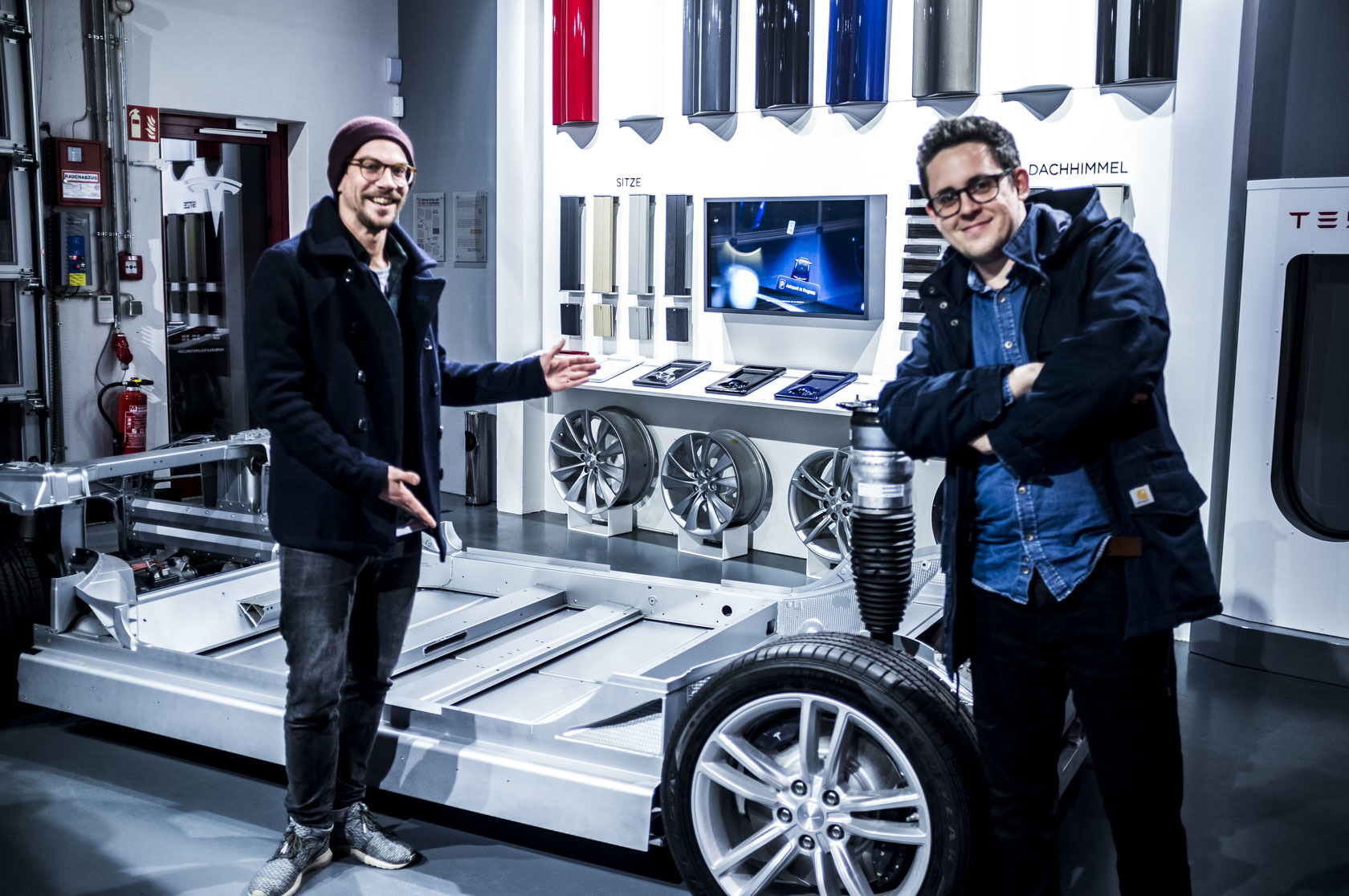 Color-swatches, configurator – presented by the Demodern test crew.
After entering our personal details into a tablet and declining the newsletter offer, we were given a brief introduction to the chassis construction of the Model S and its special features.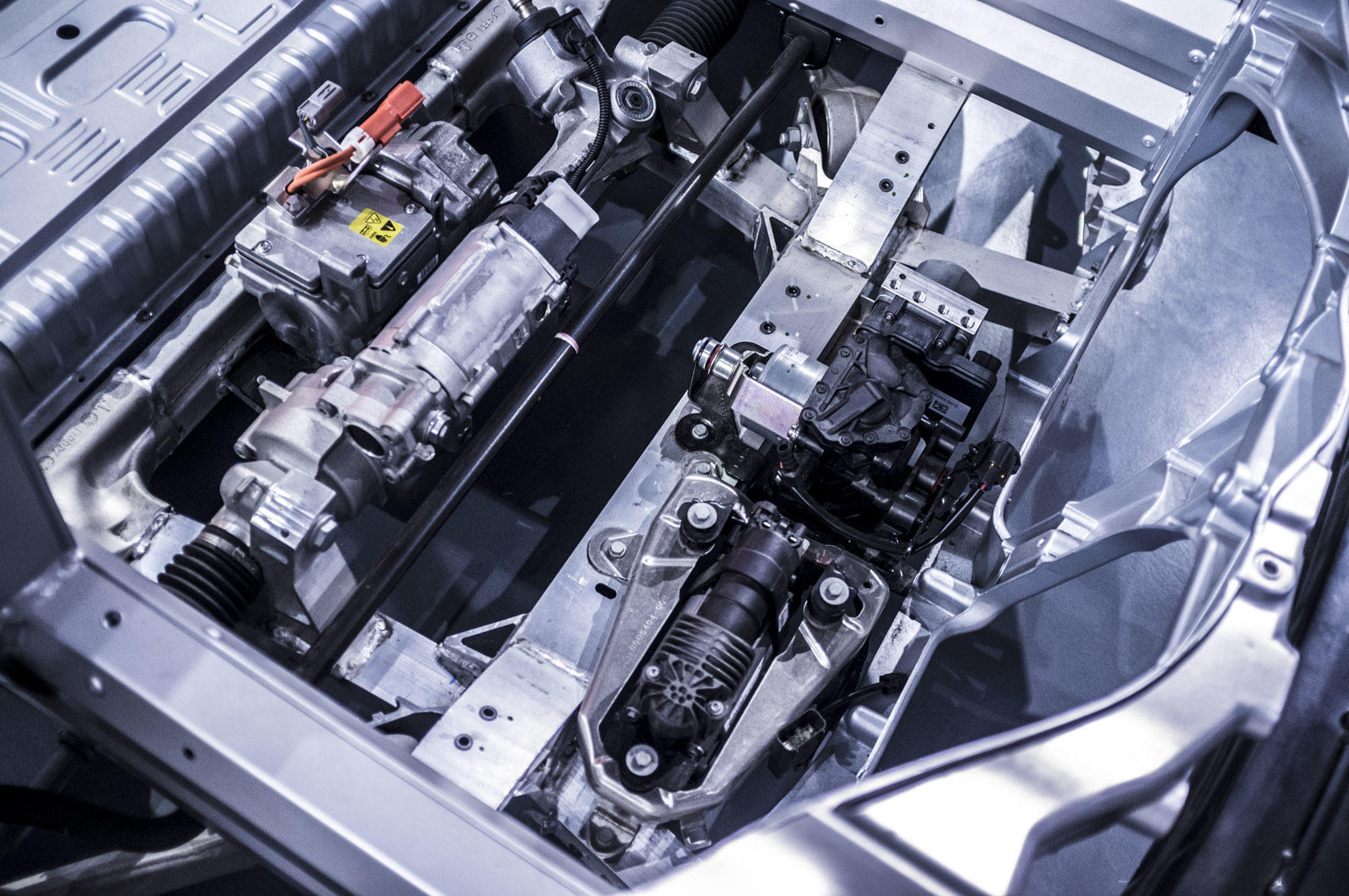 The under-the-hood view. Compressor, controller and a voltage thing. In the back there's only the melon-sized engine.
The chassis is a sort of skeleton construction. Only equipped with the absolute prerequisite mechanical components (e.g. climate and electro-motor), it serves as a basis for the automobile functions, which are all controlled completely via the software. Steering, braking, accelerating, interior lighting, controls, … – in theory, everything can be revised and checked via the software. This means that Tesla can, for example, make the autopilot function available to its customers by means of a simple software update.
However, the wary, fearful and more cautious amongst us might argue at this point that any Tesla can be hacked and controlled remotely. And they wouldn't be wrong: Tesla is currently running a competition in which anyone who manages to hack one of their vehicles gets one for free. So go for it, we say!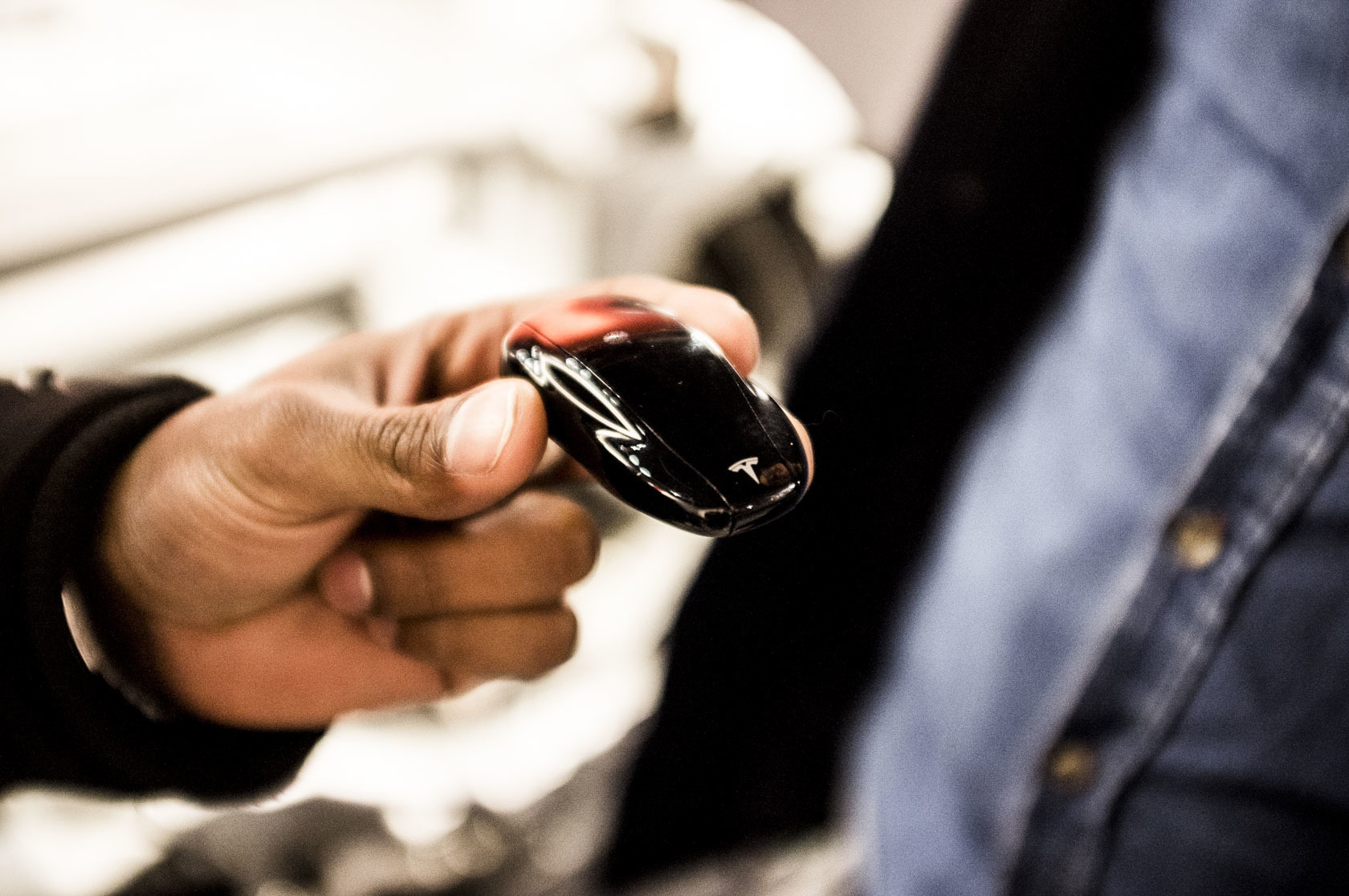 The key: Ain't there an app for that?
After the introduction, the sales representative handed us a mini Tesla: the car key.
Equipped with three buttons – on the roof, bonnet and boot.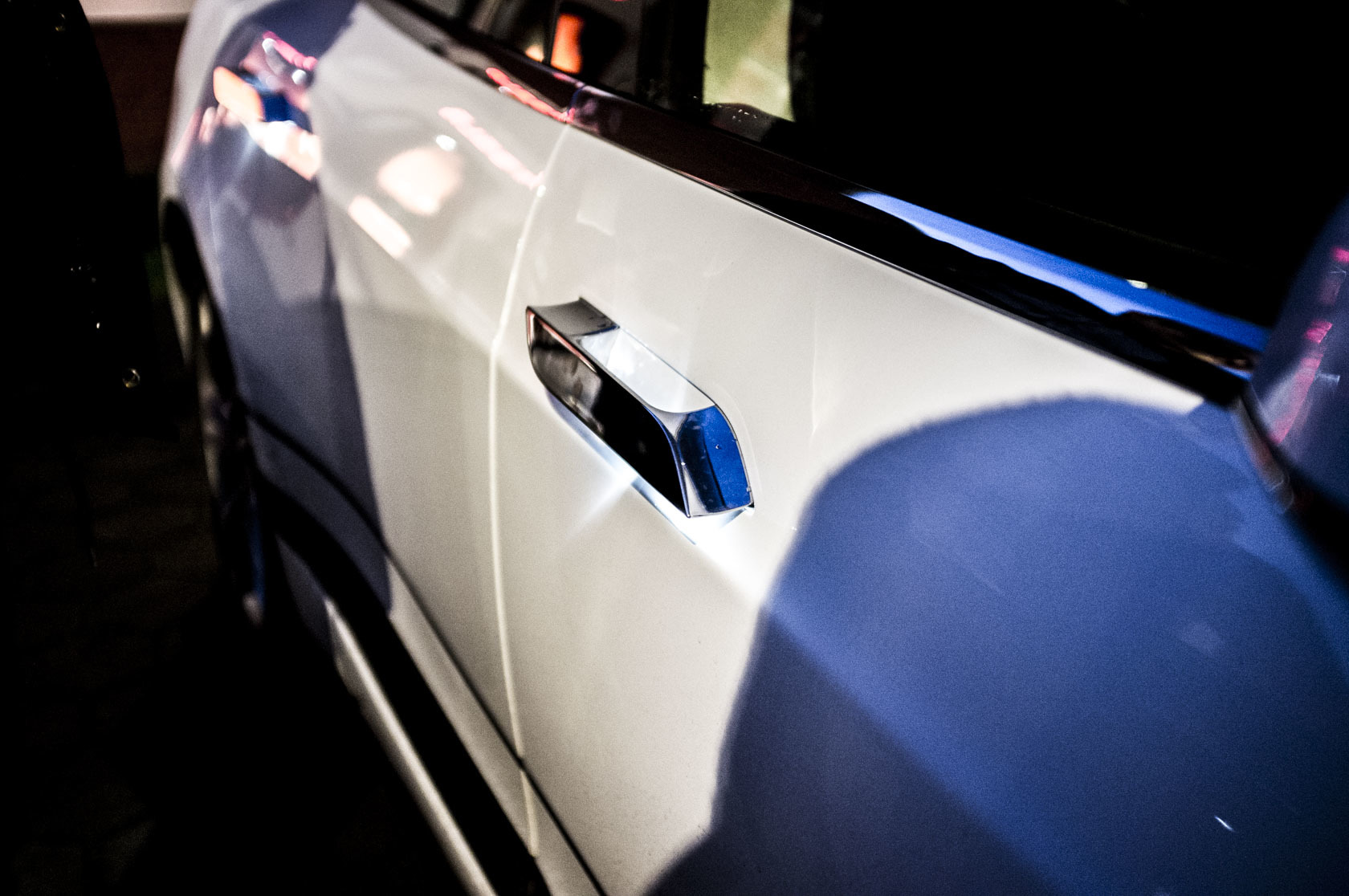 Once you approach the car with the key, the door handles go out automatically and are illuminated.
The test drive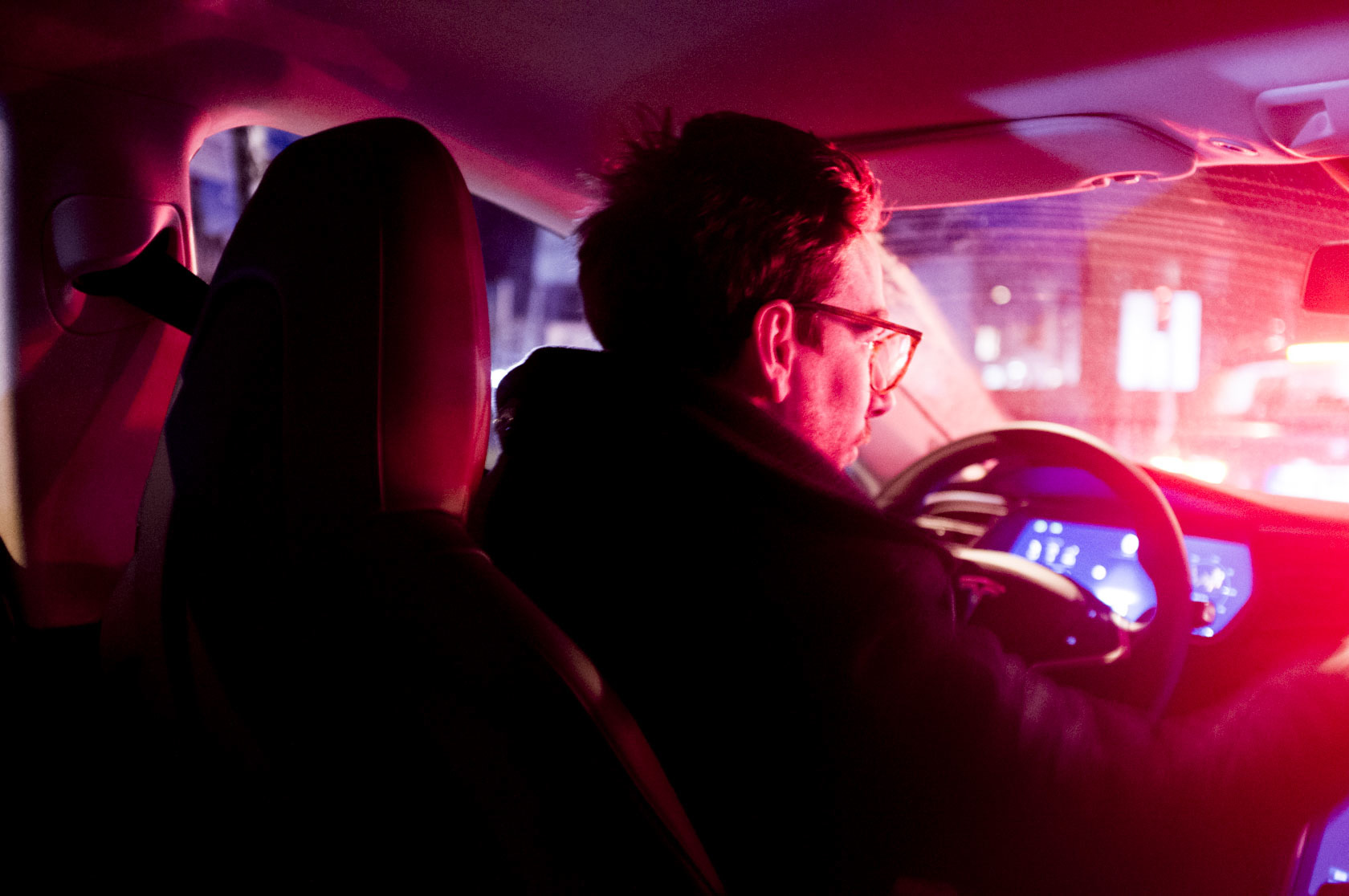 Shortly before the kick-down at the traffic lights. Red colors everywhere.
Flo, designer, who has been driving a '94 Volvo estate for the last 12 years, can open the boot in 3.2 seconds.
Christopher, developer and proud owner of a driving license for one year, has a very good command of a Ford Focus with manual stick shift.
Tesla Model S, Insane, on the German market for 4 years, can go from 0 to 100 in 3.2s and accelerate without gearshift pauses.
This combination promised a whole lot of fun for everyone involved: kick-downs on empty roads, satisfying our g-force addiction, 007 Easter eggs in the interface and an always-friendly accompanying Tesla representative who didn't exactly persuade us to drive slower.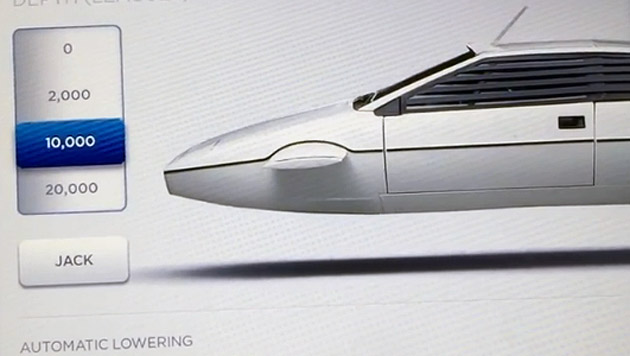 The James Bond easter egg: Long-Touch on the Tesla-Logo, type in 007 as code and instead of the Tesla car you get an U-Boat-car displayed fron the movie "The Spy Who Loved Me". We like.
During the test drive we not only discovered what it means to race 2.1 tonnes of lithium through the streets, but also that a Tesla comes with a (car's) lifetime of free charging.

This driving experience, the modern product design approach and the fact that these "automobile newbies" just so happen to be turning the entire automobile industry on its head really blew us away.
This wasn't the Prius approach, which is permanently showing us how sensible (and ugly) cars can be. Tesla is very clearly all about the joy of use. They are impressing drivers with the amazing performance, made possible by electric motorisation and combining that with constantly further developed, user-centred comfort and gadget functions. Service design in a car.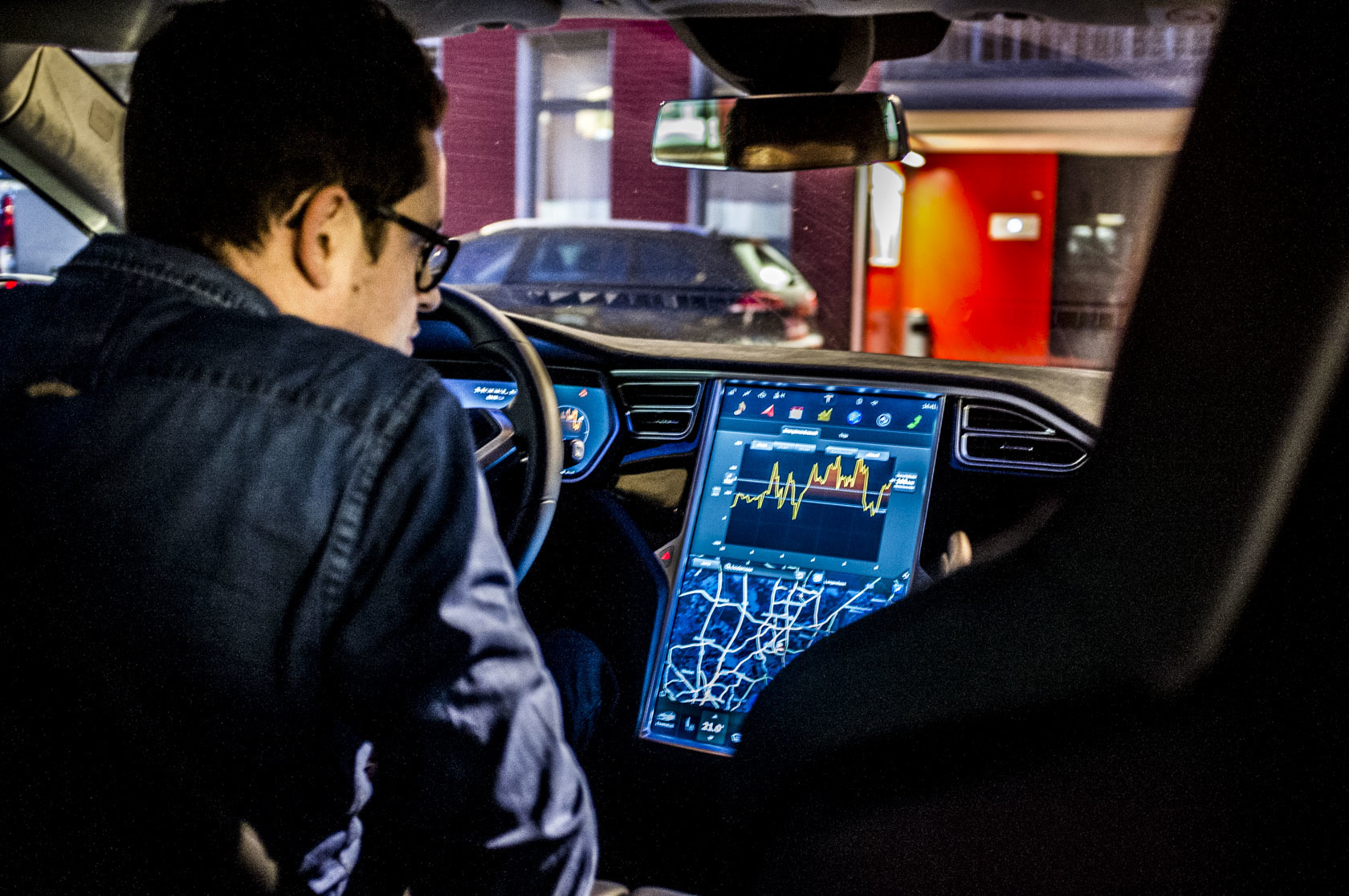 Pretty oversized. The screen. Unfortunately the interface looks pretty complicated and old fashioned.
What we weren't too impressed by – even though we love big screens – was the 17" monitor, which takes up the entire mid-section of the car. Not only was the device totally oversized, the interface could also do with an overhaul and complicates access to standard functions. A personalised dashboard could help solve this problem. But haptic controls are still proving the simplest and most direct form of interaction. Making this haptic type of input dynamic could be an exciting approach to interaction.
Conclusion
We spent most of the drive back to Hamburg's city centre in stop-and-go traffic –which, in a petrol-driven stick shift vehicle with a hole in the exhaust pipe isn't necessarily the most enjoyable way to travel – while philosophising about what we had just experienced.
We were unanimous: we like the electric drive. The acceleration, the quiet, the comfort. The much more modern approach to a motor. You're no longer in a cassette player (a 20-year-old car), or a mini-disc player (current car), instead it's like being on the road with Spotify.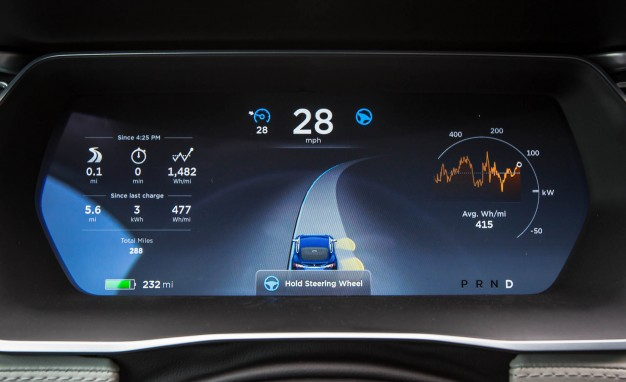 The design approach on the dashboard is much more comfy and minimalistic than on the "big interface".
But what impressed us most was that Tesla has taken the step to completely rethink the car as a product and give it a modern update. A Tesla doesn't look like a Prius, nor does it feel like one. And that's a good thing. The aim of a Model S isn't to look sensible, but to exude premium quality and sportiness. While remaining very American, broad-shouldered and confident. Designed for wide roads and big car parks. In terms of design – of both its interfaces as well as its chassis – Tesla may need to up its ante; but at its core it has recognised that joy of use and therefore emotion have to be experienced by its customers in order to create desire. Nobody's going to be the talk of the town with goody-two-shoes, sensible, energy recovery screenshots from the car's display. But Insane mode, autopilot and 007 Easter egg features are a different story.
And announcements like the one about free power at all Tesla charging stations are also doing their bit in persuading people of Tesla's benefits. Us included. But at the end of the day, electric motors in all cars would be even more brilliant. An old car body, the comfort of old Swedish leather Volvo car seats, combined with the swift and silent glide of an electric motor. The contrast between old and new would make the whole shebang even more appealing. Basically an upgrade kit. Now that really would be something.
One small hurdle to becoming a proud Model S owner, however, could be the price: a hefty 100,000 euros. Which is slightly over budget for owners of rusty Ford Fiestas or Volvos. But with the upcoming launch of the more affordable Model 3, Tesla's new compact car at around 35.000 USD, this will no longer pose a problem.