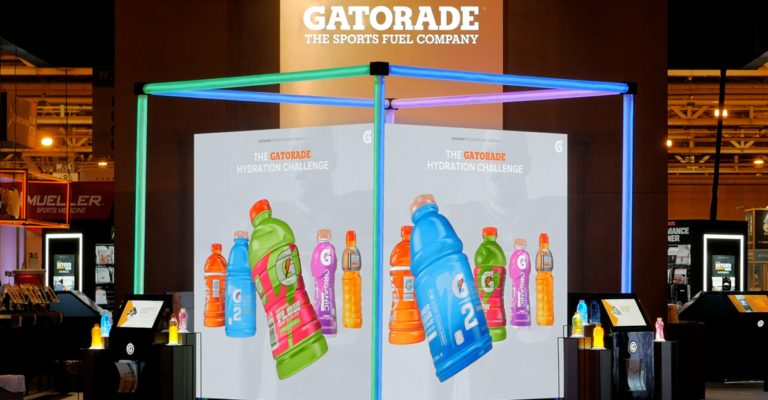 Claudia on 4/9/2019
Inside our GATORADE Digital Brand Experience 2018
After winning the FWA OF THE DAY at October, 19th, 2018 FWA came back to us and asked us to share some insights about our GATORADE Digital Brand Experience 2018 and of course we said yes! Find out more about what we wanted to accomplish with this project & some secret facts.

What did you want to accomplish with the project?
For the 2018 Gatorade roadshow, which took place in 5 different locations in the USA, we created a modular digital booth to attract trade show visitors to get in touch with Gatorade's latest products and innovations - in a fun, personalised and engaging way which clearly positioned Gatorade as an innovative Sports Fuel Company.

In order to create a clear and responsive customer journey and to allow the attendees to learn about the products benefit in the easiest way, we sliced the entire experience into four installations, setting different goals for each app, and increasing the gamification factor instead of the passive exploration. Therefore, in some cases, we decided to extend some experiences as multiplayer games, while others have been kept as individual explorations to share social content or to collect useful information about their products.
To ensure a seamless user experience, we used RFID wristbands as the key to fully interact with the installations and collect information.
What technical challenges did you encounter and how did you solve them?
To ensure a connection between all touch points and user interactions, we had to connect more than 30 applications that were developed on different platforms. So basically users were able to register their RFID bands on their own devices at home, login to Unity-based 3D games on site, or even attend and check into additional remote sport events in close proximity around the events, hosted by Gatorade. Therefore we had to setup a realtime network to connect all these apps, analyse user data in realtime and send out customised product information or gifts, based on their individual user-journey. This year's goal was to inform the delegates in a fun and playful way about products and innovations, so we developed several Unity-3D multiplayer games, setup transparent display boxes and connected hardware features, such as LED-stripe controllers combined with physical interactions.
What did winning the FWA award mean to you?
FWA has always been an important platform for us to reach a wide range of other geeks, agencies, and innovative clients out there. It has influenced our work since the very beginning and always kept us up to date, about the great work people are pushing forward in several digital areas. We are proud to be a part of it and look forward to some more FWAs in the future.
Tools used:
Unity 3D
MQTT
Node-Red
Ionic
CraftCMS,
Raspberry Pi
Fade Candy LED Controller
Protopixel LEDs
MMT transparent Hypeboxes
RFID
Three hot facts:
Modular trade show setup in 5 locations all over the USA
Over 6,000 registrations and user interactions during the trade shows
Realtime 3D games allowing users to compete against each other