SAP
Gamified Global Event Experience
We worked closely with SAP's Innovation & Experience Marketing Center to develop a gamified showcase experience that reimagines conference events on a global scale. With its action-adventure storytelling that frames both web and booth, the virtual enterprise simulator connects CEO's worldwide with online and onsite sync, analyzes their performance data in real-time, and challenges their leadership by balancing people, the planet, and profit.
Online and Onsite User Synchronization
While the web and booth applications each offer a unique journey with dedicated 3D content, the user metrics all culminate into the same 'company value' calculation at the end. This collective power of data brings together all participants on an aligned mission to make a difference in the world, and doubles as a hub of rich insights through more events over time.
Cross-platform Backend Infrastructure
To bring all worldwide activity together, we built our own backend system as a single source of truth. This synchronized database now has the flexibility to both compare and combine metrics between users regardless of device and location.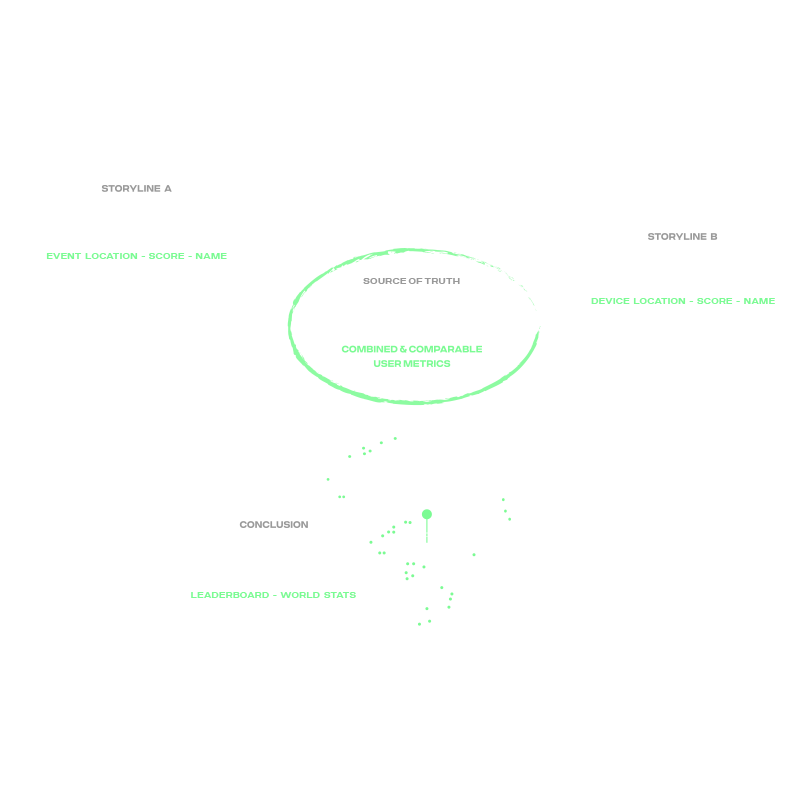 Branching Educational Storytelling
Industry guests across the world were given the opportunity to take on the role of CEO virtually, whether building their enterprise from a family business into a global operation at the phygital booth, or navigating their company out of a disruption through effective crisis management on the responsive website.
Phygital Booth Installation
To create the most simple user experience out of complex SAP topics and themes, we developed a custom haptic dial mechanic that enables fast decision making during high intensity scenarios, tracking their interactions down to the millisecond.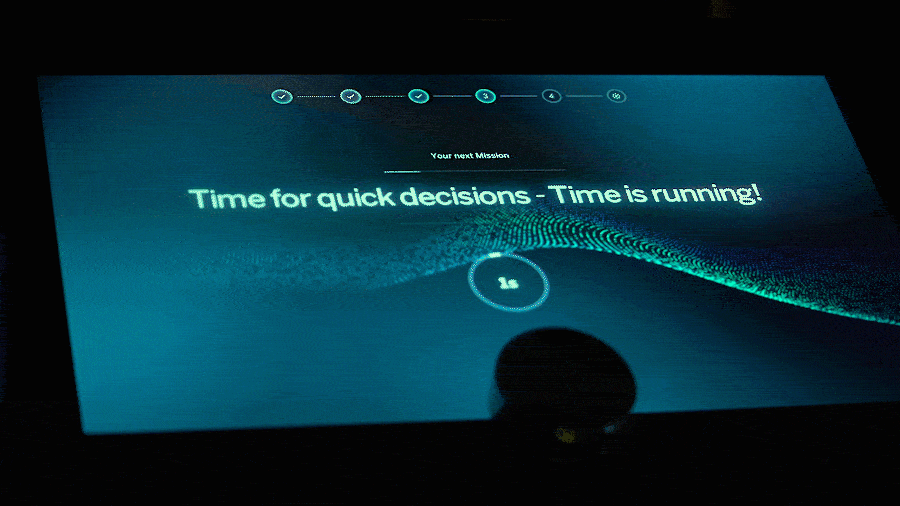 Responsive Web Application
The epic journey continued in the online event that took place for "SAPPHIRE NOW Reimagined", SAP's first ever virtual conference. To match the gameplay mechanic established at the physical booth, the UI was adapted to run smooth and precise on mobile devices.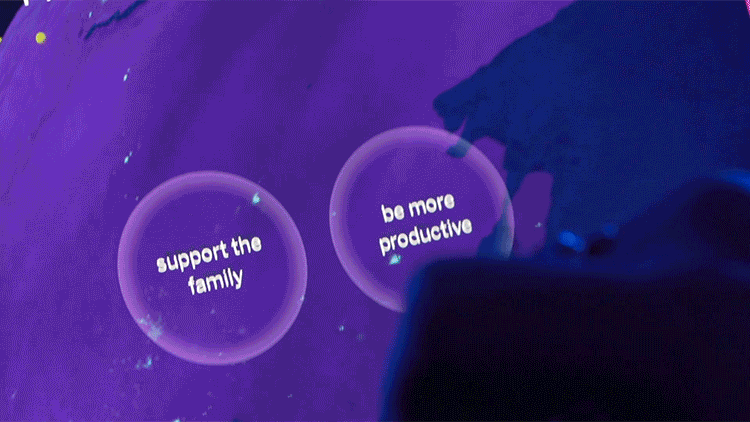 Custom-built Connected Booth
Together with our exhibition partner "Simple", we designed bespoke ergonomic standing terminals that could be easily shipped and maintained anywhere in the world. A local server runs the CMS, while the data of incoming web users is streamed via internet to be displayed alongside local participants.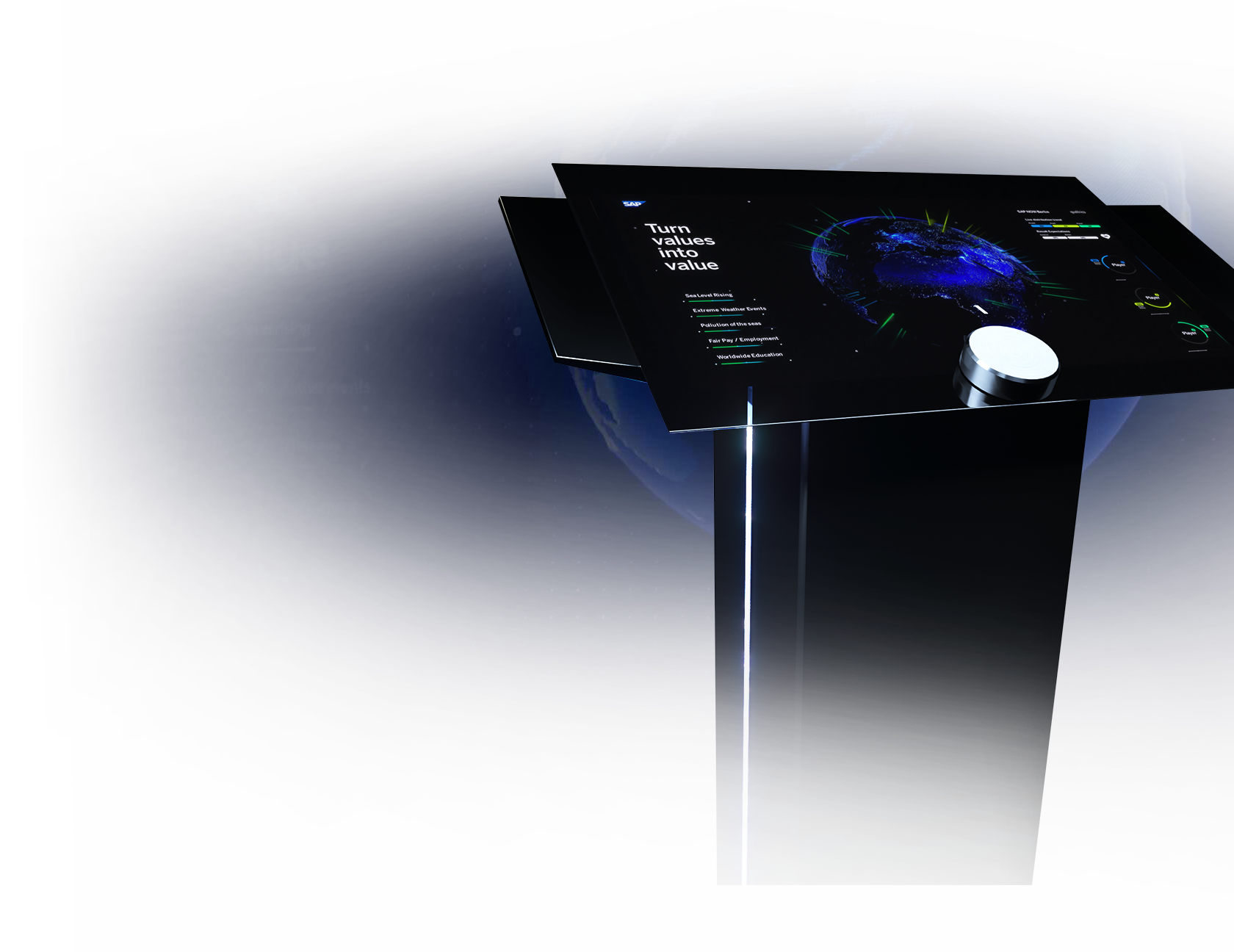 Next stop: Expo 2020 Dubai
By connecting web and terminal guests, we were able to craft a seamless event experience that brings people together anytime, anywhere. And in the name of global reach, Values to Value will feature at the Expo 2020 Dubai with new localized story content to keep the mission fresh and the challenge relevant in the new normal.
Bringing People Together on a Global Mission
This experience has created a deeper collaboration between SAP and their customers. By confronting real world issues, a unique dialogue takes place in an interactive and engaging way. And with continued roll out at future events, more enterprises will get the opportunity to share their goal in improving lives, sustainability, and ultimately success.