Nestlé Wagner
Augmented Reality Games & Facefilter
Working alongside Wagner, we were tasked with creating a unique brand experience for their BIG CITY Pizza brand that would reintroduce customers to an old favourite in a new way. We chose to utilise the growing socialAR trend to combine augmented reality with social media to develop a boundary breaking product that combines the physical and digital to engage with consumers both on and off the screen. Besides both Beiersdorf and Kellogg's, Nestlé is another company in the FMCG sector for which we implemented innovative AR experiences. With a mixture of AR face filters and immersive games - all accessible from each pizza box or social media - users can play and share with friends to make brand engagement interactive and fun.
Making SocialAR Accessible for Brands and Enticing for Consumers
Our biggest challenge during the project was creating a solution that would be engaging and immersive for consumers while creating a connection to the Wagner brand that felt authentic and natural. We spent hours researching and comparing current filters to make sure our product would be competitive, relevant, and fun. We worked hard to strike the perfect balance within each game to be entertaining, fast and intuitive.
Bring in the Social
By publishing the games and filters to Wagner's social media platforms -- a new and innovate form of digital marketing -- users can directly share with their friends and followers, making interaction and connection with the brand seamless and straightforward.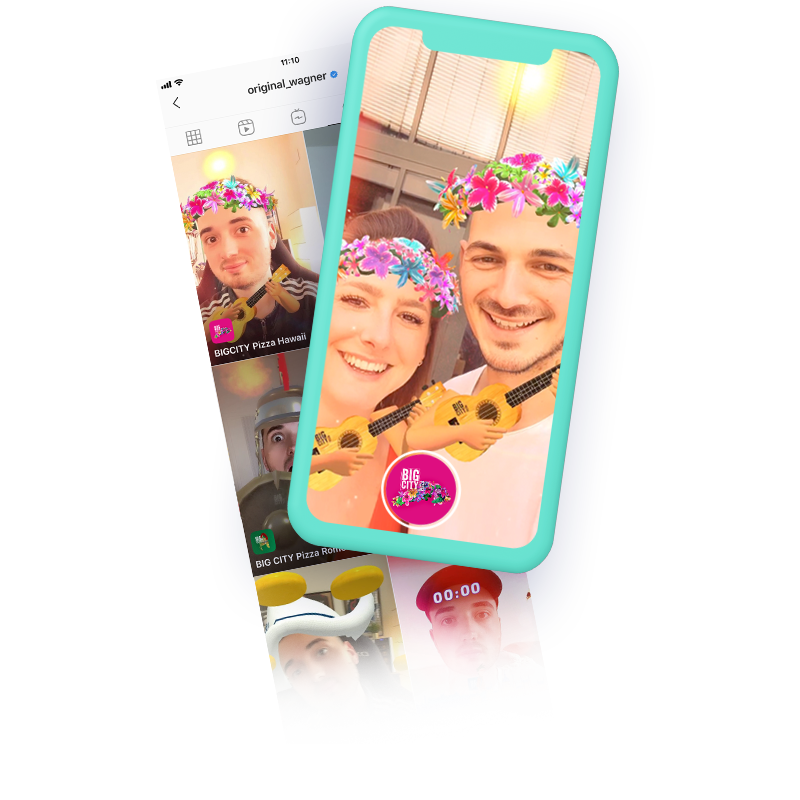 A Story in Nine Pizzas
Working with Wagner's campaign motto, 'BIG CITY essen, BIG CITY erleben' — which roughly translates to 'BIG CITY eating, BIG CITY experiencing' — our team wanted to craft experiences that would take consumers on a journey without the need to leave home. For the launch of BIG CITY Pizza Wagner assigned each flavour of pizza to a different city to create a narrative connecting taste and place. Breaking the nine cities down into three waves, we began exploring how the cities could be visualised in an easily recognisable and playful way.
Features of the Future
In each wave Wagner selected one 'hero' city based off a best-selling flavour which would be used as the backdrop for an AR game complete with level-ups and other interactive features such as blinking or head nods to control movement within the game. More simplistic yet still interactive face filters were used for the remaining cities, giving users the option to take a selfie in a Turkish bazaar or transform into a Roman gladiator with a friend.
Flexible, Fun and Interactive
Our team chose to design and develop the product using SparkAR software both for its flexibility in the creation of AR based filters and its publishing capabilities for Instagram and Facebook. Publishing directly to social media platforms also means that users don't need to download another app to access content, effectively increasing accessibility and ease of use.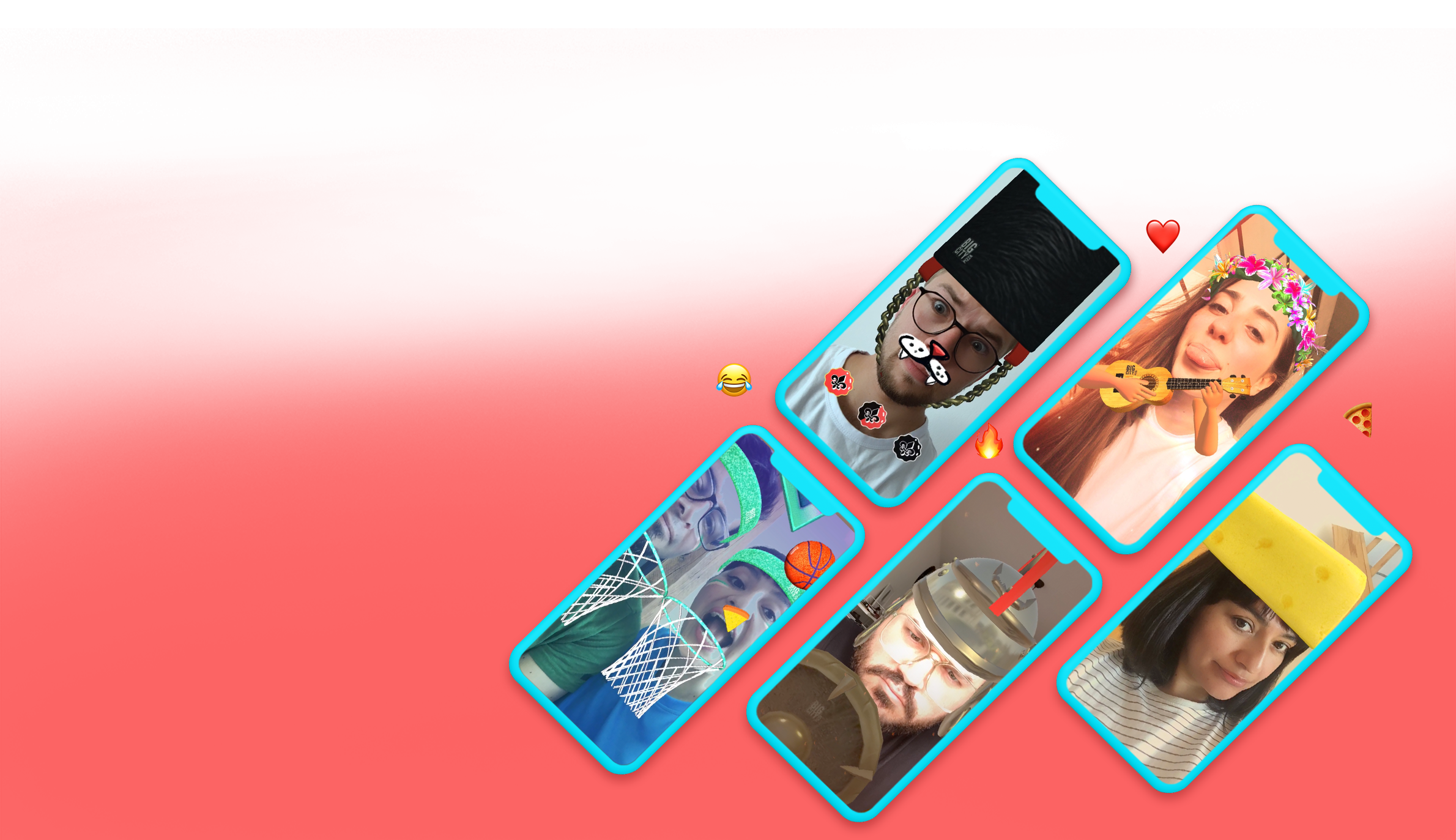 AR Games for the Win
For three of the cities, Boston, Budapest, and Sydney, we created immersive games that would add an additional layer of interaction. Using face-tracking technology, we were able to use facial expressions and movement to control elements within the games. Additionally we utilised bone-rigging and textures to bring a sense of playfulness and realism to the avatars and animations in each game. To increase the playability of the games we added in power-ups in the form of pizza slices, high score displays, and hidden features to keep users coming back for more.
FaceFiltered for Fun
While the AR games focused more heavily on interactivity and engagement, the filters were designed with connection and fun at the forefront. We wanted users to take a moment to laugh and share their selfies with each of the filters. Here we used a combination of textures, face meshes, and lighting effects to create a series of filters that range from having users eat their way through a giant piece of cheese in Amsterdam to saving the city from a cat monster in Tokyo.
Immersive Packaging and Details that Count
We chose to use the pizza boxes as a physical access point where existing customers could further immerse themselves directly in the AR experience. Using an image tracker that can recognise the packaging of pizza boxes via a smartphone camera, users unlock a hidden 'easter egg' feature in each of the games and filters that reveals a hidden asset to create a surprising and delightful interaction that encourages users to continue to explore and play with each effect.
Taking SocialAR By the Slice
Through this project, Demodern shows how SocialAR helps a brand stay connected with its customers - which is an even more relevant topic in times of social distancing and economic uncertainty. Further filters and games for all other BIG CITY Pizza locations will follow, and some locations mentioned above have already made it to supermarkets and are ready to use.

So far our filters and games have garnered over one million impressions in the first month since their launch in July. More than 20,000 users have recorded their own reactions or gameplay, a large part of them shared the results and selfies with friends — showing that socialAR can bring people together in the same way pizza can.
What the client says…
"As the head of digital for a large company, I find it very enriching to work with a partner like Demodern, as they bring speed, agility and pragmatism to complex projects in addition to their know-how".

Arnd Hutmacher - Head of Digital Communication & Brand PR
Nestlé Wagner
Augmented Reality Games & Facefilter