KNIPEX
Virtual Toolbox & Product Finder App
KNIPEX, a globally renowned manufacturer of high-quality pliers, aimed to capitalize on its strong brand love by providing a different kind of tool for its community – a product finder and virtual toolbox in the form of an innovative app. As a leader in creative tech, Demodern was tasked with delivering a solution that would resonate with KNIPEX fans and help everyone select the right tools for their needs.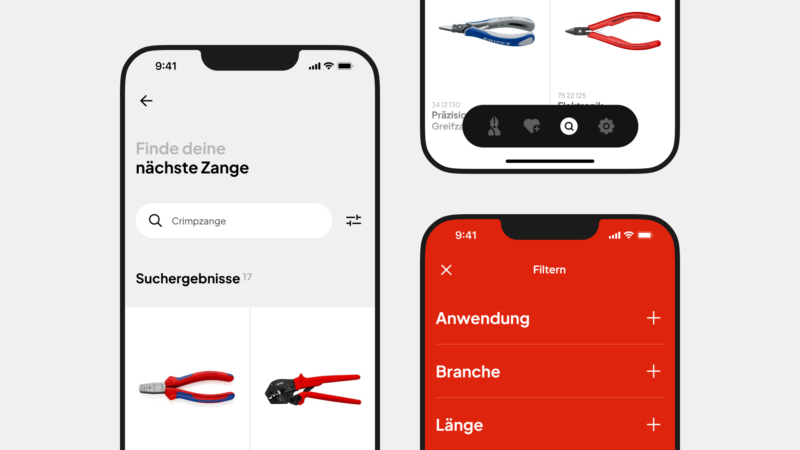 Puzzle of Pliers
Our main challenge was to address the complex task of tool selection from a catalog of hundreds of products with endless features. With its extensive range of high-quality tools, customers often find it daunting to pinpoint the perfect KNIPEX plier or tool for their particular requirement – building a system that would make this more intuitive was no easy task. However, given KNIPEX's community's affection for its products, we went above and beyond to give back the love.
Multi-disciplinary Challenge
Meeting the needs of KNIPEX's diverse markets and integrating the vast catalog of products into an intuitive, comprehensive application presented a multi-disciplinary challenge. Our objective was to combine multiple data sources into one well-rounded app that could be successfully rolled out to all of KNIPEX's markets.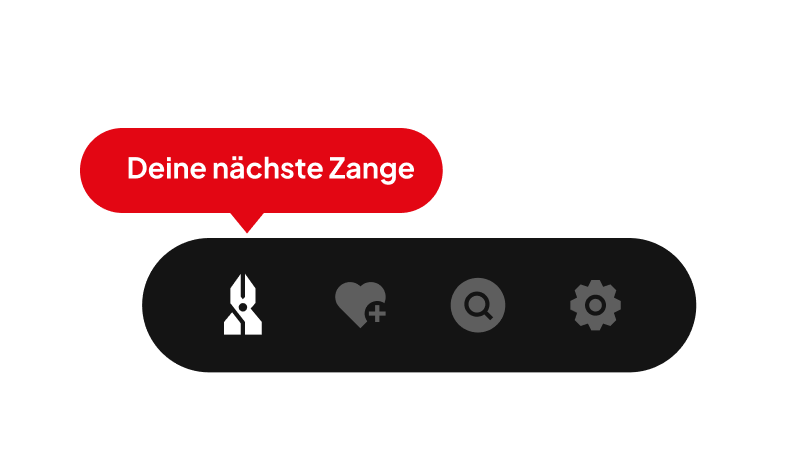 Every Pot Has Its Plier
With React Native at its core, Demodern's team aimed to construct an easy-to-navigate, user-friendly application that combined utility, technology, and customer experience. Leveraging our understanding of the KNIPEX community and brand, we decided to include features that offered a personalized experience and value, making tool selection an exciting and rewarding journey.
Navigating the KNIPEX universe with Confidence
To ensure users had access to the full range of Knipex's tools, we created an easily accessible digital product catalog. Users could filter through various tools based on their specific needs, making the tool selection process effortless and convenient.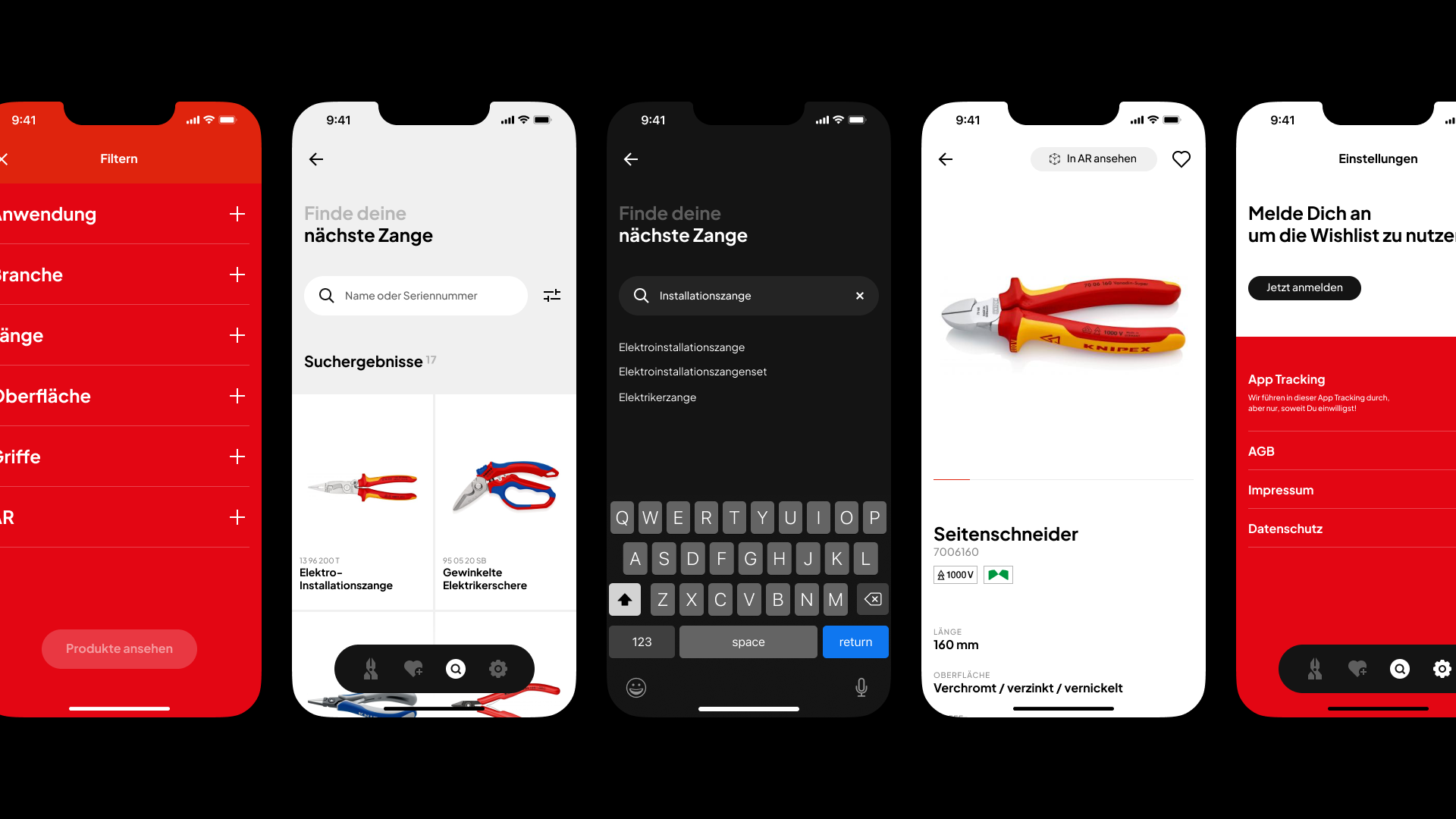 An app that gives professionals what they need when they need it – making it even easier for them to choose their already most-loved brand.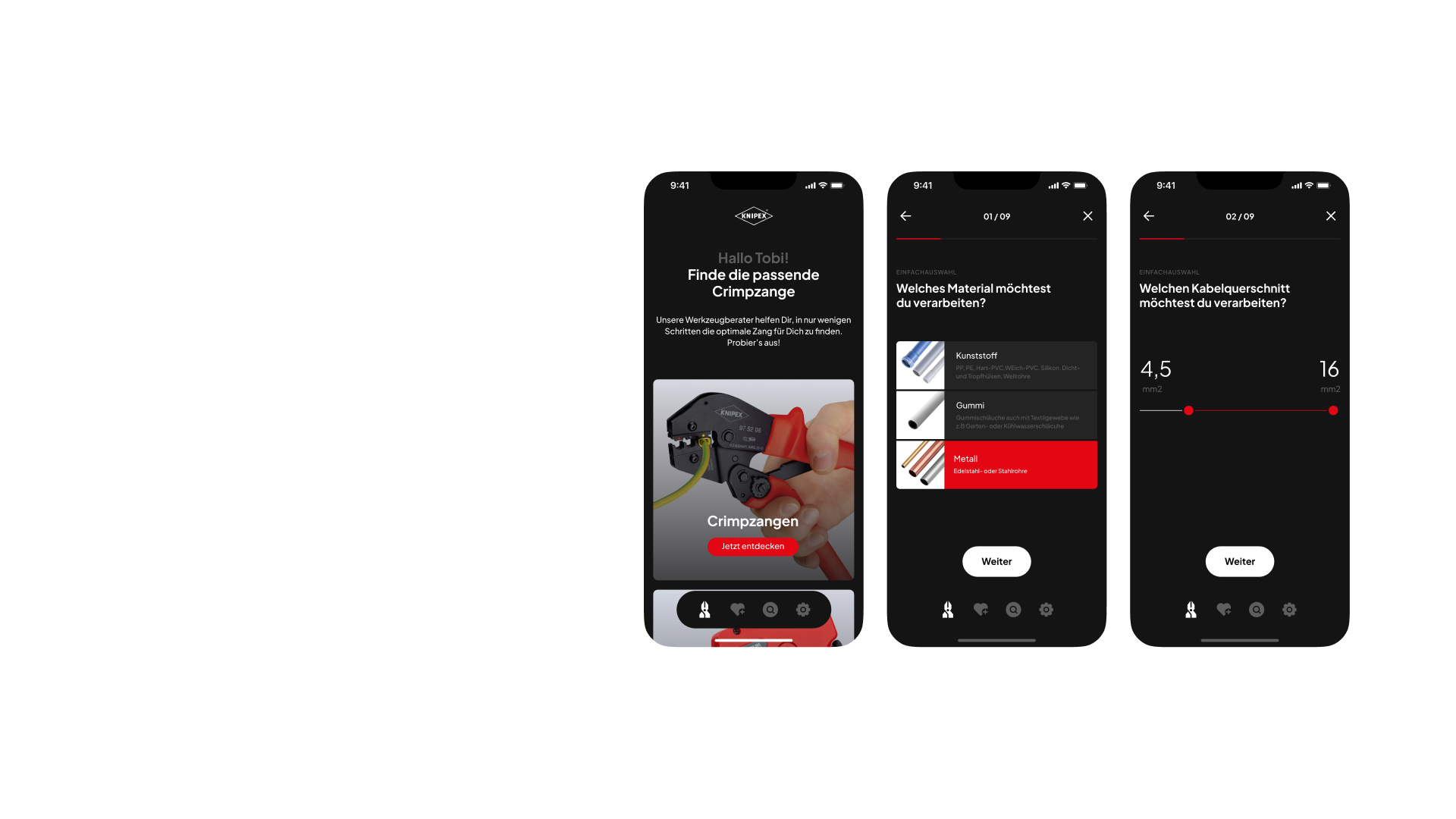 A New Perspective
To increase buyer confidence, we included an AR feature that allows users to view 3D models of pliers, helping them to better understand the tool's dimensions and details before purchase.
All Roads Lead to KNIPEX
To streamline the purchasing process, we included a store finder feature. In selected regions, users can locate KNIPEX dealers in their vicinity, facilitating a swift transition from app browsing to physical purchasing
Personal Value, Global Impact
Now available in the iOS and Android app stores in over 25 countries worldwide, the KNIPEX app has had a successful international rollout