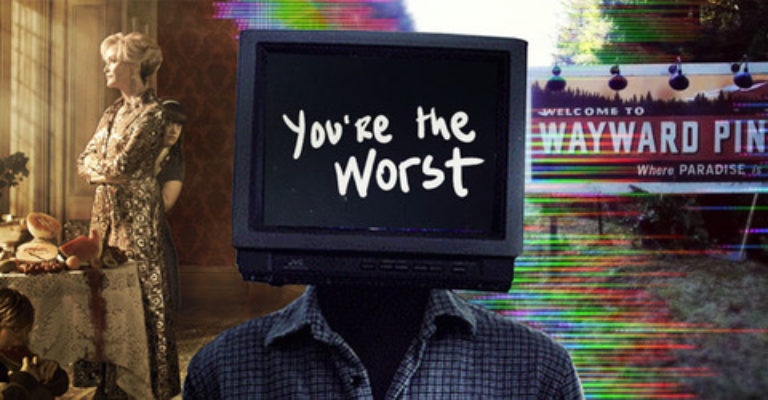 Jill on 9/28/2016
Opium for series junkies
"Winter is coming", but unfortunately not until next year. It's been just a few months since Game of Thrones left us with another breathtaking season finale. House of Cards also finished only recently and we'll have to wait until later this month to see Rick Grimes and co. walk – very slowly – through zombie hell in the latest season of The Walking Dead. So what is there for a series junkie to watch until then?
Quite a lot, actually! In fact, there's no limit to your binge-watching opportunities. Whether you want to fall in love with a new series, need something to chew on for the next few weeks or catch up on some classics you may have missed, I have five recommendations here that will quench your thirst for cool stories and great characters. Happy watching!
Californication
Dealer: Amazon Prime, Netflix
Genre: Comedy, drama
Broadcaster: Showtime
Seasons: 7
Running time: 20-30 minutes
For fans of ... Boobs, social criticism, witty dialogue, rock 'n' roll and loveable anti-heroes.
If you thought you'd seen every single cult series on the planet, you'd be wrong! This is one highlight that too many people have missed, and if that means you then listen up!
Hand Moody (David Duchovny playing himself brilliantly) doesn't have it easy. Not only is the provocative author suffering from writer's block, he's also lost the love of his life Karen (played by the charming Natascha McElhorn) after she ran away with their daughter Becca to start a new, normal life with her new partner Bill. Spiralling into an existence of drugs and women, the loveable cynic fights his way through the superficial swamp of California, experiencing one disaster after another in his quest to win back Karen. His life reaches a new low, however, after he unwittingly seduces Bill's seventeen-year-old daughter.
Bottom line:
Viewers can follow Hank Moody's life over seven seasons. Some of the series' harsher critics would say the plot starts to repeat itself after a certain point. But so what? This series doesn't stand out for its original plot line, but for its quote-tastic dialogues, ultra-cool characters and the way it handles human flaws with such casual humour.
Wayward Pines
Dealer: Amazon Prime
Genre: Mystery, crime, science-fiction
Broadcaster: FOX
Seasons: 2 (discontinued)
Running time: 45-50 minutes
For fans of ... Conspiracy theories, Twin Peaks, nightmare scenarios and mindfuck.
On the hunt for his missing colleague, detective Ethan (a somewhat different Matt Dillon) awakens from a car accident to find himself in the sleepy village of Wayward Pines. He quickly finds out, however, that this place isn't quite what it seems. My lips are sealed. All I'll say is: "There are no crickets in Wayward Pines."


Bottom line: If you liked Lost and Twin Peaks, you'll enjoy Wayward Pines. The recipe of half mystery, half science-fiction and a pinch of film noir make this series a hit. It boasts a great cast and a brooding, threatening atmosphere. And even if the secret of the strange village of Wayward Pines is revealed as the plot unfolds, the series constantly keeps the tension going.
You're the Worst
Dealer: Maxdome, Lastwagen, or iTunes
Genre: Drama, comedy
Broadcaster: FX-Network
Seasons: 2 complete (season 3 starts October 31, 2016)
Running time: 20-30 minutes
For fans of ... Put downs, caprice, any kind of vice, schadenfreude and zinging dialogue.
Two people down on their luck with the opposite sex meet and chaos ensues! Gretchen, a smart but chaotic PR manager ends up in bed with Jimmy, a cynical, failing writer, after the pair meet at a wedding. What starts as a one-night stand quickly becomes a more serious affair. The pair have plenty in common: they smoke, drink and have virtually no social skills. Neither believe in love, nor do they have any idea how to make a relationship work.
Bottom line:
Let me make this clear: this isn't a banal, romantic love story, but a punchy, uncompromising anti-love story with crude and screwed-up characters. If you're the type who wants to keep on their rose-tinted spectacles and maintain their loved-up view of the world, then you'd best look elsewhere. This series is a tribute to anti-love and moral grey areas.
American Horror Story
Dealer: Netflix (only up to season 4), or iTunes
Genre: Horror
Broadcaster: FX
Seasons: 5 complete (season 6 starts on September 14, 2016)
Running time: 45-50 minutes
For fans of ... Goosebumps, blood, spooky kids, psycho clowns, voodoo witches, dark basements, violent nuns and sexy maids.
Although some find this series too gruesome (come on!), there are still plenty who haven't even seen it. Season 1 of American Horror Story takes us to a house of horrors, whilst season 2 takes place in a 1960s mental asylum run by nuns. Season 3 follows a coven of witches, season 4 a freak show in the 1950s and season 5 takes place in a murderous hotel. That's right, it's what's known as an anthology series. Essentially, this means that every season handles a different topic, with a different story and different characters. The cast usually stays the same, however. Ryan Murphy, the brains behind the whole thing, assures us that everything is somehow linked. #Exciting!
Seasons 1 to 4 feature the brilliant Hollywood star Jessica Lang in the leading role. Lady Gaga took over from season 5 and was awarded a Golden Globe for her excellent acting. But these aren't the only prominent actors to join in on the madness, with other names including Kathy Bates, Angela Bassett, Zachery Quinto, Chloe Sevigny and many more.
Bottom line:
The seasons feature fairly simple plots that play on the usual horror clichés (don't expect any plot twists or big surprises though). But that's not what makes this series so watchable. We love the bizarre atmosphere, the creepy beings, creative production and the brilliant soundtrack that is the perfect fit for each season. The series also makes historical references to infamous serial killers and unexplained events throughout American history. A must-see for all horror fans!
The Affair
Dealer: Amazon Prime
Genre: Drama
Broadcaster: Showtime
Seasons: 2 completed (season 3 starts on October 20, 2016)
Running time: 45-50 minutes
For fans of ... Moral grey areas, psychographics, explosion-free excitement, dramatic composition, changes of perspective, cool images and crime.
I know. Judging by the title, you'd be forgiven for thinking this is a soppy lovefest for women only. Wrong!
The Affair follows the story of married man Noah (some of you may have seen Dominic West in cult series The Wire) and married woman Alison, who meet during a family holiday in Montauk. What makes this series special is the way each episode is split, with the story first told from Noah's perspective and then that of Alison. Dialogues, events and clothing change accordingly. Noah sees Alison as having made the first move, and vice versa. The pair stumble into an affair that is the trigger for a tragic death which shatters the lives of all involved. We don't find out whose death exactly until a lot, lot later on.
Bottom line:
It may be an old story, but the format is refreshing. The characters have depth and realism, and are so complex and real that every viewer will identify with at least one or two moments. The series focuses on the grey areas in human relationships, with no good or evil. The truth – as so often in life – lies somewhere in between. The atmosphere constantly switches between dark and hopeful, displaying a subtle hardship. This is definitely a series for men and women alike, but is not recommended for hopeless romantics looking for a classic happy end.