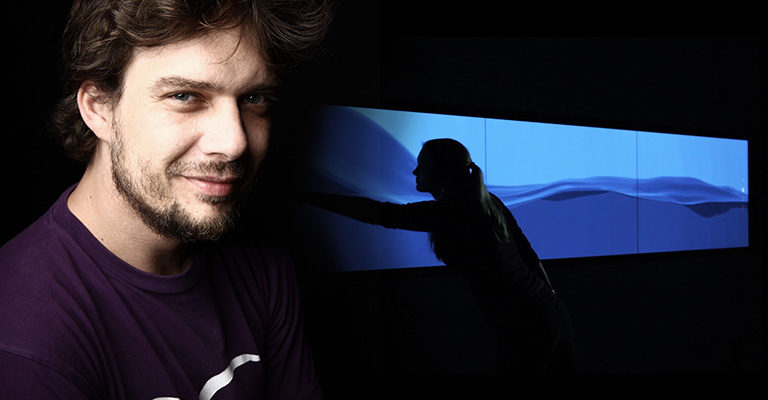 Demodern on 12/1/2014
Demodern develops new business field and welcomes Nico Zimmermann on board
The Demodern digital agency is extending its service portfolio and setting up a new strategic field of business with 'Digital Products and Installations'. This means that Demodern will now also be developing solutions and installations that are no longer limited to the browser or a mobile app, but which cover all areas of digital communication – from digital, networked products to installations down to integrated services. "By taking this step we are not only venturing into a future-oriented and important field of digital communication, but can also better meet the increasing demand of our clients," says Kristian Kerkhoff, the managing director and co-founder of Demodern, about this strategic decision.
Nico Zimmermann, 38, who is joining Demodern as Creative Engineering Director, will manage this field of expertise. He has a great track record as an expert in digital installations and creative technologies. With interactive solutions for numerous companies over the last twelve years, the former technical director of Powerflasher in Aachen, as well as the co-founder and partner of the Britzpetermann design and code studio in Bonn, has set digital benchmarks. Demodern and Zimmermann have already successfully cooperated on different projects including the 'Metal Gear Art Studio' for Konami and on installations in the Vodafone flagship store. The team is joining forces with immediate notice.
With Zimmermann's move, Demodern is taking on the field of 'Digital Installations' from Britzpetermann and therefore also continuing existing projects and maintaining customer relations – for example with the BDF Association Of German Pre-Manufactured Building.
–––––– End of press release –––––

About Demodern
As an independent digital agency based in Cologne, since 2008 Demodern has been creating innovative communication concepts for the digital age. Under the management of Kristian Kerkhoff, Alexander El-Meligi and Thomas Junk, 25 permanently employed members of staff work for noteworthy clients including Nike, Edding and Montblanc.

Demodern has already won countless international and national prizes for its work, including gold at the ADC Europe in 2010 for "Sounds of Hamburg", two Golden Lions in Cannes in 2011 as well as gold in the New Media Award in 2012 for the "Wall of Fame" by Edding and in 2013 for "The Montblanc Worldsecond".