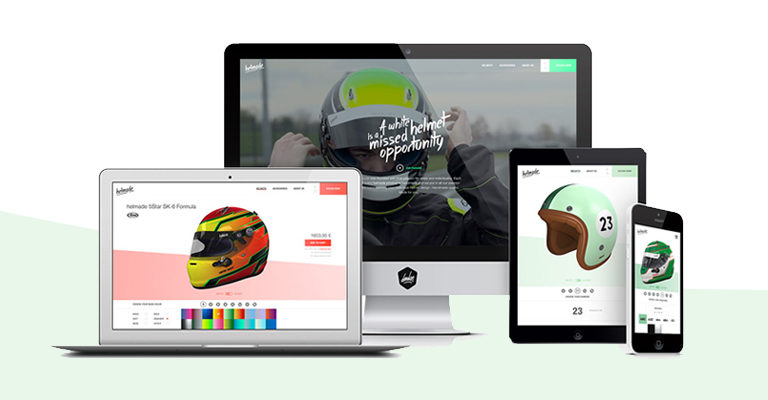 Demodern on 3/31/2016
Demodern develops product configurator for helmet start-up helmade
Hamburg, 29. March 2016 – Individualisation and co-creation are trend topics in the world of motorsports – for professionals as well as hobby drivers and riders. A helmet is meanwhile both a life-saver and a trademark at the same time, which is why the demand for personalised models is increasing. However, the choice of individual designs has so far been limited.

But all this is changing with the online configurator offered on the website of start-up company helmade. On www.helmade.com, drivers of two and four-wheel vehicles can now design their own helmets using a 3D configurator. They can choose from numerous design lines and colours – whether matt, glossy or with effect colours. Customers can even have their signature painted onto their helmet and add variable accessories like visors. The configured helmet can be seamlessly rotated by 360 degrees for views from all sides and subsequently ordered from the integrated online shop. Helmets can also be designed on the move: the helmade configurator runs not only on a browser, but also mobile on smartphones and on large-format displays, which are used, for example, by helmade at tradeshows and events.


The configurator was designed and implemented by digital agency Demodern. Alexander El-Meligi, managing partner at Demodern in Hamburg, says: "The great advantage of this configurator is that customers can really see and design the product that they will later receive on any device – without any colour or design deviations." Up to now, many online configurators have only allowed one view from different perspectives, or only work on mobile phones to a limited extent. In order to achieve a better performance and colour accuracy, as well as attention to detail, the digital specialists created 3D models in WebGL. This guarantees a fluid 360-degree rotation of the products and an intuitive design. The technically challenging connection of the configurator to the e-commerce system Magento also ensures the smooth-running of sales and after-sales processes.
Demodern was responsible for the concept and creative development of the helmade configurator, including the interface design and implementation of the UX and interaction. The 3D models were created in cooperation with 747 Studios from Hamburg. In addition, Demodern produced helmade's promotional video, which the agency filmed together with Hamburg-based film production company jamsession.
Demodern's collaboration with helmade is ongoing: the next step is to give the configurator a direct virtual reality connection that will provide users with a brand new shopping experience using Google Cardboard.


––––––End of press release–––––
About Demodern
As an independent digital agency with offices in Cologne and Hamburg, Demodern has been creating innovative communication for the digital age since 2008. Under the management of Kristian Kerkhoff, Alexander El-Meligi and Thomas Junk, a team of 32 full-time employees works for noteworthy clients including Mazda, Nike, Edding and Montblanc.
Demodern has already received numerous international and national awards for its work, including Gold at the ADC Europe in 2010 for "Sounds of Hamburg", two Golden Lions in Cannes in 2011, two Gold distinctions at the New Media Award, for the Edding "Wall of Fame" in 2012 and "The Montblanc Worldsecond" in 2013 as well as the Adobe Cutting Edge Award 2015 for the Nike Digital Retail Experience.
Demodern Press Contact
Adryiano Richter, Demodern – Digital Agency, Brüsseler Straße 89-93, 50672 Köln,
Fon 49 (0)221 99 96 96 21, ari@demodern.de