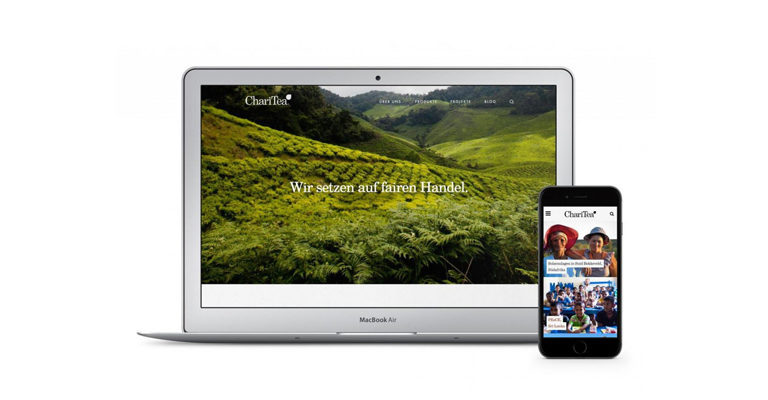 Demodern on 6/21/2016
ChariTea: New brand website by Demodern
Hamburg, 16th
June 2016 –
Digital agency Demodern has developed a new brand identity concept (www.charitea.com) for the well-known tea drink ChariTea. As well as redesigning the overall appearance, the brand platform designed by the Hamburg team also includes impressive content: in the form of stories and videos, from now on users can enjoy even more information about the socially responsible drink from St. Pauli in Hamburg – about new products or the social projects that ChariTea supports. "Consciously opting for a handmade look means that the new brand image is very much in keeping with the spirit of our project. Customers are now being given insights into our corporate philosophy, as well as further information about our growing regions and sponsorship schemes," says Jakob Berndt, CEO of ChariTea.
Authentic brand identities are of particular importance for products like ChariTea. After all, the drink is not only synonymous with fairly traded and organically grown ingredients, but also does its bit for charity: for every bottle sold, five cents are donated to the charitable organisation Lemonaid & ChariTea e.V., which supports social projects in tea-growing regions in South Africa, Sri Lanka and South America. For local schools, solar projects and additional initiatives, more than one million euros have been raised from the sales of the drink so far.
"Parallel to the jobs for our big clients, we always enjoy working for a good cause. We were really impressed by ChariTea's business model. And on top of that, our collaboration, which has been in place since the company was established in 2009, is always inspiring," says Alexander El-Meligi, managing partner at Demodern.
The cooperation is already entering into the next round: before the end of this year
Demodern will also be revamping the website for the Lemonaid & ChariTea e.V. organisation.

––––––End of press release–––––
About Demodern
As an independent digital agency with offices in Cologne and Hamburg, Demodern has been creating innovative communication for the digital age since 2008. Under the management of Kristian Kerkhoff, Alexander El-Meligi and Thomas Junk, a team of 35 full-time employees works for noteworthy clients including Mazda, Nike, Edding and Montblanc.
Demodern has already received numerous international and national awards for its work, including two Golden Lions in Cannes in 2011, two Gold distinctions at the New Media Award, for the Edding "Wall of Fame" in 2012 and "The Montblanc Worldsecond" in 2013 as well as the Adobe Cutting Edge Award 2015 for the Nike Digital Retail Experience.
Demodern Press Contact
Kristian Kerkhoff, Demodern – Digital Agency, Brüsseler Straße 89-93, 50672 Köln,
Fon 49 (0)221 99 96 96 96, kk@demodern.de