Royal Caribbean
Phygital Gaming Zone
For the world's largest cruise line company "Royal Caribbean International" we created Sasu's Mystical Quest - a one-of-a-kind underwater adventure gaming room with custom-designed controllers and a themed interior onboard one of their newest and most innovative cruise ships, "Spectrum of the Seas". As the little shaman Sasu, players are able to explore the depths of the ocean and unravel its secrets with the help of mystical friendly animals.
An Action-Based Game
The objective of the game is to help Sasu, the main character, navigate through four underwater worlds. Guests can control Sasu via a custom-built LED balance board or, in case of people with disabilities, by using an external usb-connected device. Users are able to control the character by shifting their weight left and right, or by jumping - with an objective of collecting as many gems as possible to earn the highest score. Every now and then, some magical creatures will appear to help Sasu throughout the adventure!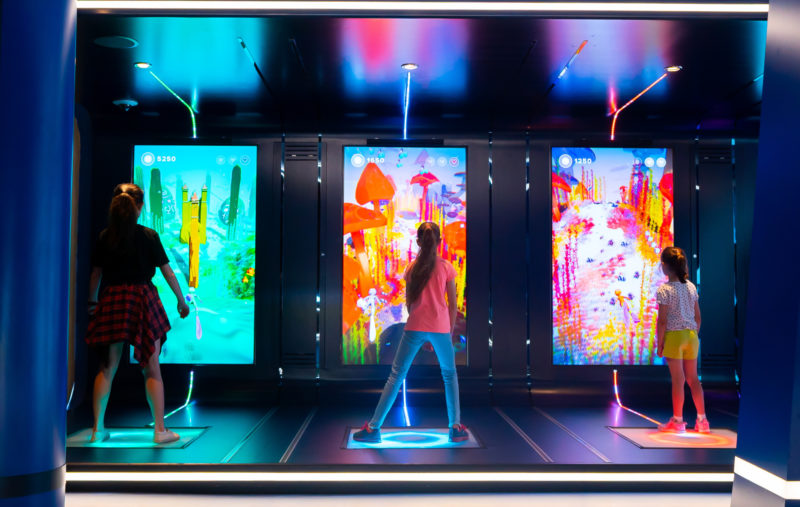 Bringing the Main Character "Sasu" to Life
The creation of the character went through a journey of its own, complete with many iterations of various drawing, sketches, and ideas in the search of the perfect elements. The final result turned out to be a gender-neutral shape character, with a distinctive wetsuit and four different colour variations to connect each character to a specific gaming board. We took time to craft a side story, give a name to the game hero, and include a narrative path linking together different elements in the game and setting a base for an emotional connection within the character.
From Coral Reefs to Caves
While creating the different levels, our intention was to have an environment that bordered on surreal - something that felt native and familiar, yet inciting wonder and enchantment. We grounded our custom world with realistic environmental elements to allow our users quick understanding of how the world works, and then brought in fantastical colours and enhancements that brought the game to life.
Shaping the Atmosphere in Unity
The world was created in Unity from pre-built landscape sections, randomly placed in each level in order to create an infinite variety of obstacles and point placement for every scenery.
The game creates a rich environment by using specific peripheral elements such as fish swarms, ancillary plants and animals, bringing the whole world to life. A large array of post-processing filters (fog, vignette, chromatic aberration, colour grading, particle systems, custom shaders) were used to create a striking underwater atmosphere while still remaining saturated, colourful and slightly cartoonish.
Sounds from the Depths
Together with the experienced sound designers Sebastian Schubert and Rafael Jovanovic, we created a custom soundtrack that could fit the different levels in the game without loosing rhythm. Our main challenge was based around the fact that all 4 game stations were next to each other, so we had to find a way to separate the game soundtrack that is being played in the room from the sound effects of each station. In order to localise the sound experience, we used directional speakers, allowing each player to focus on their own station's audio.
The Colourful Result
We focused on designing a unique and culturally open narrative, and yet the result "Sasu's Mystical Quest" became a rich and immersive colourful experience.
Custom-Made Balance Boards
Our intention for the game was to keep our gamers physically active by using their bodies to control the character. To accomplish this, we had to consider many challenges, including uncontrollable sunlight conditions, a wide range of user's age and weights, building a plug-and-play system, being resistant to the vibrations of the ship and needing to be up and running 24/7. With all of these factors in play, we moved away from a Kinect or other optical sensors, and embarked on developing our own tracking system based on the user's balance.

Ultimately, four of our Balance Boards were integrated seamlessly into the floor, aligned in front of its accompanying 85" gaming screen. Each board contains various weight sensors to measure the balance and capped off by an LED layer covered with a 1.5 cm blurry plexiglass. This allowed us to both provide more feedback and immersion to our players while also protecting the overall system against the ingress of moisture or dust. To monitor the sensor values and send them to our Unity application, we developed our own Demodern-branded circuit boards and a modular system ensuring to plug and unplug sensors or swap out components easily.
The Room Setup
Together with Royal Caribbean's team of architects and interior designers, we turned what was a plain video game room into an exciting ocean-themed experience space highlighted by the four large gaming stations and a leaderboard. The entire space was designed to compliment Sasu's Mystical Quest, with more free flowing seating arrangements, LED accented lighting, and a deeper blue to help keep the focus on our game. Connected LED stripes between the boards and the displays enhanced the overall activity by adding animations for different events such as jumping, crashing or special game modes.
One Last Thought
After 548+ hours of gameplay, 16 character design versions, 2640 litres of coffee, 2.6 km of unique scenery, 5 mysterious animals and 1 easter egg, we ended up with a unique experience that challenged and helped us grow and learn, together with the unlimited support of Sebastian Schubert and Rafael Jovanovic from Loyproduction.
Royal Caribbean
Phygital Gaming Zone