Procter & Gamble
The P&G News Wall
The foyer in the regional and global development center of P&G in Euskirchen gets a new eye catcher and thus becomes the new information center of the company. With the Demodern news wall, employees and visitors will now be informed about current company news in the entrance area.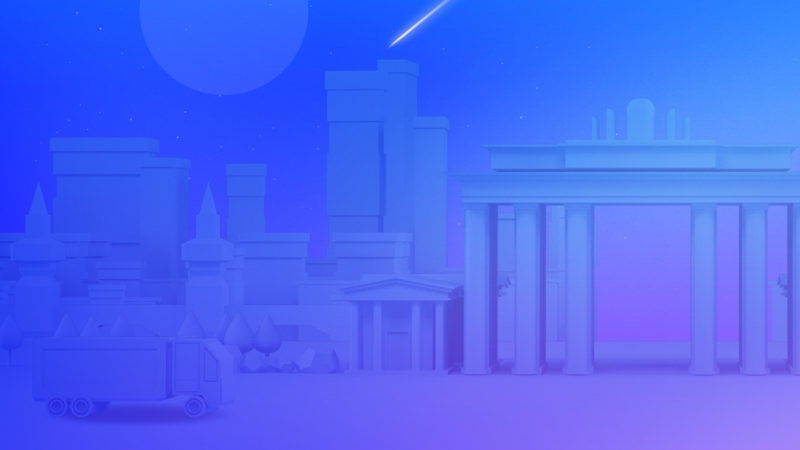 15 m² digital corporate communications
As soon as you enter the foyer, you head for the approximately fifteen-square-meter news wall. It is an eyecatcher and information tool at the same time: the visualization is done according to a specific grid to meet the different needs of employees and visitors alike. The always up-to-date information for employees is placed so that they can be consumed in passing. Visitors are prominently welcomed and gain insights into the happenings within the company.
Realtime Data
The entire architecture is based on a modular and dynamic backend, which can be maintained independently by P&G. In order to keep the timeliness of the displayed data as high as possible and thus relevant to the observer, various internal databases were bundled and their output was automated.
The Installation
In order to prevent the appearance of shadows by people in the foreground, the news wall is recorded via a rear projection. A particular challenge was the small distance of only 125 centimeters between wall and projectors. Design and calibration of the hardware had to be adjusted to the nearest millimeter in order to achieve an optimal result. In addition, the installation of additional Kinect sensors is planned to detect the movements of people in front of the wall. Visitors and employees alike can effortlessly interact with the wall.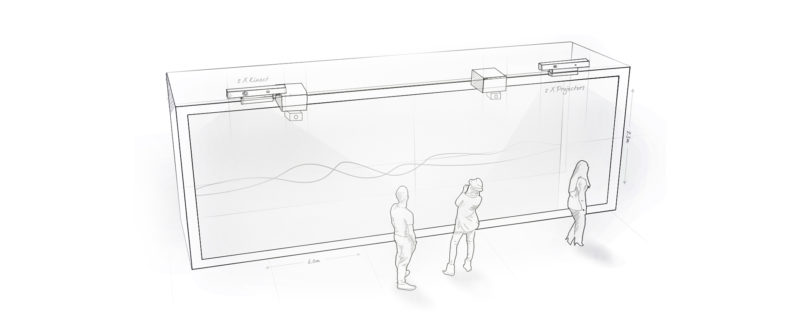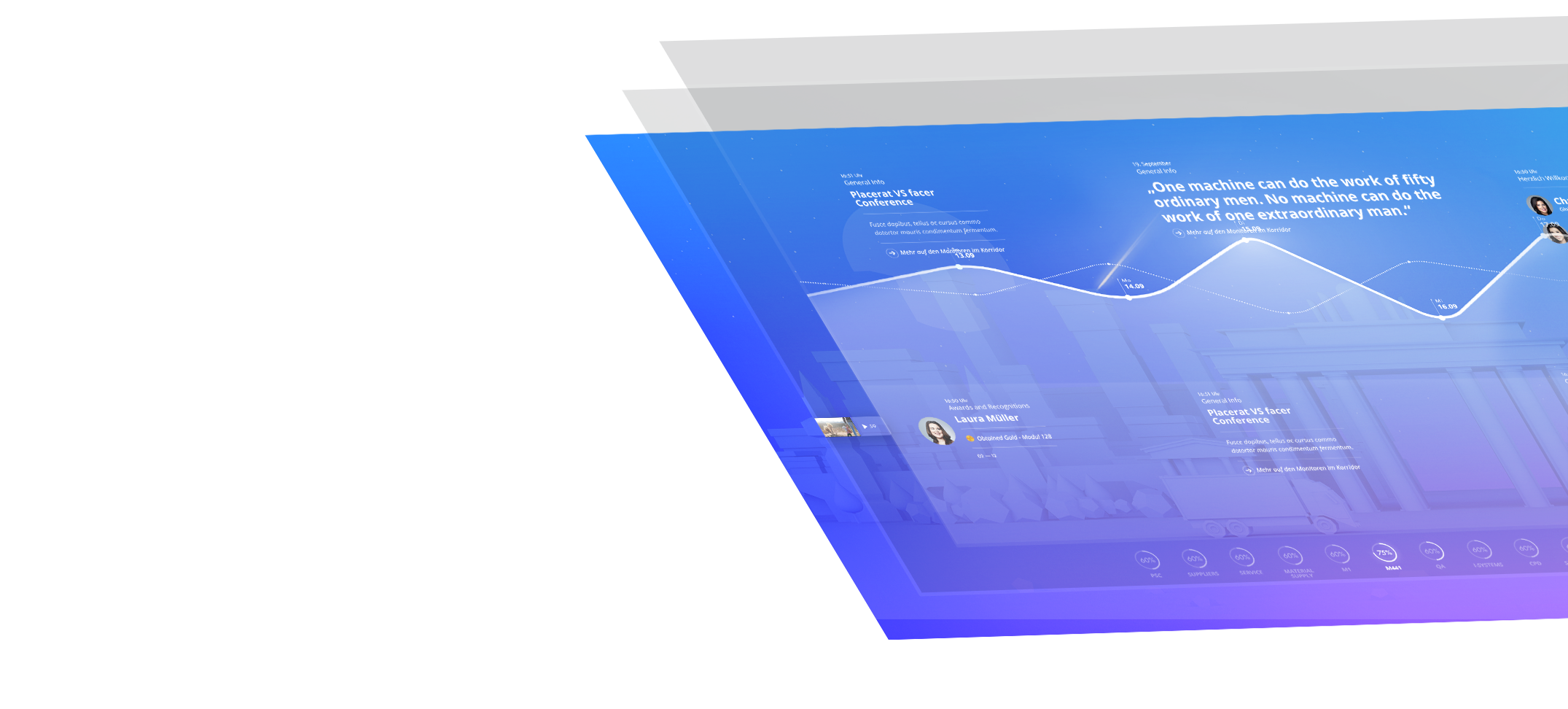 Changing 3 D worlds
In addition to the numerous internal databases, we also use external databases to get current weather information. Depending on the weather or time of day, the color scheme of the news wall also changes. If it is blue during the day, it gets a darker red in the evening - when it starts to rain, this is also reflected on the wall. In addition to situational influences, lovingly staged 3D worlds in the background connect the various production sites of P&G in Europe.
Digital command center
All info wall information is bundled in an individualized CMS. A clear division of roles defines "authors" from the different business units who create and maintain content, as well as responsible "publishers" who then release and publish the information.
Ready for the future
Around 20 additional 84 "monitors will in future pick up the content of the news wall at targeted HotSpots throughout the P&G building and explain in depth. This allows more detailed insights and obsolete the classic blackboard.
Details with huge effect
Fifteen square meters and 8,847,360 pixels offer unimagined possibilities. In order to fully exploit the potential of 4K resolution and to maximize the level of information, our team put a lot of love into details and worked closely with our contact persons.
Procter & Gamble
The P&G News Wall