Mazda
Find My Mazda
Aiming at shortening the distance between the users and their perfect-match car, we created an online platform for Mazda Motors Germany. A user-tailored approach that redefines Mazda's website, positioning it as a competitive sales platform and network. Based on conversion-centered design principles, we brought together Mazda vehicles' inventory and the authorised dealers on an intuitive and entertaining tool where users get inspired and search for theirs cars based on their preferences.
Designing a vehicle marketplace
Mazda's aspiration of integrating a vehicle marketplace in their website requires a conversion strategy and a creative approach that let the platform stand out between its competitors. So our objective was to create an intuitive marketplace that takes into account different target audiences and their needs throughout the entire process.
Experience matters
Despite our experience in e-Commerce projects, there was something particular about this project. We simply weren't interested in creating just another marketplace but rather an e-Commerce experience that becomes a reliable reference, understanding the user from inspiration to selection to purchase. An experience where a relationship between the users and the brand starts or continues.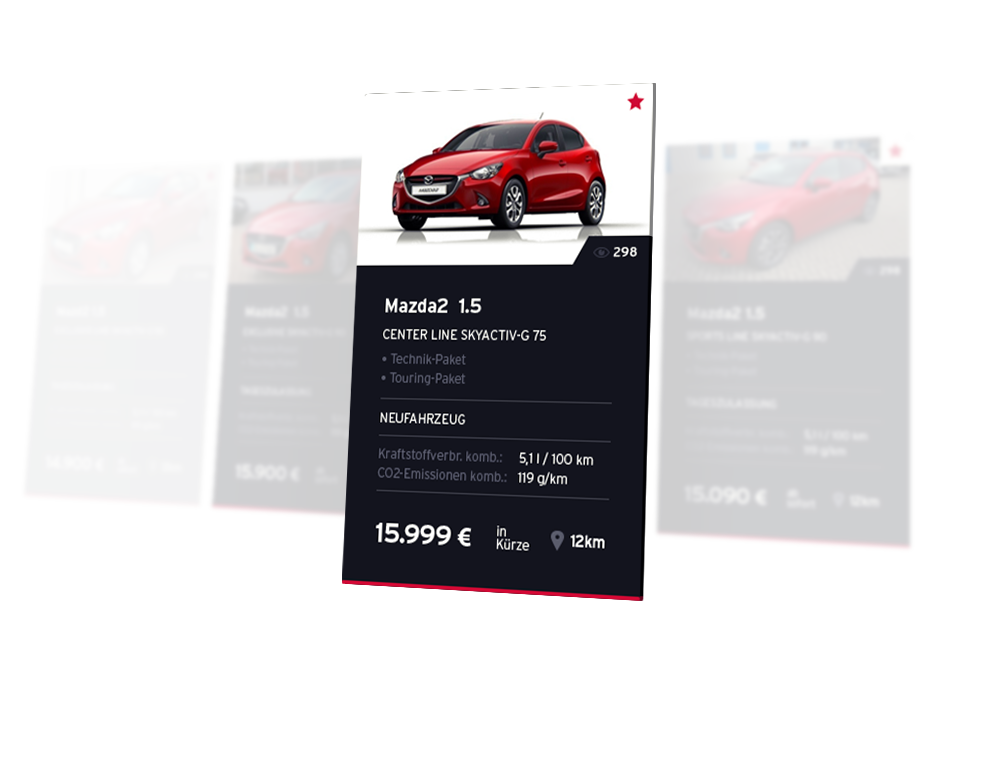 Diving into automotive culture
Our interest in such a project and the goals it brings along, made us conduct an immersion process to gain in-depth learnings about the automotive sales industry. Besides our usual creative process, we held workshops with sales representatives and discussion sessions with the authorised car dealers, for the experience we're designing doesn't focus solely on the car but on connecting the user with all parties.
It is personal
Searching for a car is to be exactly following the personal preferences. When we talk about finding a perfect-match, we don't only look at the car but also about the easiest way the user is going to reach, test and pay for the car.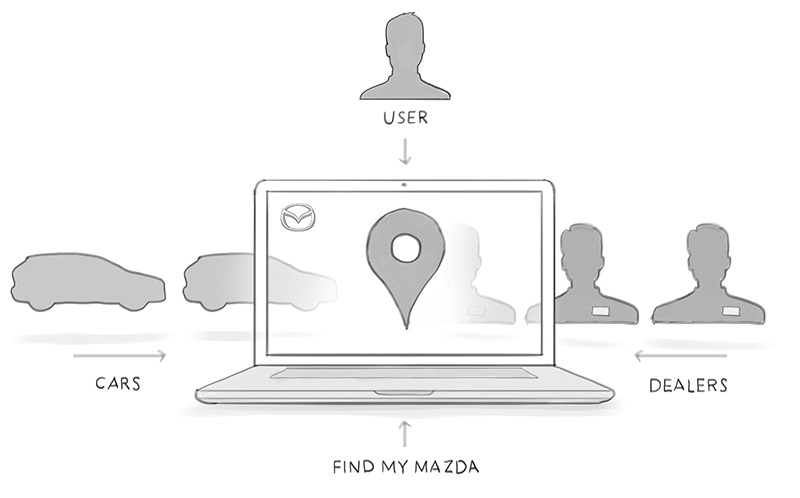 Crafting the platform
We based our creative strategy on giving a human character to the platform. Creating an intuitive platform that has all what the user needs in one place wasn't our only challenge. We aimed an experience that is convenient, trustworthy and personal. It is more like putting all what the user needs on view and in one place. In other words, creating an online sales hub.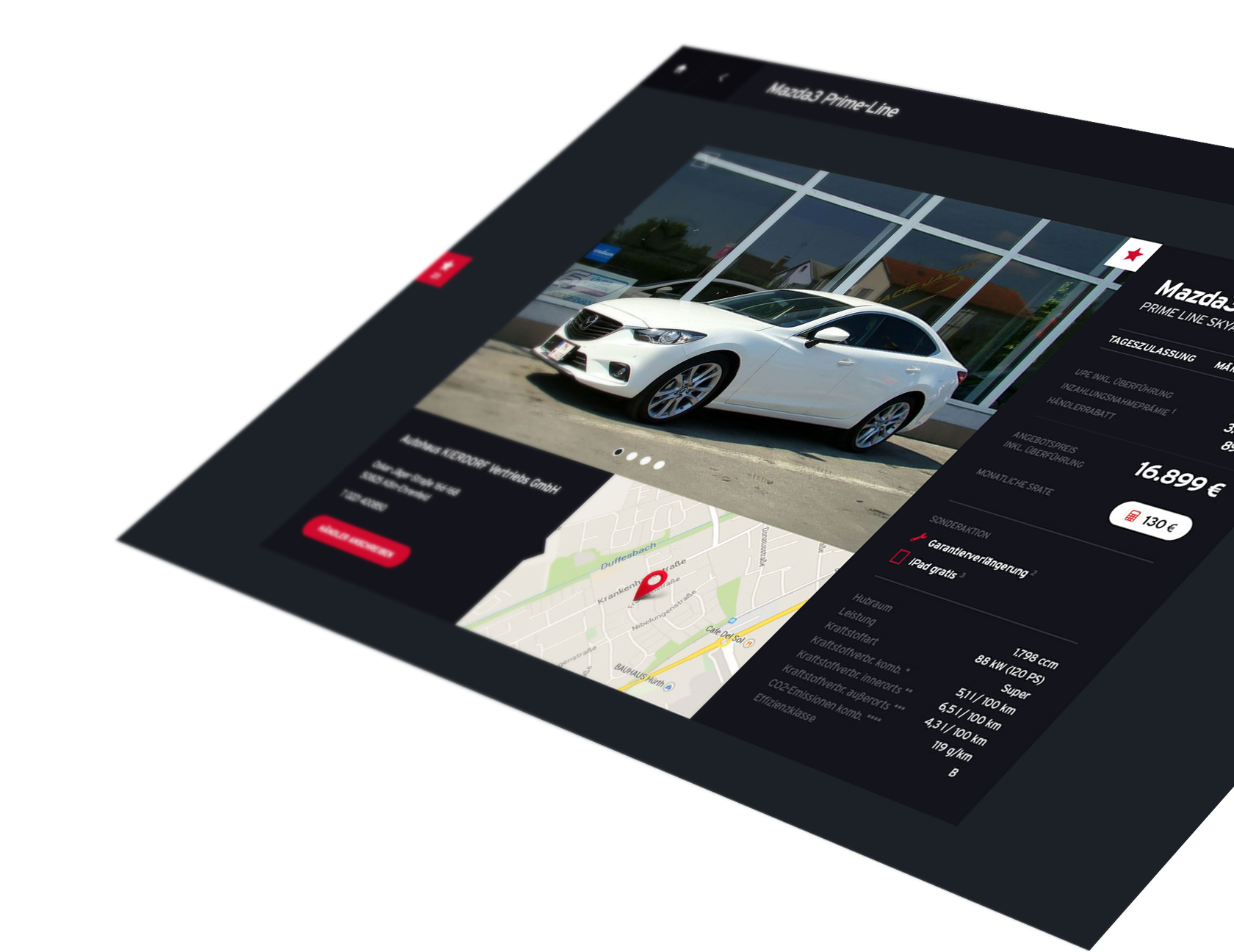 Our approach to storytelling
One of the 2 accesses to the vehicle marketplace is through an optional inspirational tool. A playful approach that aims at introducing the models to new customers, assisting them in figuring out what car model suit them and their needs best. We made sure to speak the users' language. We conveyed the story of searching for the right car in a conversation the users usually have with a friend or a salesperson or even with themselves. Formulated in 6 questions, the interactive entertaining tool engages the users and brings them one step further towards their perfect-match vehicle.
An intuitively personalised experience
As easy as it sounds and looks: pick a model or two, select colour scheme, preferable features and specific technical details – and here's your perfect-match car! A user-tailored experience where potential customers can check the local availability of vehicles at authorised dealers near them, as well as the listed prices and offers of each one – all in real time. The search results are adapted with every modification to the search criteria. Each match can be individualised with accessories and additional products.
The platform offers concrete financing solutions, which the users can modify based on their preferences. Customers can also directly book a test drive of a desired vehicle at their nearest dealership, or send a direct vehicle request to the corresponding dealer. This is made possible by a specially developed middleware that links the brand's inventory management and CRM systems to those of the car dealers.
Visual language
Based on Mazda's new corporate identity, we decided for a minimalistic yet dynamic design approach. By mixing simple shapes, slick outlines and detailed animations, we achieve a graphic language that highlights the unique attributes of the mazda cars without showing them. This way we can first inspire the users on an emotional level, to than bring them to their perfect match.