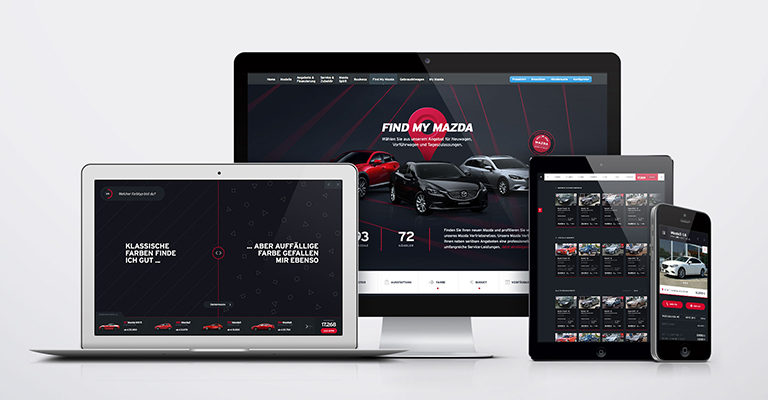 Demodern on 7/15/2015
Demodern makes Mazda.de a sales platform
With the 'Find My Mazda' platform for new cars, Demodern is linking sales and marketing processes on the Mazda.de website. The digital agency is responsible for the project, including everything from the concept and design to the programming and realisation.
Cologne, 13th July 2015 – Click on a model, select the colour, features and technical details – and your dream car is complete. This is already a reality on the brand platforms of many car manufacturers. But with the new and networked 'Find My Mazda' tool, Mazda Motors Germany and their agency partner Demodern are offering a whole lot more: potential customers can now check the local availability of vehicles at the dealerships of participating authorised dealers, as well as the listed asking prices of each one – all in real time. The search results are adapted with every modification to the search criteria and each match can be individualised with accessories and additional products, resulting in the perfect dream car. In addition, the platform offers both concrete financing solutions as well as further information about the perfect Mazda. Customers can also directly book a test drive at their nearest dealership with exactly the vehicle they are looking for, or send a direct vehicle request to the corresponding dealer. This is made possible by a specially developed middleware that links the brand's inventory management and CRM systems to those of the car dealers.
"Mazda has recognised that its website needs to be more than a mere marketing tool and should be developed as an active part of its sales network. With our technological and sales expertise, we are helping Mazda to achieve this goal," says Kristian Kerkhoff, managing director of Demodern.
In order to attract attention to the mazda.de website and the new tool, Demodern has developed and produced a promo video that is available to watch on YouTube and the Mazda website.
The concept was developed during workshops in collaboration with the sales representatives. Following this, the various benefits were presented at a roadshow in order to begin this new journey together with the automobile dealers.
––––––End of press release–––––

About Demodern
As an independent digital agency with offices in Cologne and Hamburg, Demodern has been creating innovative communication for the digital age since 2008. Under the management of Kristian Kerkhoff, Alexander El-Meligi and Thomas Junk, a team of 32 full-time employees works for noteworthy clients including Nike, Edding and Montblanc.
Demodern has already received numerous international and national awards for its work, including Gold at the ADC Europe in 2010 for "Sounds of Hamburg", two Golden Lions in Cannes in 2011, as well as two Gold distinctions at the New Media Award, for the Edding "Wall of Fame" in 2012 and "The Montblanc Worldsecond" in 2013.
Demodern Press Contact
Adryiano Richter, Demodern – Digital Agency, Brüsseler Straße 89-93, 50672 Köln,
Fon 49 (0)221 99 96 96 21, ari@demodern.de