Nike
Digital Retail Experience
Aware of how today's consumers are utilizing both the digital and physical worlds; Nike sought to create a new 'digital' retail experience. An experience which combines retail store, eCommerce and mobile customer journeys – seamlessly.
Previous collaborations with Nike made Demodern the perfect partner to envision a holistic concept. After evaluation of the customer journey we set our goals on crafting an integrated omni-channel strategy. The solution consists of three prototypes which were launched in a Berlin flagship store just in time for the 2015 Champions League final.
Connecting the Store and the Online World
Envision a solution where the partition between the digital and physical landscapes no longer exists. To solve this we sought to create a fully integrated, 'seamless' retail environment. Seeking digital excellence in both customer frontend and technical backend. In part the solution was to create new interactions while expanding on product details and assortment with real-time availability. The other part was to deliver these experiences through leading edge technology. To better connect consumer and product we sought to create an adaptive environment which engages the consumer respective to their journey. Three custom built multi-user, multi-touch terminals expanded the brand experience with product information and online purchasing options. Focus groups and user analysis further validated our concept while strengthening insight into today's consumer expectations.

Combining Concept and Technology
The key technical task was to develop and install three stand-alone terminals, communicating via an underlying middleware and server infrastructure – within just ninety days.
Each terminal has a custom technical stack. Additionally, the terminals are integrated with the existing store's ERP catalog and eCommerce shop to inform real-time product availability. Design and development in Unity, a game engine rather than a web solution, guarantees high performance and flawless usability as well as overall stability. Backgrounds, animations and videos perform in Ultra-HD with 4k resolution.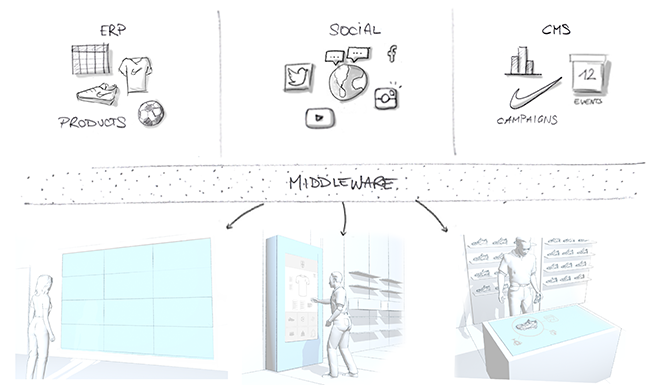 Mobile Connect
The value proposition for the key target group of football orientated teenagers is the free WiFi which helps to make extensive use of the terminals. On heydays, more than 1,000 interactions take place, mostly in groups of three or more. For purchasing and sharing via the customer's mobile device we developed the mobile-connect feature.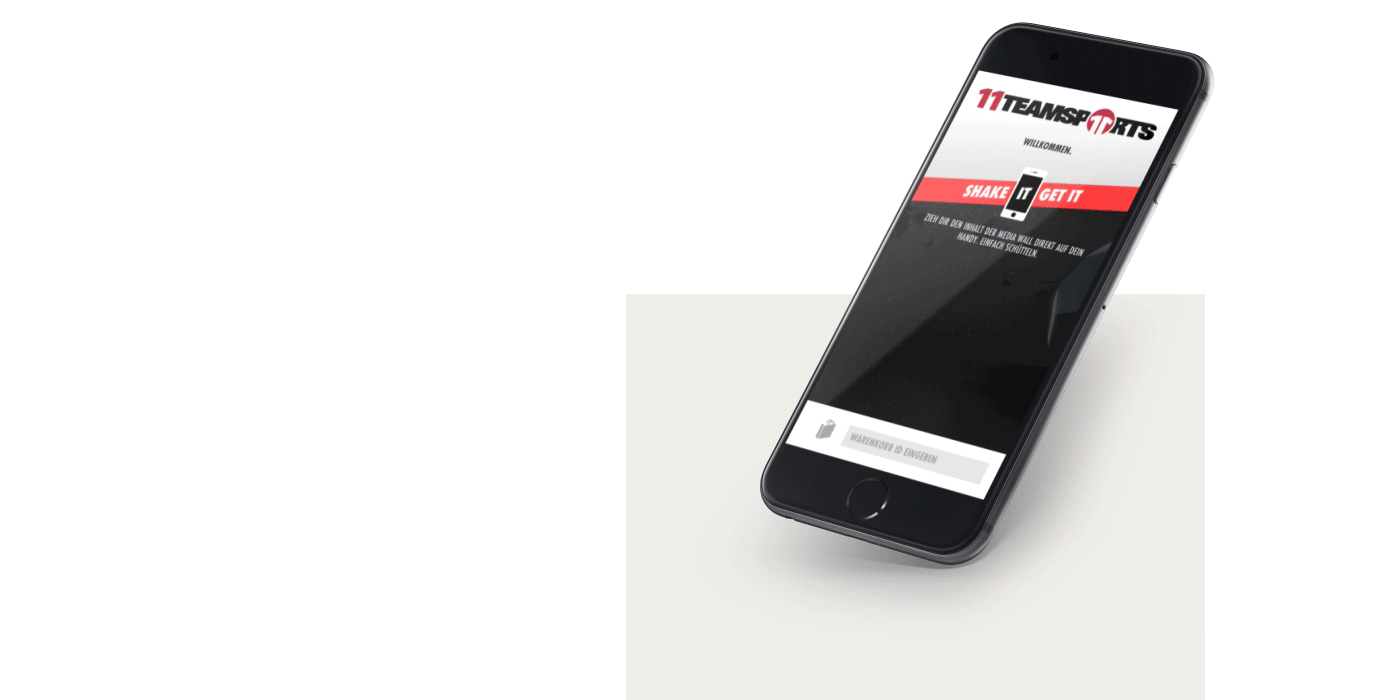 Image and Social: The Media Wall
A multi-touch, multi-user wall displays campaigns, products and related social media bursts. This installation allows multiple interactions across an ultra high definition surface spanning 9m2. The wall aggregates live updates from Facebook, Instagram and Youtube, with rankings and scores from international and local soccer teams. Customers can intuitively push this media rich content to their smartphones. To make the experience more engaging, customers are encouraged to leave their mark by taking a selfie which is instantaneously discoverable through a custom hashtag.
Customization and Purchase: The Replica Kiosk
A digital retail kiosk with a 65" touch display where Nike Football fans can find, customize and order their favorite Nike team products. Here one can see product availability in real-time for both in-store or online purchase. Online purchases are completed on the customer's smartphone via mobile-connect; in-store purchases are expedited via a connection to the cash desk. Terminal analytics help inform what stock is kept on-hand and ultimately how to improve overall stock efficiency. This helps to broaden the available assortment while making use of the shop area efficiently.
Interaction and Comparison: The Nike Bootroom
An 65'' interactive surface with multi-touch facilitates employees and enables customers on their continued journey. Nike products are comparable with real-time availability for size and color, detected by the ERP system. This installation is comprised of product videos, league statistics and comparable shoe data. Product detection is informed through RFiD technology paried with 3D-cameras, supporting user interaction and positioning.
Next Generation Retail Experience
Our project closes the gap between two retail worlds that have been separated for far too long – physical and digital. A holistic and seamless customer experience is one crafted of an omni-channel strategy, considering store, mobile and online-shopping experiences. A new generation of retail is manifested. Bringing together new features, tools and content, easing maintenance while increasing sell-through. We are the customers' ally.
Nike
Digital Retail Experience