MINI (BMW Group)
MINIverse - The First Drivable Metaverse
MINI has achieved global icon status through a progressive brand identity centered on distinct designs, go-cart-like drivability - and being a little bit cheeky. As part of an ongoing, long term project, MINI partnered with Demodern to craft a bespoke Metaverse designed from the ground-up for the MINI community. Taking what we know about one of the most recognizable car brands in the world, we leaned on our experience in Metaverse building, and began developing an experience to match MINI's original, exciting and all-together unique ethos. Our overall goals for the success of the project were guided by a desire to give users an entirely original and immersive experience that transcends traditional brand connection while creating a flexible platform for an unknown, community focused future of the internet.
Introducing our Hero: The MINI Concept Aceman
For our first launch within the MINIverse, our creative process focused around the MINI Concept Aceman, the latest concept vehicle from MINI. After taking a trip to see the MINI Concept Aceman in person, our team worked closely with MINI to define the features that set the car apart - from it's conceptual and innovative user experience, to its rugged yet playful style and design - and began the process of translating the concept car into a Metaverse experience. To portray the vehicle in the right way, we chose a playful approach that focuses on driving and awe-inspiring moments.
Get Behind the Wheel and Drive
From the beginning, we knew we needed to have drivable vehicles in the MINIverse - This is MINI, driving should be at the heart of the experience. It wasn't an easy decision though, as customizable avatars are traditionally core to a Metaverse experience. We focused our efforts on the 3D design of the concept vehicle and innovative driving physics to meet our quick deadline. As a result, users are able to make a more personal connection to the MINI Concept Aceman, while experiencing an entirely new way to explore a Metaverse.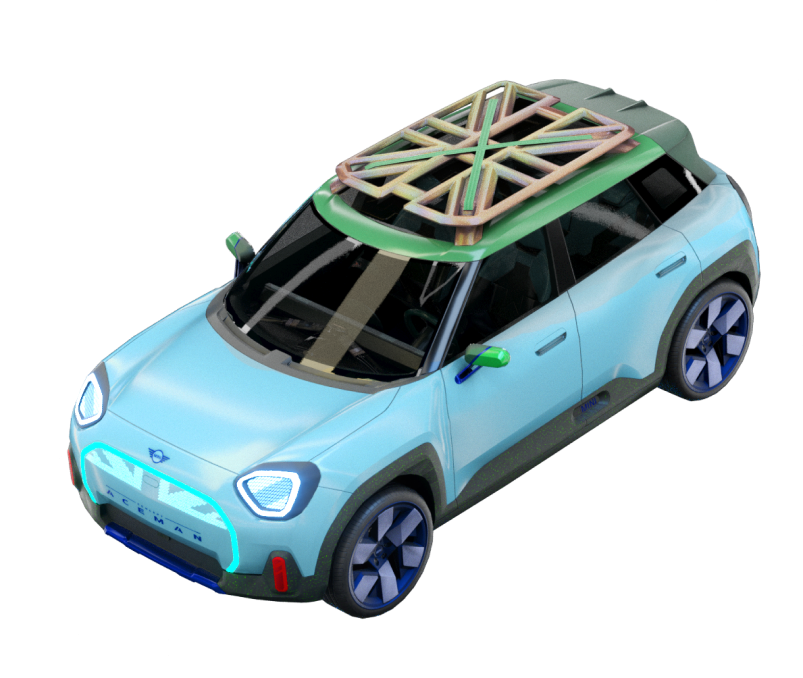 Abstract Spaces
With our core user experiences defined, we began to conceptually create our explorable environments. With an extensive amount of creative freedom, we let our imaginations run wild as we translated a handful of innovative features from the MINI Concept Aceman into bespoke and immersive levels. Together, these unique spaces form an ecosystem that tells the story of the Concept Aceman through natural discovery and immersive play.
Feelings First
We defined our environments by exploring the feelings and emotions triggered by specific features of the MINI Concept Aceman, and discussed abstract visual interpretations that could provide structure and imaginative fun. This process allowed users to experience the emotions - joy, adventure, freedom, surprise, calm, and excitement - behind each feature and gain a nuanced understanding of what makes the MINI Concept Aceman so special.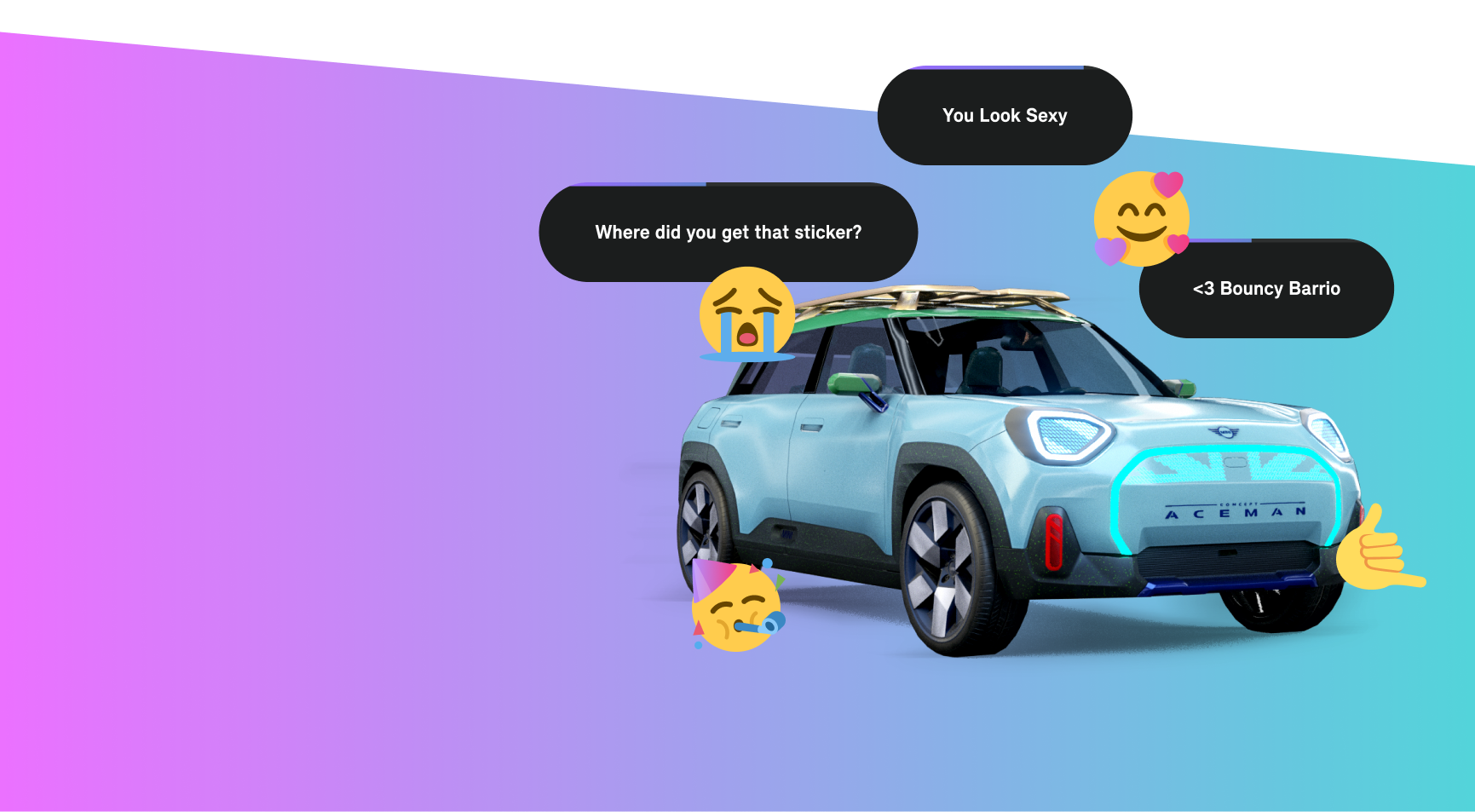 A Bold New World of MINI
One of the larger undertakings in the project was crafting an entirely new visual language and identity for MINI's first venture in the Metaverse. We aimed for an uplifting, colorful atmosphere of the experience which takes direct inspiration from the rugged urban personality of the Concept ACEMAN. From discussions with the designers and getting up-close with the concept vehicle, we also took some of the shapes and colors as a base to build up the design elements of the experience. To accelerate the design process, much of the concept art and design direction phase was done directly in 3D.
Designing The Neighborhoods.
As we set out to design the environments of the MINIverse, we had many factors to consider. Our artistic goal from the beginning intended our environments to be directly inspired by key features and experiences of the vehicle. We wanted to create a large, urban environment that reflects the brand of MINI. And we wanted the environments to be designed in a way that fostered exploration and discovery. From level design, concept art sketches, renderings and web-tests, the process resulted in a digital city full of joy and energy. Each drivable neighborhood has its own look and feel: visitors can cruise through the hills of Big Love Heights, jump over ramps in the skatepark inspired Adventure Park, join the party in the Bouncy Barrio, drive underwater in the Altering Alley, weave through turns in the knitted Knittbro, or take a leap of faith in Portal Junction. The choice is yours.
A custom, limitless world
From a development perspective our team chose not to rely on existing frameworks and instead build everything from the ground up using data-oriented programming. From game mechanics to interactions and notifications, the MINIverse became an entirely custom made creation. The result is a robust game engine that caters to the unique needs of MINI while delivering an experience that elevates rather than imitates.
10,000 Concurrent Users
Going against the grain, we implemented a networking approach that uses second by second server syncing to facilitate real-time interaction between users. This infrastructure facilitates constantly updated environments with low performance requirements, making it possible to host 10,000 simultaneous users. For an additional level of accessibility and ease, the metaverse is available and ready to play from any smartphone or desktop... no fancy hardware required.
A Bespoke WebGL Rendering Engine
While we weighed the pros and cons of pixel streaming solutions and web-based technologies, we decided on developing within a web-stack in order to keep our per-user costs down while maximizing our concurrent users. Pixel Streaming provides beautiful imagery, but lacks in sustainability and concurrent users due to the high costs associated. Built on top of WebGL 2.0, our custom, physically based rendering pipeline allowed us to achieve the desired lighting and shading fidelity, without breaking the performance-bank. Scenes are mostly lit with image based lights, resulting in rich reflections on the cars surface. For our physics simulation needs, we turned to Rapier, an open source, high performance physics library written in Rust, which (due to its deterministic nature) we were able to utilize on both client and server-side and gave us the tools to create a game-like driving feeling for our users.
Halloween in the MINIverse
With "Haunted Heights" we developed a Halloween themed neighborhood with special sound design and a haunting environment. We put great emphasis on the visual design to give the surroundings an authentic look & feel for the holiday, while showcasing the potential of the MINIverse as an ongoing communication tool for MINI and it's target group.
WorldPride meets MINIverse meets AI
For Sydney World Pride 2023, the MINIverse became much more colorful. We redecorated the adventure park and added new features and interactions. In Pride Park, users can drive through a rainbow tunnel and also create their own murals using AI technology - Stable Diffusion Web - and have them placed in the space.
Launching the MINIverse at Gamescom 2022
Gamescom 2022 marked the successful launch of the MINIverse and first public unveiling of the MINI Concept Aceman. Nearly a quarter of million users explored the MINIverse by the end of the four day event. This coupling of physical and virtual interaction showcases the power and flexibility of the metaverse and begs the question, 'Where is the MINIverse headed next?'