ZEISS
Interactive VR Showcase
Together with Publicis Pixelpark, we used virtual reality to make trade-fair visitors experience a different universe with a highly interactive discovery tour of the ZEISS intraocular lens (IOL) product portfolio. Intense audiovisual stimulation and gamification made it a distinctly memorable experience that engaged visitors' senses and mind.
Catch the Expert's Eye
ZEISS wanted to inform and excite experts around their wide range of IOLs at ESCRS 2016, an ophthalmological congress in Copenhagen. An audience that demanded exceptional relevance as well as visual brilliance – it required a special surprise to leave a lasting impression with them and steal the show.
Cosmic Resemblance
Every human eye is unique – as unique as every galaxy in the universe when viewed up-close. Their distinctiveness, yet astonishing visual similarity and relevance put the eye at the center of the experience. The stage for the ZEISS IOL range was found – taking the audience on a journey through an eye universe to discover product benefits and features.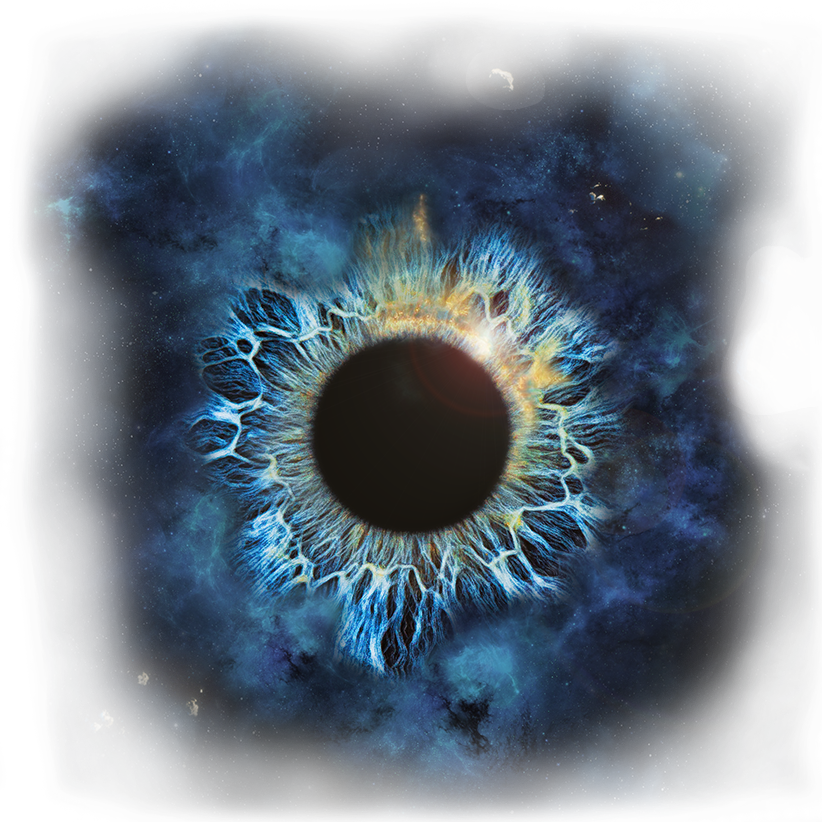 Discover Lens Diversity
Shooting out of hyperspace, the visitors' thrill-ride comes to a stop right in front of an overwhelming eye galaxy. Coming to their senses, visitors are presented with their tools – a set of diverse IOLs – and their assignment: Match each galaxy with the suitable ZEISS intraocular lens.
Product Discovery
After a quick tutorial, it's the visitors' turn: Finding themselves at the center of the universe, they are surrounded by six eye galaxies. Each one representing a unique patient profile with desired visual outcomes that can be addressed with a suitable ZEISS IOL. Traveling the galaxies, visitors can discover lens diversity for every need.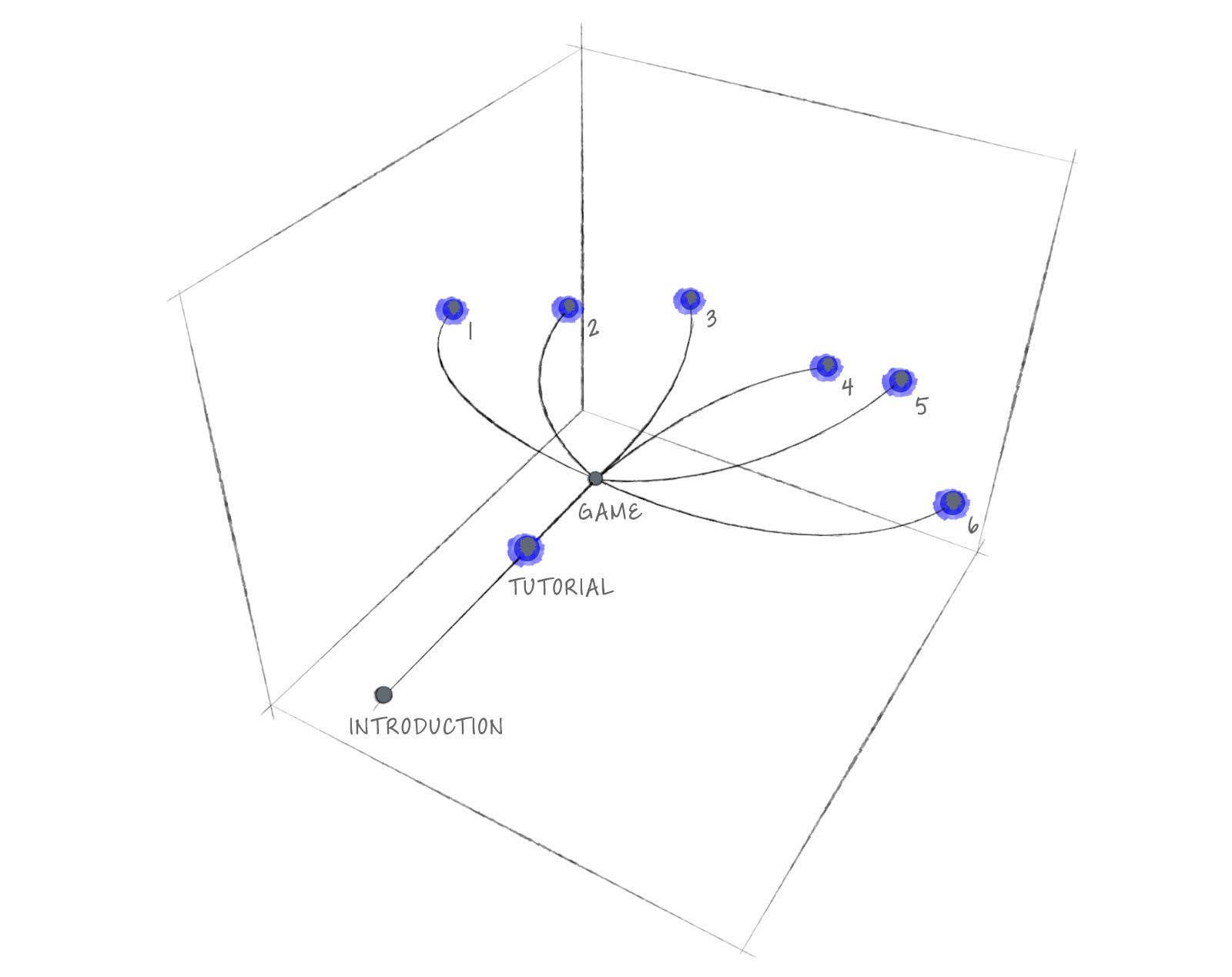 Outer Space, Inner Focus
Without any environmental distractions and with full attention on the content of the experience, virtual reality proved to be an excellent medium to convey the message of ZEISS – attracting audiences to the booth and leaving a much longer trace in their memory.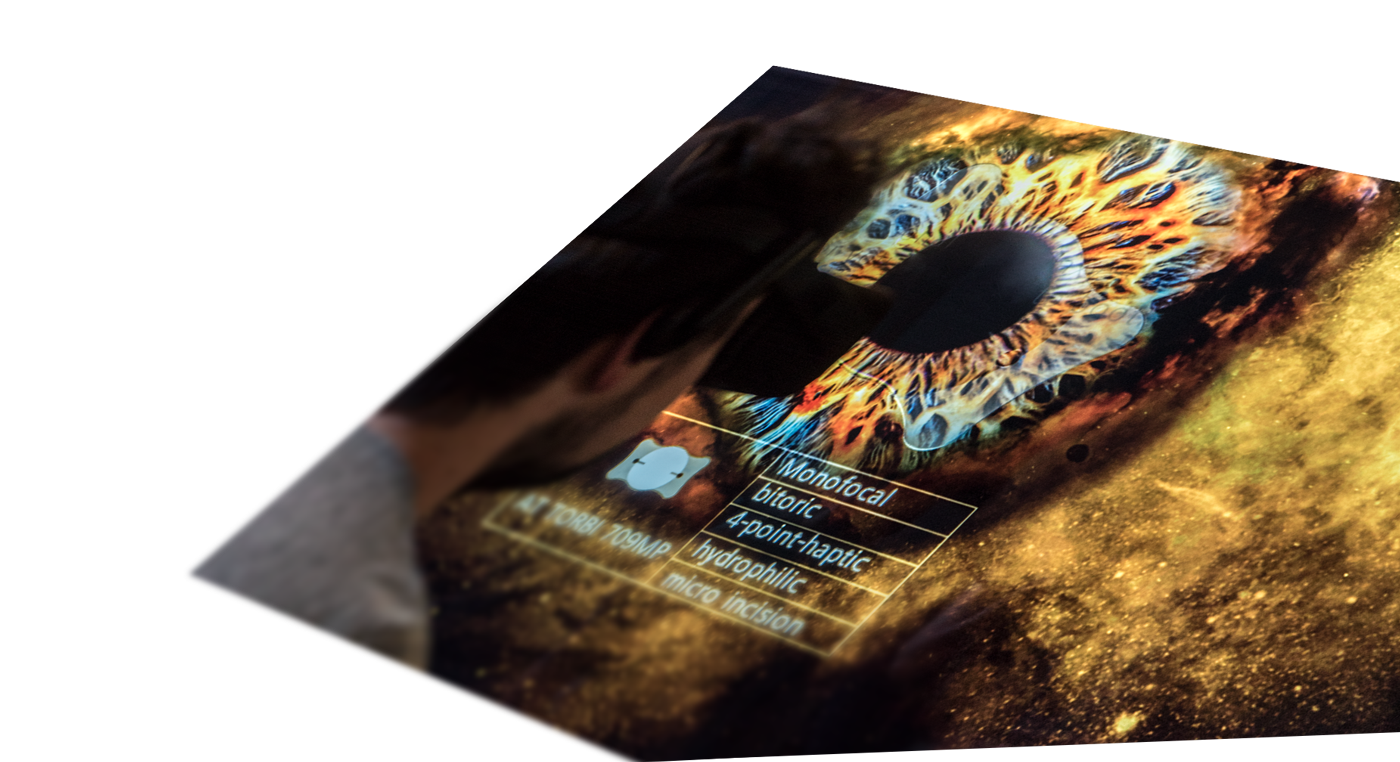 Stellar Results
With great interest, hundreds of visitors went on an unforgettable journey through the IOL universe – each spending an average of 6 minutes interactively learning about the product portfolio and treating hundreds of galaxies along the way. As a special giveaway, all users were rewarded with a macro eye photography of their own iris.
Thanks to its great success, the experience will now travel on to various other fairs around the world, as it helps to demonstrate the diversity of the ZEISS IOL range in an exciting visual and engaging way.
Zero-Gravity UX
The minimal user interface functions as a Head-Up Display, providing a readily familiar dashboard and treatment toolbox with the patient and products at the center of attention. A single button and a simple point-and-push mechanism allow the user to quickly select suitable lenses and control every part of the experience.
To enhance cognitive absorbance and save the visitors valuable time during the game, all information is conveyed audio-visually while product presentation and experience are seamlessly woven into one another.
Real-time Astronomy
Each of the galaxies is build upon high-definition macro-photographs that are brought to life through superimposed animated 3D meshes. Together, they populate a real-time universe among particle clouds, meteor showers, star constellations, and even a Hubble telescope.
Crafted with Unity3D in brilliant graphic detail, and supported by spatialized 3D-sound, the visitor slips into a world of unparalleled immersion.
Recurring Success
Through quick feedback loops and an agile process, Publicis Pixelpark and Demodern created an impactful and durable installation. One that allows ZEISS to visually showcase their diverse portfolio of IOLs to experts around the world in a meaningful, engaging and memorable way.
ZEISS
Interactive VR Showcase