SAP x SAP Ariba
Virtual 3D Product Tour
"The Power Of Procurement" is a highly interactive virtual tour developed with the SAP Innovation & Experience Marketing Center. It wields a 3D-centric storyline that makes SAP's future procurement software tangible in a true-to-life, yet game-like way. The vibrant experience ultimately puts guests in control to uncover business operations and solve supply chain disruptions—executed in Three.js and WebGL.
Active e-learning through gamification
The challenge was to engage busy c-level management guests of the SAP NOW online event in a story interesting enough to follow, deep enough to provide value, yet light enough to not overwhelm them. So we came up with a mantra that works just as well in primary school as in any high level business context—LEARNING BY DOING.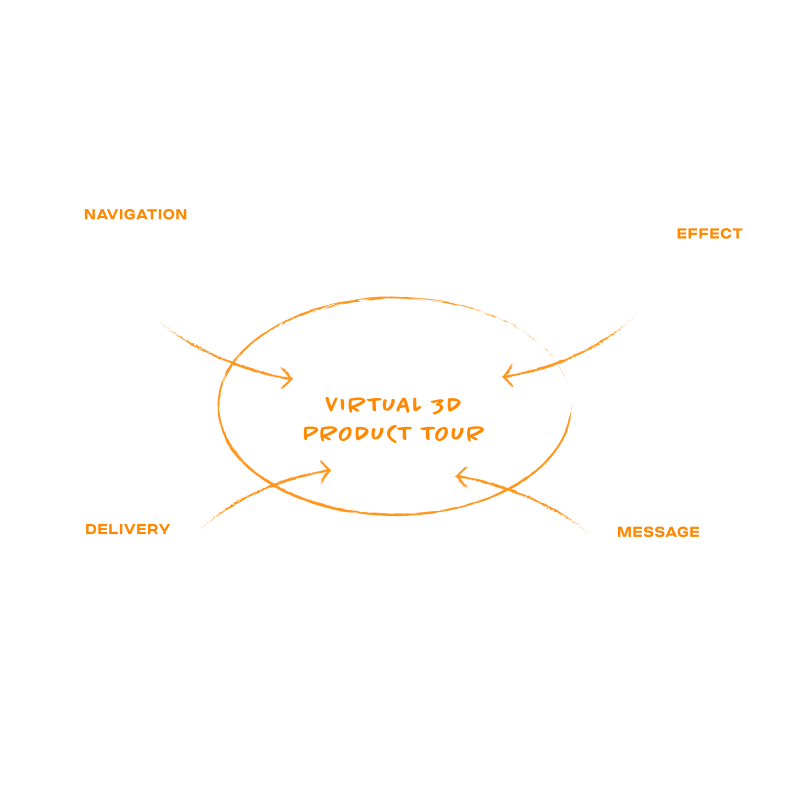 Virtual role playing and problem solving in 3D
Industry guests became the protagonists in their own adventure, put in control of a compelling, contemporary business case. They were provided the keys to uncover knowledge and solve challenges along the way, aided by simplified software depictions.
Educational narrative with substance
After hosting a series of remote workshops with industry experts, we developed an original story surrounding a sustainable bike company: "'72 Bikes". The rich storyline highlights the core functions of procurement while weaving in common supply chain hurdles that could be applicable to any modern enterprise.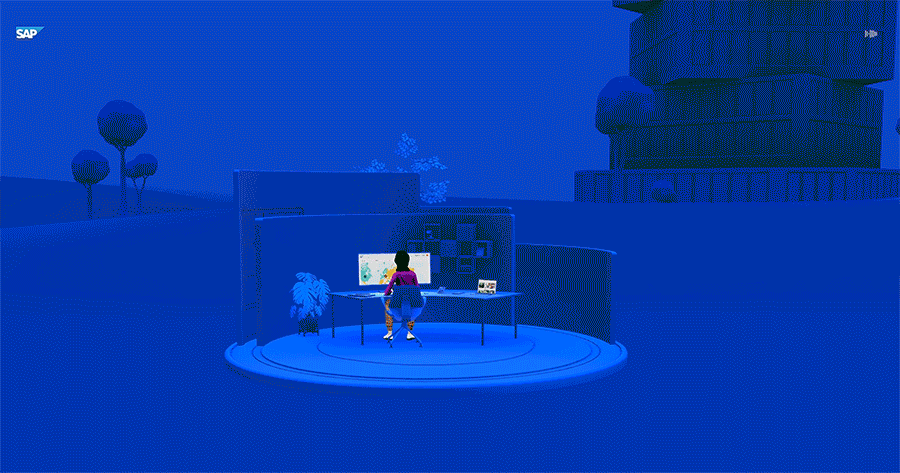 Low barrier interaction mechanic
Completely hijacking the typical corporate website exploration, we turned the subject matter into the navigation method itself. Users literally cycle through an innovative journey with a simple arrow navigation controlling a virtual joystick.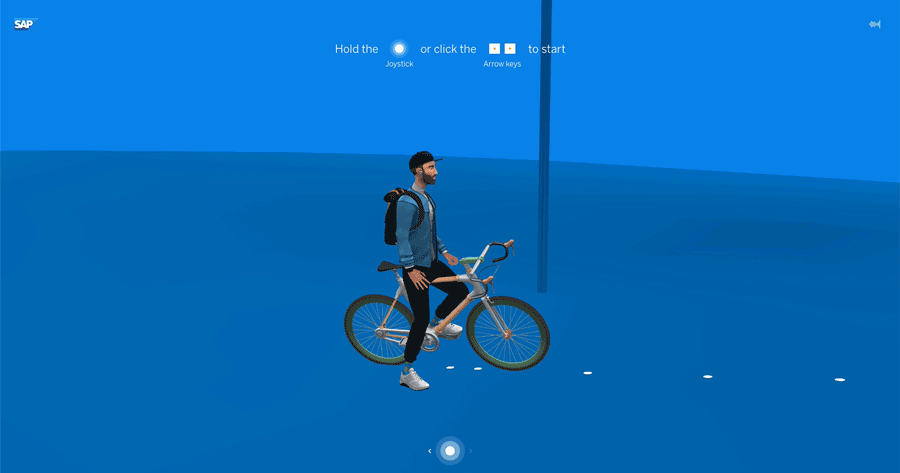 A virtual tour that highlights business success and resilience in a fun and inspiring way
— THE SOLUTION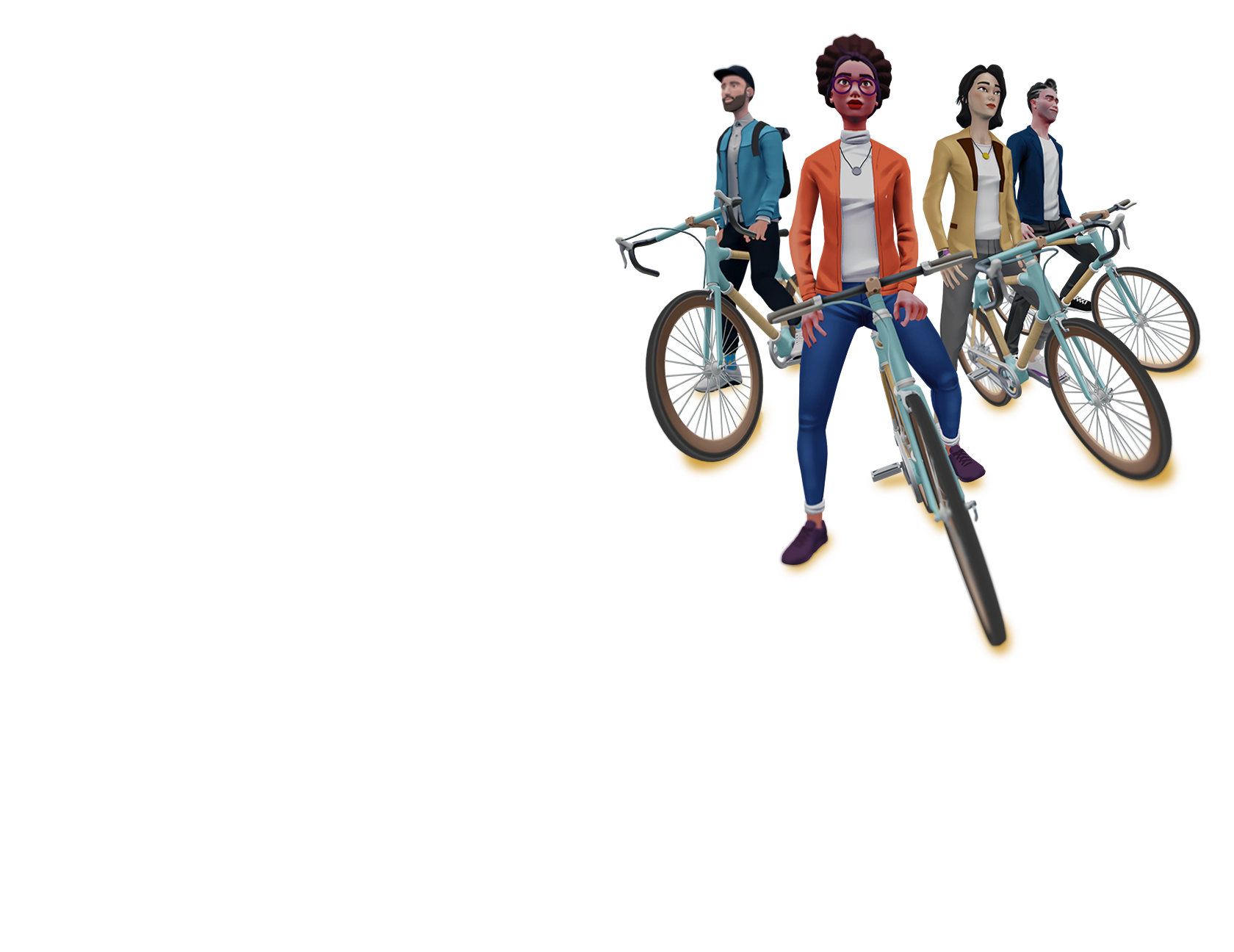 Character concept and modelling
After designing the story's hero product – a bicycle made from eco-friendly materials, it was time to create relatable personas surrounding it. All characters used the same 'bones' for rigging in Blender, and were sculpted directly in ZBrush for quick iterations. From there we could lock in the final geometry and UV's of each, to then design individual materials in Substance Painter. The final look involved a tight balance of lower poly performance versus detail and natural movement.
Environment terrain and architecture
In parallel, we blocked out the pathway between story chapters inside Houdini, where all animations could be prototyped, and all assets laid out. The population of background trees and details were procedurally generated, while the extensive library of custom props and buildings were placed carefully by hand to avoid any model collisions. More importantly, Houdini shared much of the programming language and equations used in Three.js for reproducing the desired (pre-prototyped) results in code. All in all, we were able to craft a cohesive open world feel for the linear story's backdrop.
Dare we say, guests can now learn about SAP solutions so easily it's "just like riding a bike".
— AND THAT'S WHAT WE CALL MAGIC!