Esche Jugendkunsthaus
NICE - Sneaker unterm Hammer
Die Esche – legendäres Hamburger Jugendkunsthaus und Streetartinstitution – hatte coronabedingt Löcher im Spendentopf zu stopfen. Der Plan passte zur Kultur – eine Sneaker-Art-Auktion "Nice – Sneaker unterm Hammer". Über 60 Turnschuh-Paare wurden exklusiv durch jugendliche Künstler:innen des Hauses und supportende Größen der Szene gestaltet. Der Demodern Beitrag: das Design für die gesamte Aktion und begleitende Maßnahmen und die Website – eine etwas andere virtuelle Galerie, die zur Esche passt wie A** (ihr wisst schon).
Sneakers turned into Art
Die Werke wurden per Auktion unters Volk, die Esche wieder ins kollektive Bewusstsein und die Spendenbilanz auf Vordermann gebracht. Und wir durften unterstützen. Unser Ziel mit dem Design und der Website: die Sneaker-Kunstwerke zeigen, potentielle Spender begeistern, möglichst viel Publikum für die Live-Auktion aktivieren. Aber vor allem den Style der Esche und ihrer jungen Künstler glaubwürdig repräsentieren.
Web-Design at it's best
Während fast 60 Künstler:innen aus ganz Deutschland ihre ganz persönlichen und einzigartigen Sneaker gestalteten, entwickelten wir in enger Zusammenarbeit mit der Esche und Beatboy Delles – sozusagen DEM Esche-Mentor für die bildende Streetart – den Auftritt von "Nice" und vor allem die dazugehörige Website. Um den Kunstwerken und Künstlern eine passende Bühne zu geben, die Auktion anzukündigen und Interessierten die Esche ans Herz zu legen.
For a good cause
Over a period of several weeks, sneaker fans were able to place bids for the art pieces. In addition to the kids' sneakers, there were also exclusively designed shoes from Jan Delay & Co. up for grabs. Finally, on auction day, which took place at the Affenfaust Gallerie in Hamburg, live bids were added. The entire proceeds of 25,000 euros went to the Esche Jugendkunsthaus ("the Esche") in Hamburg and will thus continue to offer young people the opportunity to live out their creative skills - from breakdancing to rap to graffiti.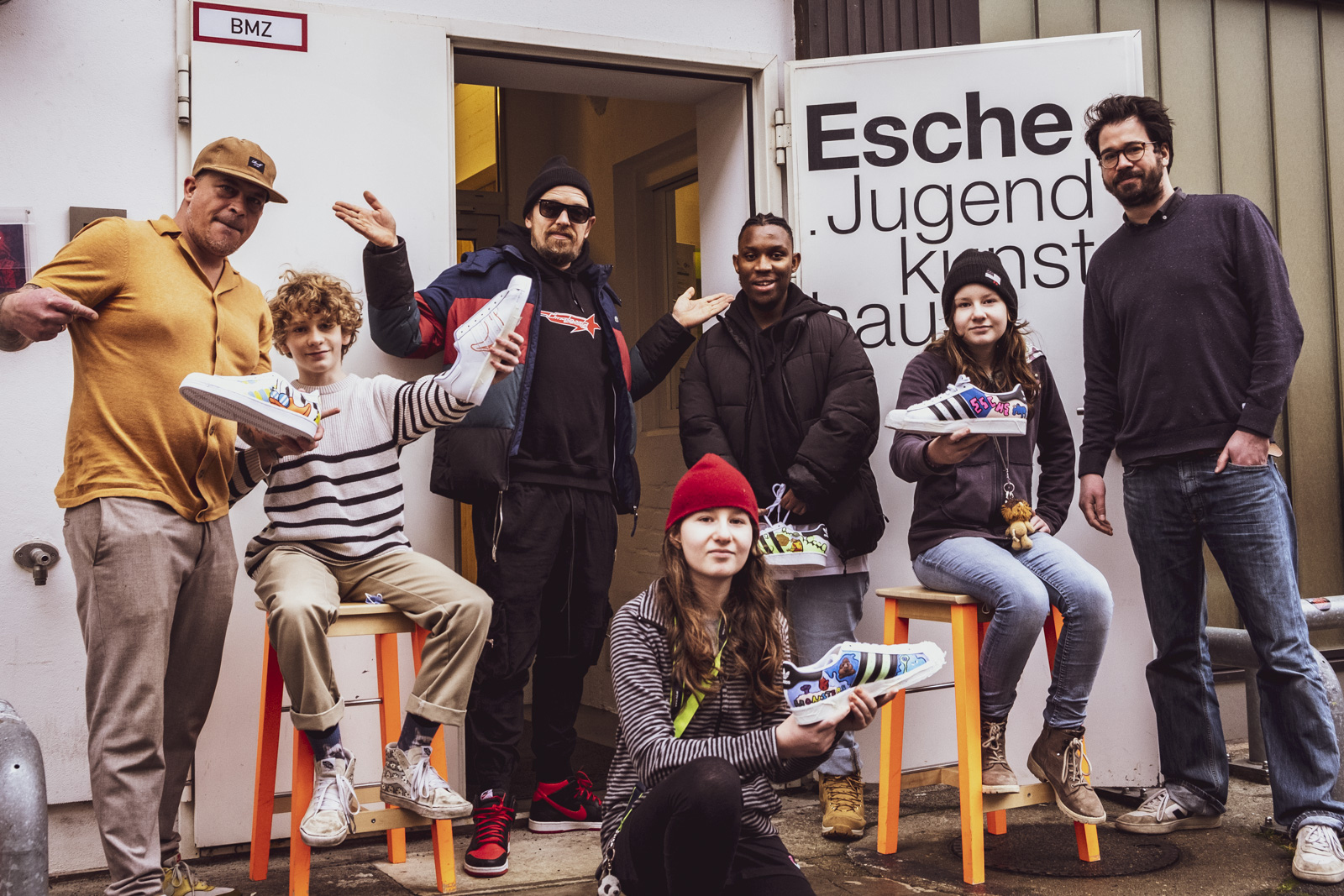 Scrolling first
To accompany the campaign throughout the entire period, we worked hand in hand with Esche protagonists and supporters to design a website that showcases the artworks vividly and celebrates the motto "Nice - Sneaker unterm Hammer" with playful highlights. Details and contents are revealed via "Hammer" per scroll & click. Images and elements tell their own story as you hover. The process itself was based on the motto: fun, collaboration and creativity.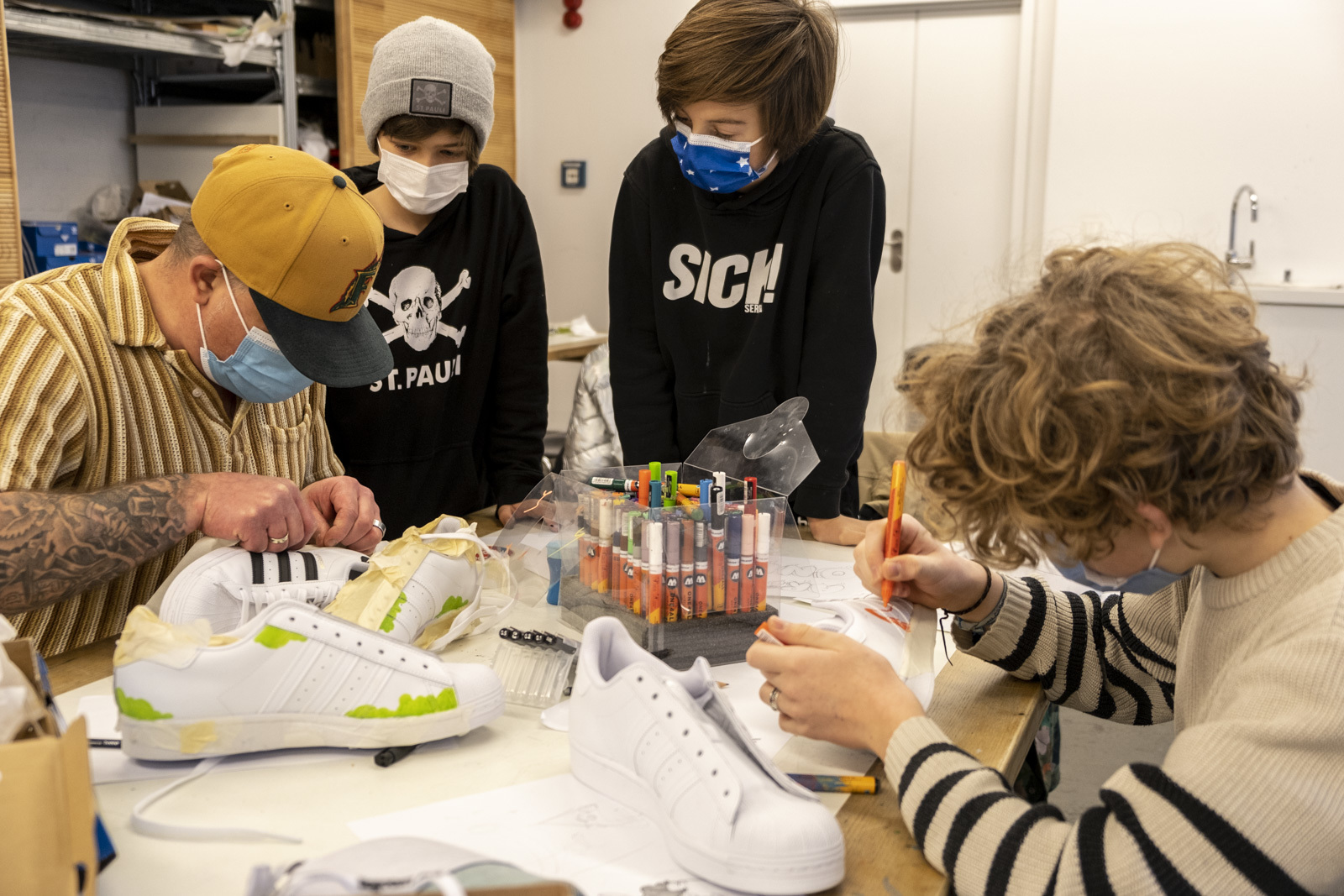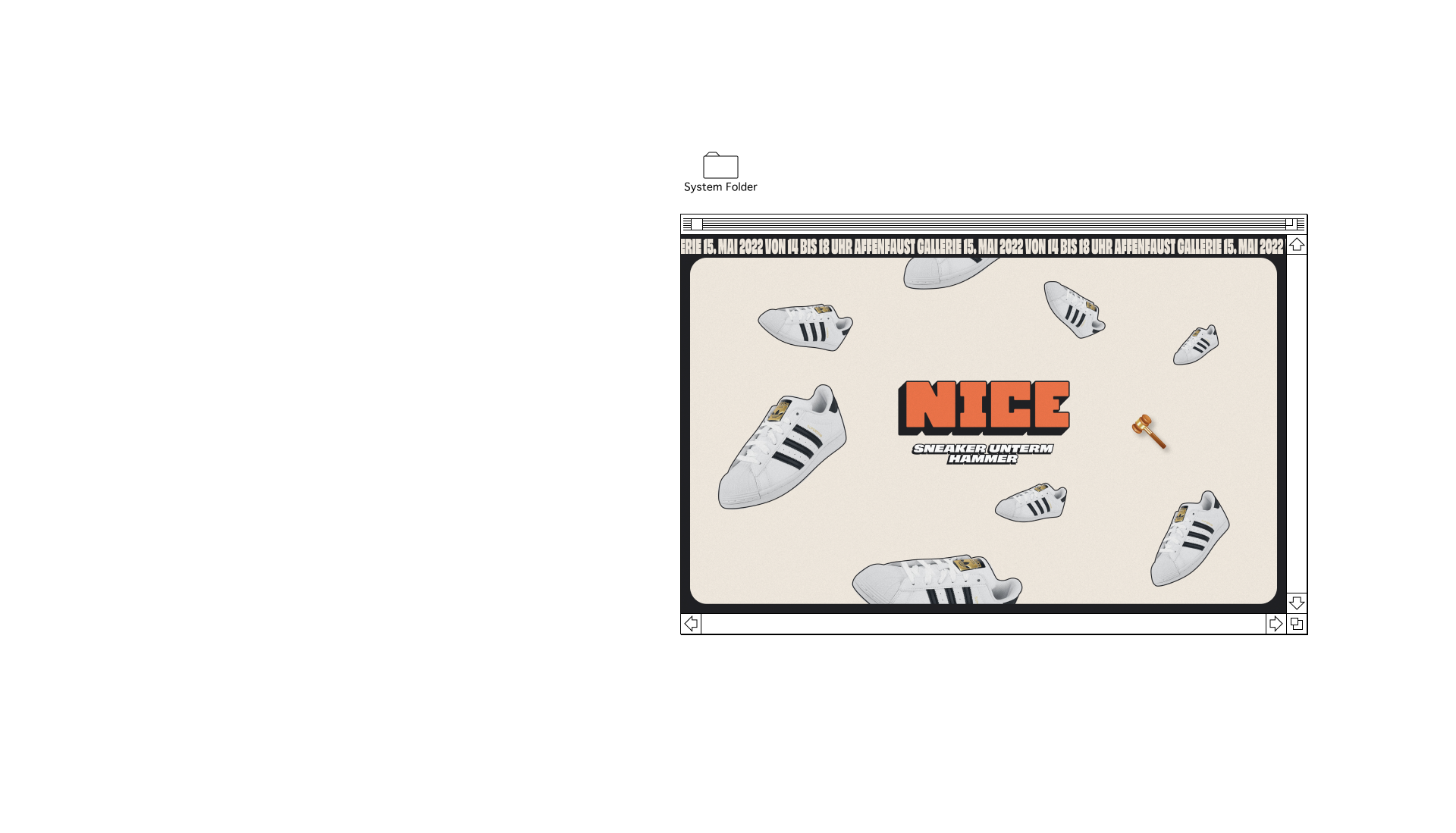 3, 2, 1, mine!
In mid-May, the Hamburg Affenfaustgalerie hosted the big auction day with numerous visitors who were able to bid for the highly coveted sneakers.
Esche Jugendkunsthaus
NICE - Sneaker unterm Hammer