Migros
3D Detective Adventure App
The Nature Detectives App is a native app for iOS and Android, developed as part of a major national campaign by MUTABOR Technologies GmbH for Migros, Switzerland's largest retail company. In the promotion of "Nature Detectives Mania", the Nature Detectives app is designed to educate children (age 8-11) about Swiss nature in a playful way. The young users learn interactively, by solving puzzles and small tasks - but above all with fun - which habitats exist in Switzerland, which plants and animals inhabit them and how to recognize them.
True to nature - literally
The Nature Detectives App was created for the "Nature Detectives Mania". A large-scale promotion as a scrapbook with nine different habitats as well as matching animal and plant stickers formed the starting point. In the complementary app, it was desired to illustrate Swiss nature as authentically as possible and to create a detailed 3D world that is exciting and beautiful to discover - just like nature itself.
Environments
Using photos, videos and the help of Swiss children's book authors along with nature experts, we created eight characteristic Swiss habitats in a very short time - including farms, mountains and more.
Eight Swiss Environments
Each habitat can be discovered in at least seven different camera perspectives. With the help of the Minspector (an animated character with the look of Migros) and two protagonists (Mia and Leon), users solve tasks and questions about Swiss nature and its flora and fauna to collect badges.
Stickers are the Key
The playable content of the Nature Detectives app will continue to be unlocked for users step by step, week by week. Parents receive stickers when shopping Online or in a Migros store, which then can be stuck into the scrapbook accompanying the campaign. They also serve as keys to habitats in the app: If 15 stickers per habitat are scanned in the app, a new adventure can begin. Image recognition is performed using the image recognition algorithm of the Vuforia Engine, an augmented reality software development kit.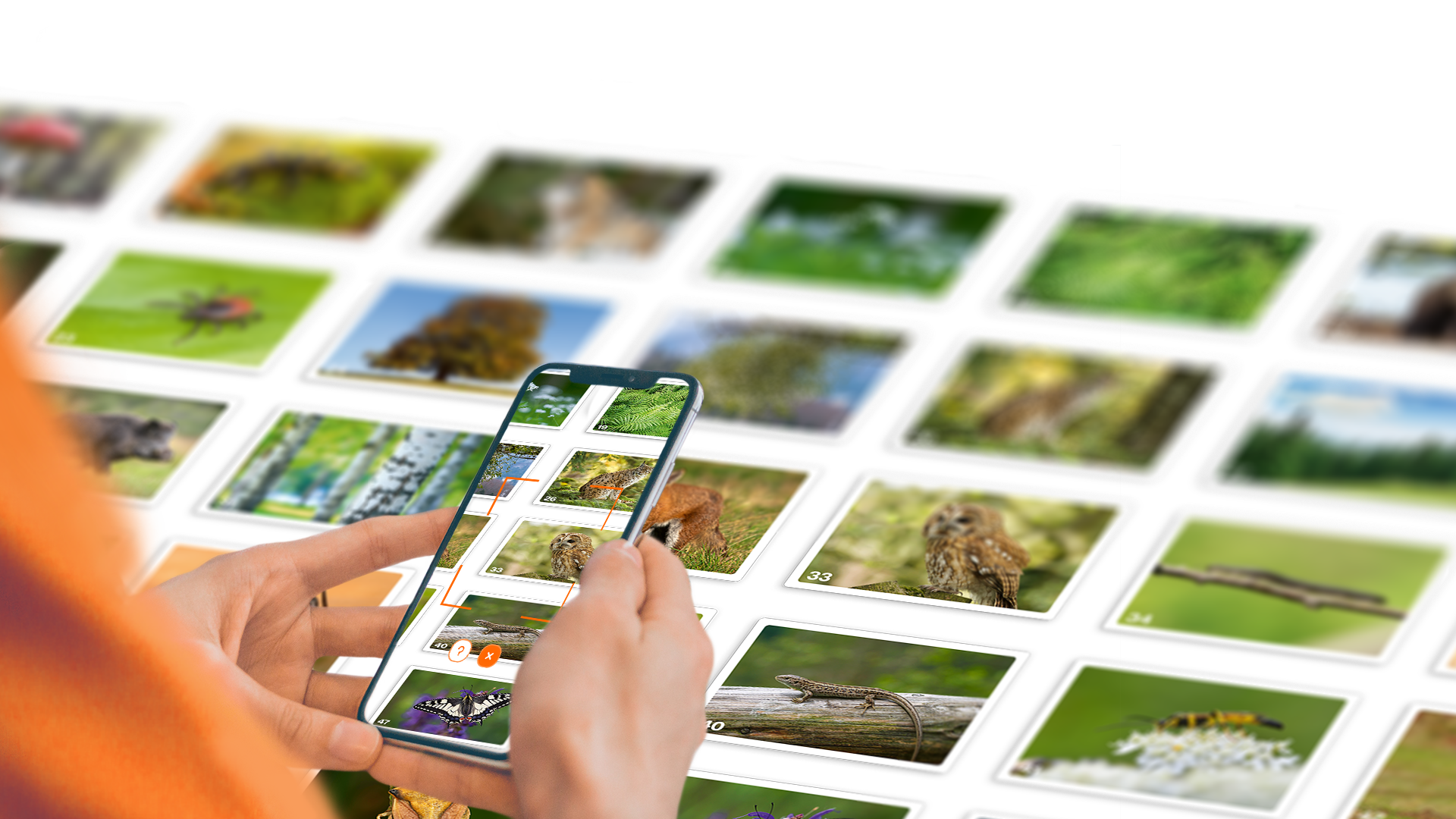 Level Design
Each level was first roughly sketched, pre-built in Blender, customized, and finally brought to life in Unity using various techniques such as particle animations, self-developed shaders, and lighting effects. The complex technical setup and an optimized workflow were essential for us to meet the detailed requirements considering the limited time. Our custom-built production pipeline allowed us to always work with multiple people on one habitat at the same time. Thanks to Arnold renderer, we were able to get results quickly without having to rely on render farms.
Controlled Complexity
In order to graphically represent the construction of the game levels and to be able to build and fine-tune element by element, we developed an extension for the Unity editor. This allowed us to define the player's walkable area, interactive game elements and their spawn and control points for automatic scene changes. We were also able to adjust the difficulty of all levels so that they were neither too easy nor too hard.
Play Minigames – Gain Knowledge
Eight mini-games per habitat serve to deepen the knowledge of the users in a game-like experience. For instance, about animals that can be discovered in Switzerland and what traces they leave behind. Or about plants - the ones that are edible, or the ones that are even poisonous for humans and animals. The games are structured according to known and learned game mechanics, so that they are challenging in terms of content, but not a challenge in terms of usability. All mini-games of a habitat are based on each other, every hint brings you closer to the solution of the case. Just like a real detective. Since the goal here is to convey content, we alternate between 2D and 3D presentation - depending on what serves the purpose best.
Sounds Like Adventure
What looks hyper-realistic should also sound like it. What is an exciting detective game also needs appropriate audio. And finally: what is intended as entertainment and information for children should be fun. We, together with German Wahnsinn, underline the Nature Detectives app with a slightly jazz noir detective theme and grant each habitat its own atmosphere of music, nature and feedback sounds. As with the environments, a lot of emphasis was placed on biological accuracy in the audio landscapes. Ornithology, entomology, eastereggs and a specially designed game audio create room for coincidences and give users an individual, spatial and immersive gaming experience. In the minigames, we also adapt the dynamics to those of the respective game and develop audios for feedback sounds, UI interactions, Minspector reactions or falling and kicking sounds with the same precision as the visual elements. This results in more than 1,000 sounds designed and recorded specifically for the game. Voice-overs and dialogues of Mia, Leon and the Minspector are created in three languages (Swiss German, French, Italian) to be understood by every child in Switzerland.
Behind the scenes
With love down to the last detail, we created a gamified app with added value that provides further educational engagement for children - staying true to the brand values.
Migros
3D Detective Adventure App