Konami
Metal Gear Art Studio
Celebrating the 25-year anniversary of the Metal Gear Solid series of action-adventure games, the Art Studio is a high-quality online drawing tool for creating artwork in the visual style of Hideo Kojima, the game's creator.
25th anniversary
As one of the longest running video game series ever, Metal Gear solid required a fitting online celebration to commemorate its 25th anniversary. Hideo Kojima's artwork has been an integral part of MGS lore from the start and a strong influence on video game concept artists and fans alike. Together with Konami, we wanted to bring his unique illustration style to life with an online drawing tool that wouldn't feel like a gimmick but a solid, reliable and extendable utensil in any artist's arsenal.
Built to last
Although this project came to life within the context of the anniversary, it was not intended to be a marketing campaign, running only a couple of months, but rather a long-lasting platform. We wanted to take the artists seriously and provide a professional experience with very high-quality drawing tools.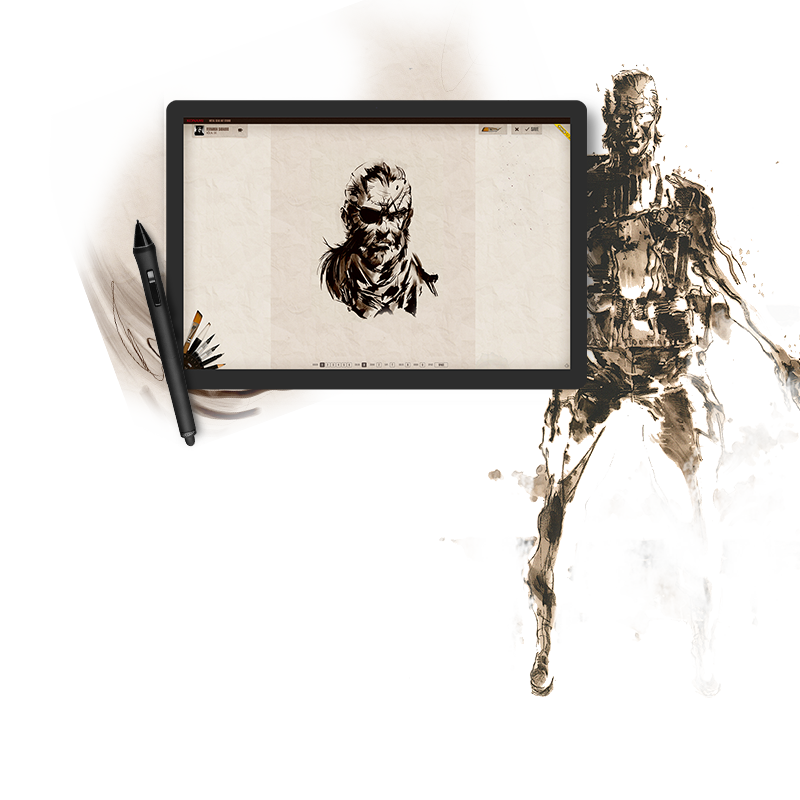 Emulating Kojima's drawing style
The drawing characteristics of the pens and brushes within the Art Studio were modelled based on the actual utensils Hideo Kojima uses to create the art for his games. We received detailed scans and process descriptions and recreated the ink flow, paper textures and colour palette.
A naturalistic and moody artboard
In keeping with the emulation of the drawing tools, we wanted the actual drawing environment to feel classically analogue. We utilised textured paper backgrounds, skeuomorphistic tool palettes to provide a natural look that emits a certain drawing studio atmosphere. But we wanted it to feel modern and digital as well. This is why we added collaborative and sharing features, such as sharing live streaming videos from the drawing canvas and made it possible to replay the progress of the creation.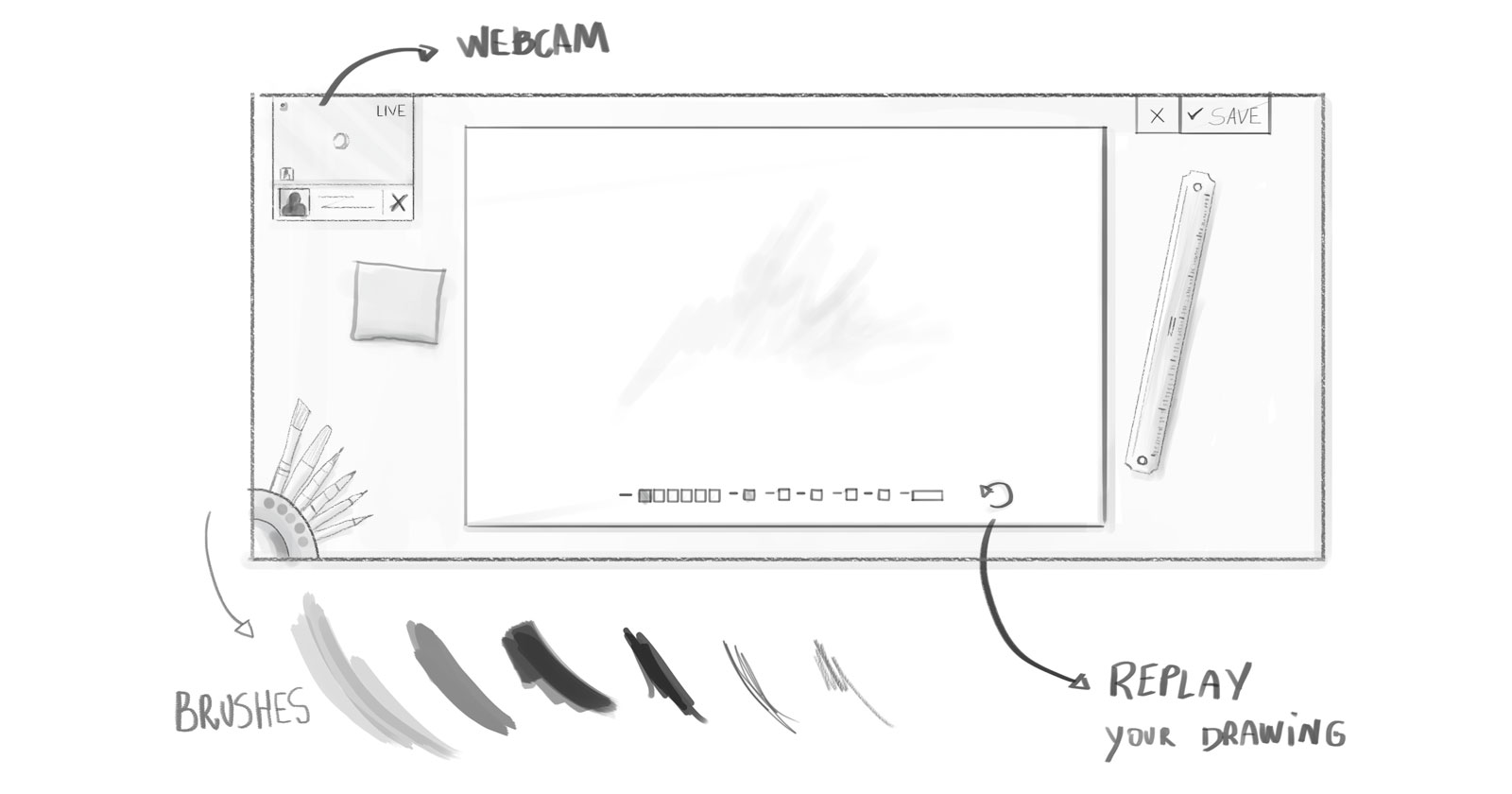 Concept art gallery
A big part of the concept was the idea to create a continuously expanding gallery of artworks for others to be inspired by and also to show off the quality that is achievable.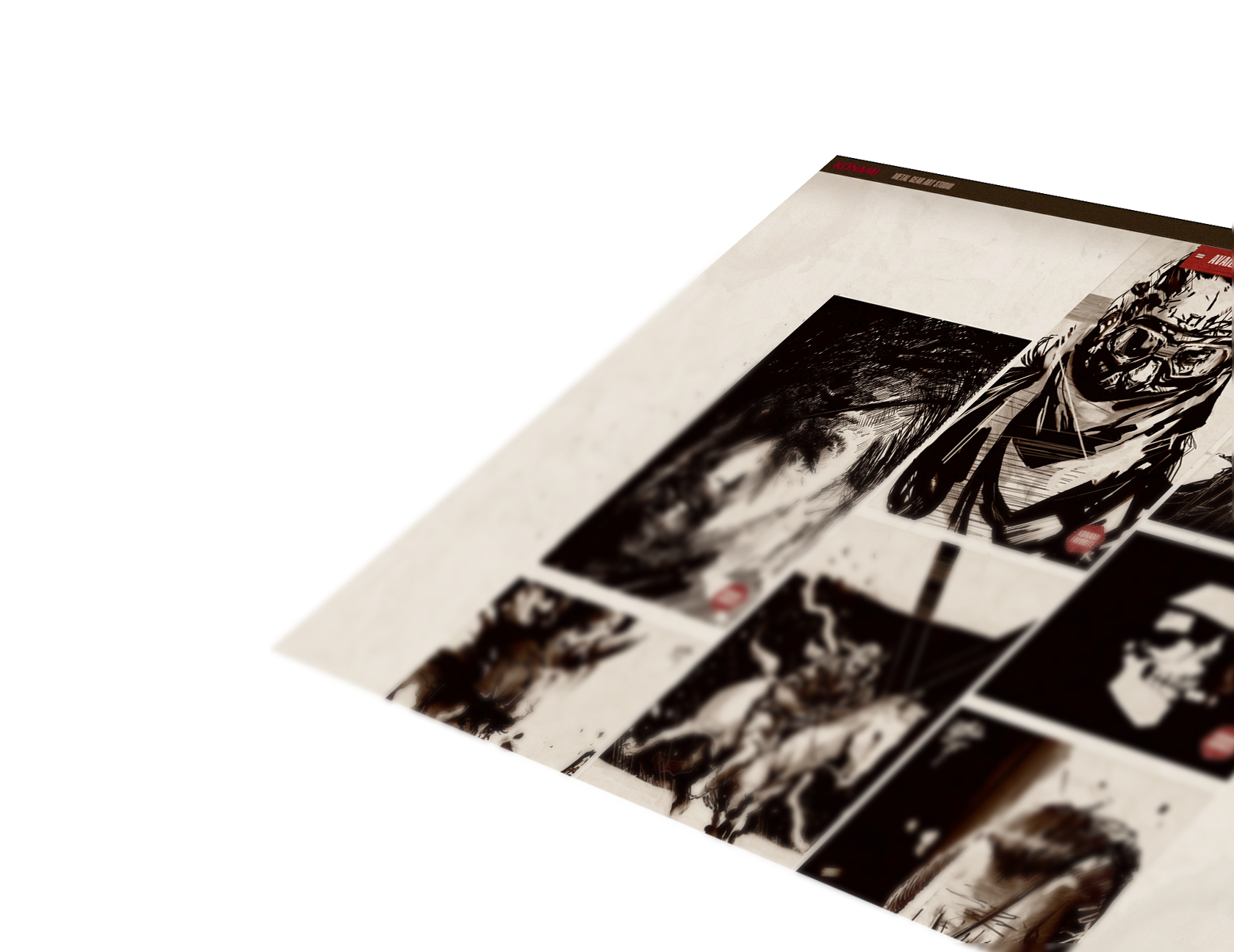 Art contests to keep things challenging
Once the platform was up and running, Konami posted regular challenges to the community. These drawing contests asked for re-imaginations of popular MGS characters and assets. The entries were posted to the Art Studio's gallery page and winners were chosen by the official Konami Art Team.
Attention to detail
We invested a lot of time in getting the details in the design just right. We wanted something light and clean, but still with a certain amount of texture and a "lived-in" quality. Again, the aim for the interface is that it should reflect Kojima's approach to drawing: achieve great effect with minimal brushwork and satisfaction from instant feedback about the canvas.