tesa
Collaborative Engineering Tool
By developing adhesive tape solutions for the automotive industry, tesa meets the needs of demanding complex clients in a rapidly changing scientific and technological environment. To enhance the research and innovation process, Demodern designed a product development and sales tool that offers multiple entry points to consult, configure, and co-create a first-of-its-kind adhesive solution.
Interconnected Experience
For the automotive fair IZB 2018 in Wolfsburg, Demodern designed a studio-like atmosphere where customers and consultants can collaboratively explore the various tools and design a product solution. The highlight of the installation is a 98" screen which displays all product requests that are symbolically connected in a virtual 3D mind map. Realtime rendering in combination with video footage and pre-rendered animations created with Unity 3D, resulted in a cosmos of molecules that constantly change formation based on the users' interactions.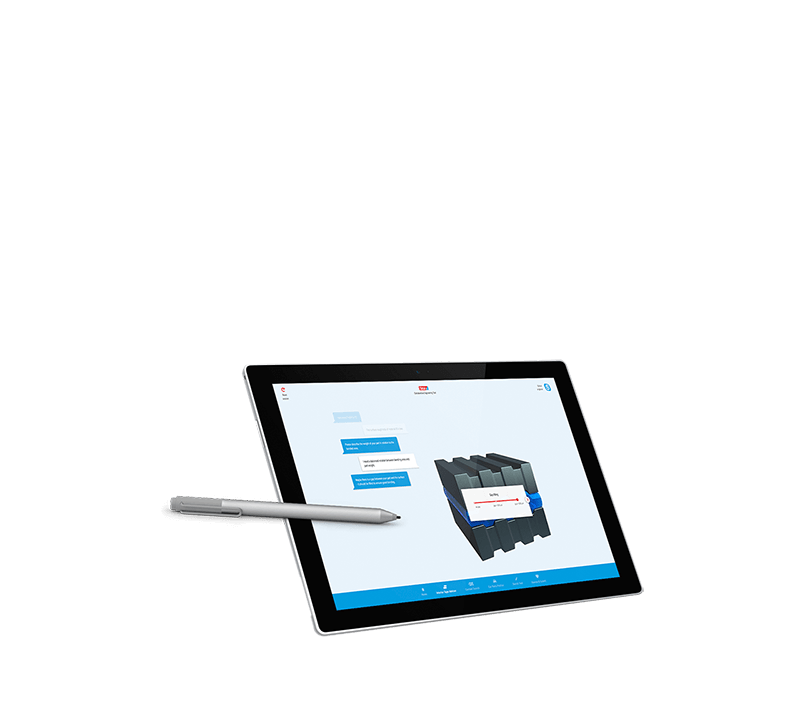 Four tools one goal
As tesa wants to find custom solutions for complex client demands. With this in mind, we developed multiple tools, geared towards different levels of experience and engagement. This achieved one goal: allowing for the best user experience for each individual customer type, and being able to adapt to their needs and problems.
Conversational Interface
Customers who already know what they are looking for are guided by a conversational interface. Demodern developed a functional yet charming tone of voice, and visualized each decision step with 3D infographics of the adhesion type. These 3D infographics simulated the adhesion type's behavior on different materials and surfaces. For maximum realism and accurate feel of the materials, the content was pre-rendered as animated sequences.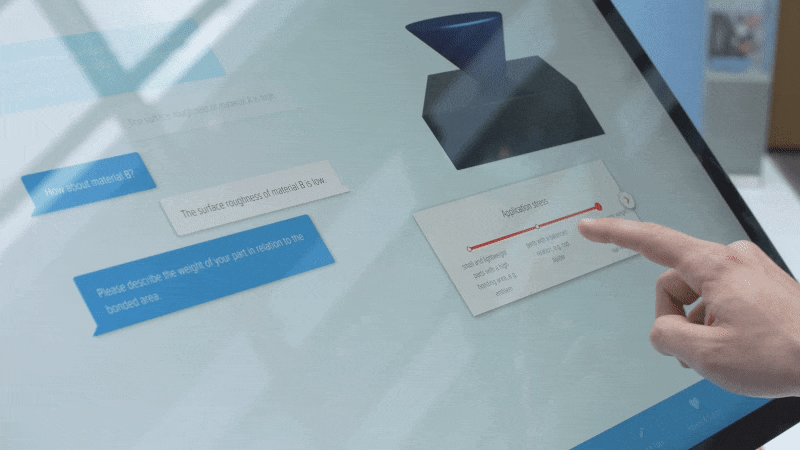 Context Search
Clients are seeking out custom-made tape solutions in the fields of masking, corrosion protection, hole covering, laminating and mounting–yet their specifications change constantly. Demodern analysed all product categories and their existing specifications and properties to sort all products by their attributes. As a result, tesa employees and consultants now have access to an intuitive tag word library enriched by semantic clouds — resulting in an agile and contemporary way to find the perfect product.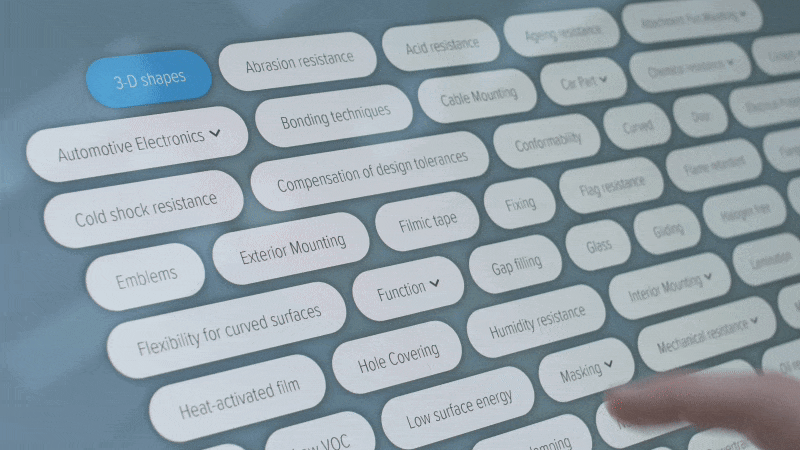 3D Carpart Viewer
Engineers can visually define their challenges in a 3D car model simulation. Application fields are clustered by car parts that can be explored freely. Using high quality realtime render technology with WebGL, the point of interest for the desired application solution can be selected. Then, the user can use a digital pen to draw the challenge directly onto the car part.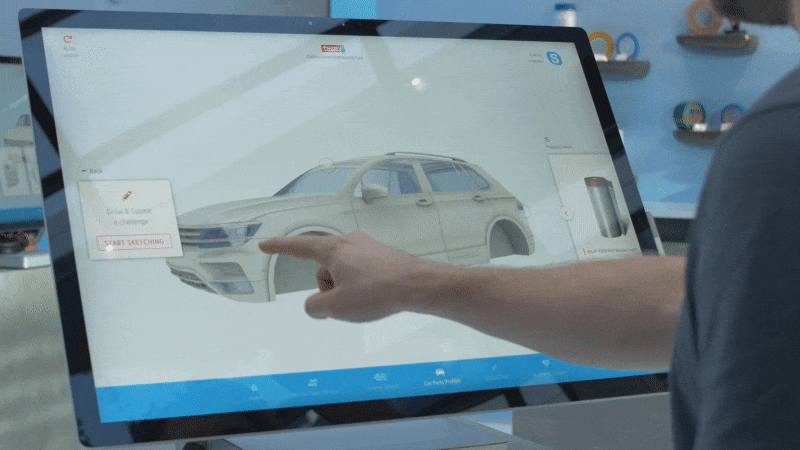 Sketch tool
The sketch tool was built as a native Windows app, and is integrated seamlessly into the umbrella application to achieve the optimal drawing experience with minimal latency and best possible accuracy. In addition, it allows tesa engineers to gain a better understanding about their customers' very specific problems. Combined with the context search tool, a detailed product development brief is generated in just a few minutes.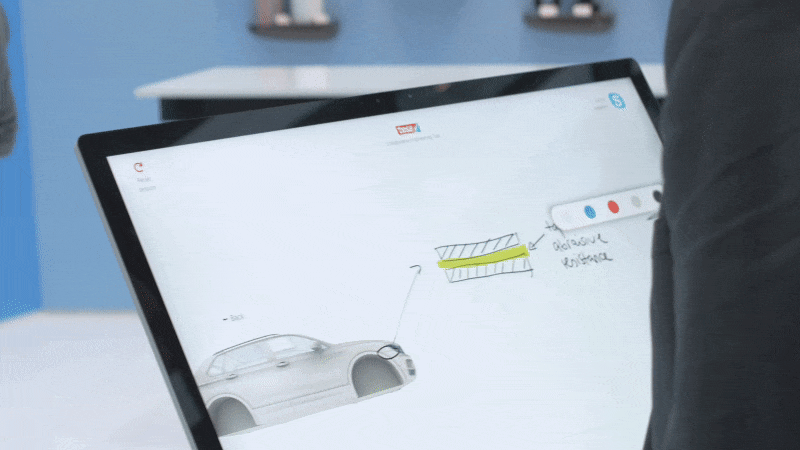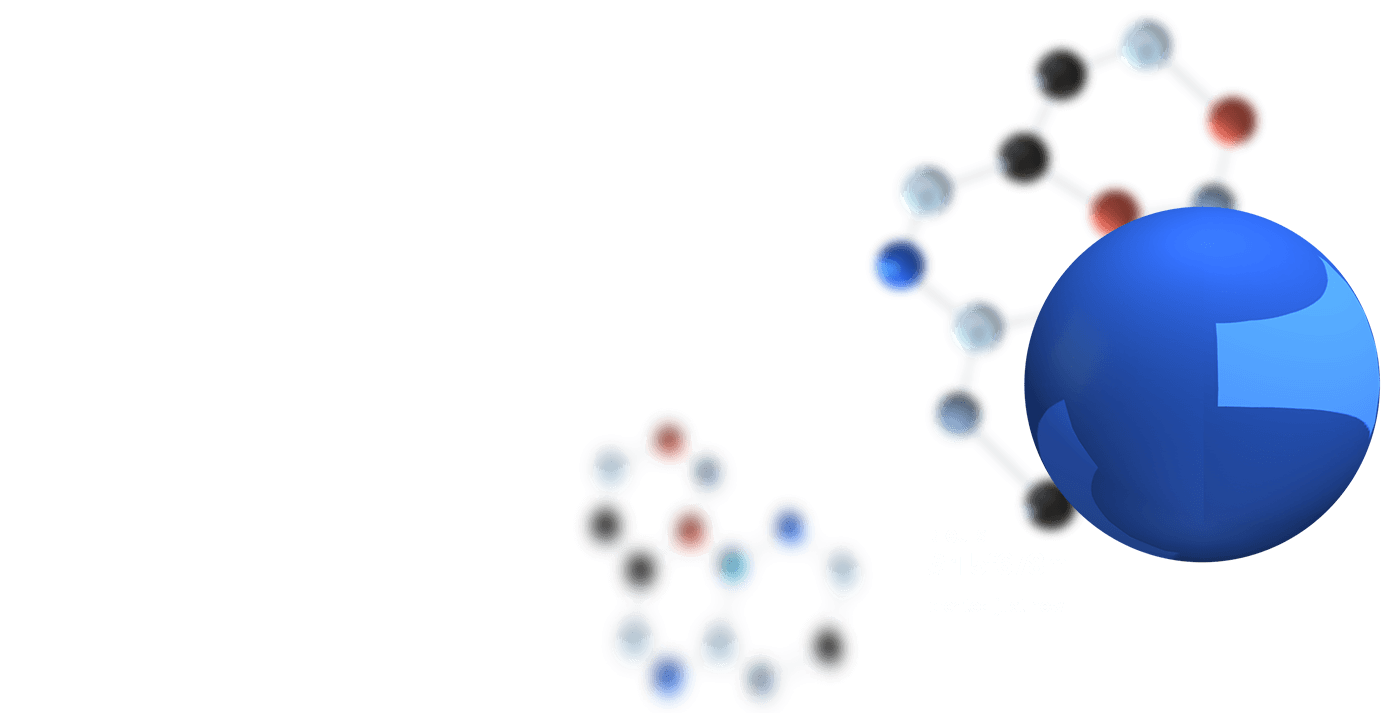 Following up
Each customer request is given a unique project ID that tesa Engineers can track in order to follow up with consultation. This feature also speeds up the production process by clustering similar topics and needs. Customers can receive realtime updates on the development process using the product ID as a tracking code.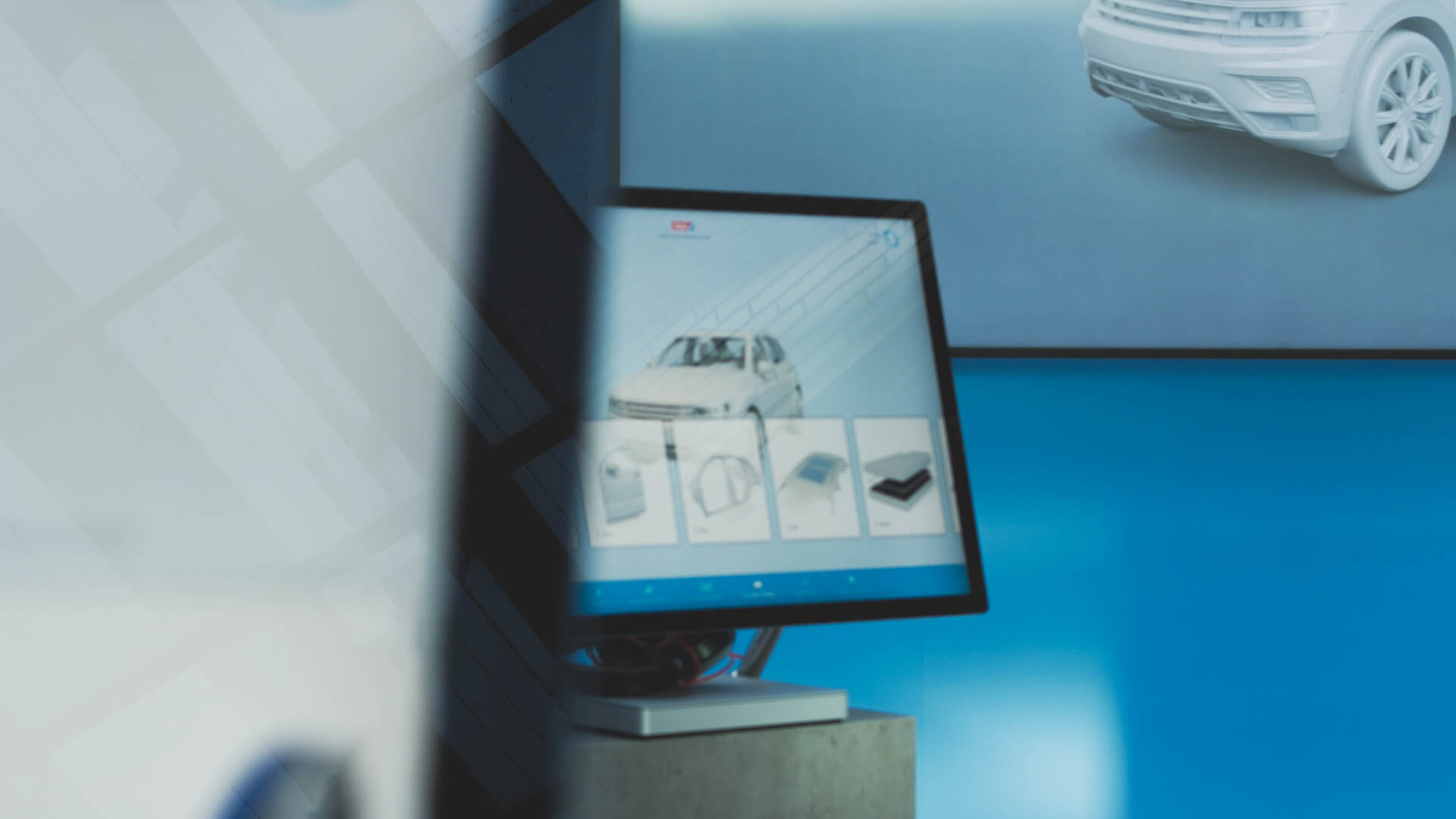 Conclusion
Using a mixture of digital tools, engaging content, and contemporary presentation of information we were able to create not only an interactive exhibition experience, but also improve tesa's process of handling customer requests. Several hundred registered visitors were given advice through the conversational interface, created sketches and were ultimately assisted in finding solutions for their specific problems.
tesa
Collaborative Engineering Tool