Royal Caribbean
Interactive Stories
For a target audience of 3-5 year olds, we created a unique experience introducing innovative and interactive ways for kids to play and learn. Our interactive installation plays a big role in the transformation of Royal Caribbean's Youth and Family programs onboard, introducing the latest and greatest technologies onboard their existing and upcoming ships.
Through the Children's Eyes
"All grown-ups were once children" - one of Saint-Exupéry's famous "Le Petit Prince" quotes. Having said that, we all know how far children's' imagination can reach - we were one of them too, once upon a time! We aimed to connect their constant need to discover new things and find creative ways to solve the simplest challenges to the all-time favorite children's activity: Fairytale Stories. Only this time - we were thinking one step further… How can we have kids interact with the story in ways that allow them to define the story's path?
Interactive Animated Stories with Different Outcomes
With that question in mind, we built the interactive animated Storybook Fairytales in which children actively participate in the narration through physical activities and interaction using our custom-built and designed controllers. In each chapter, they engage in small quests where they - together with the animated characters - should move around the scenarios and solve mild problems to determine the story's path. The kids' actions interact in real-time with the animations appearing in the story, whether helping a character to choose which direction to go by pointing the controller or act out to win an imitation game, turning the children into lead players of the narration.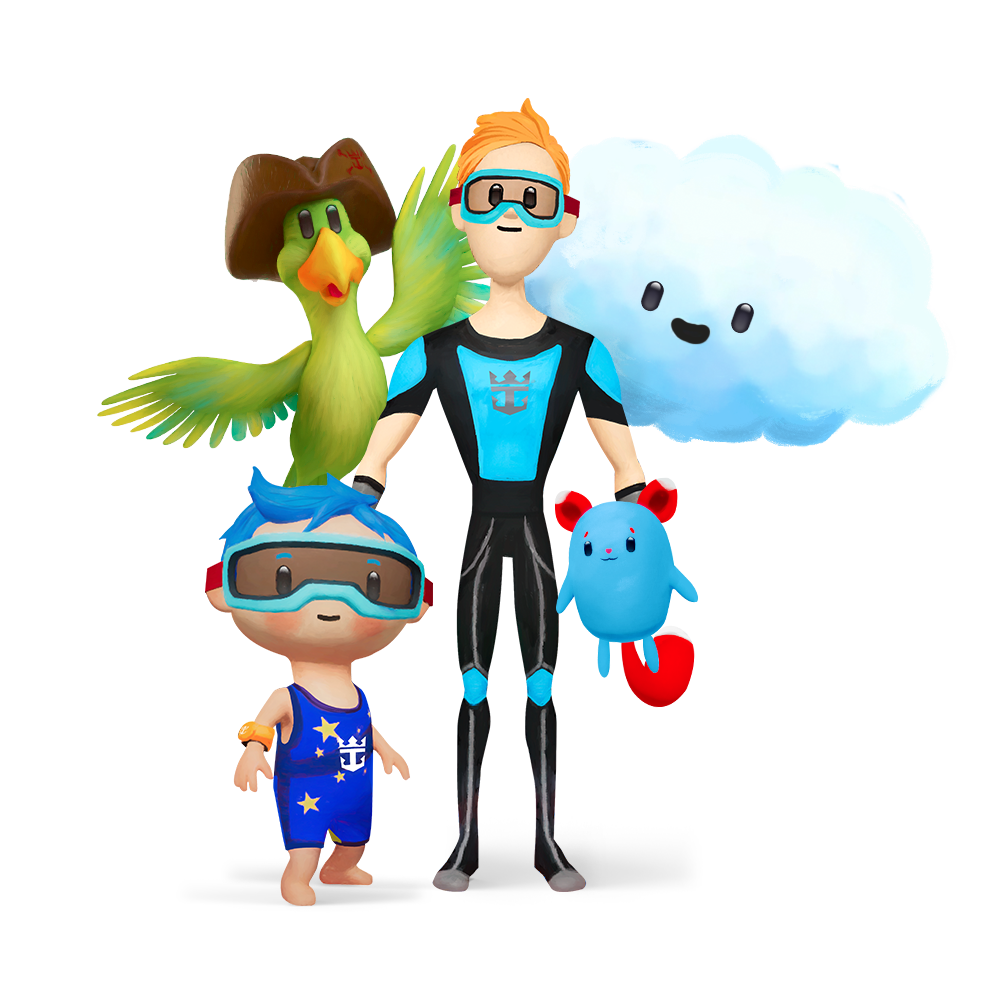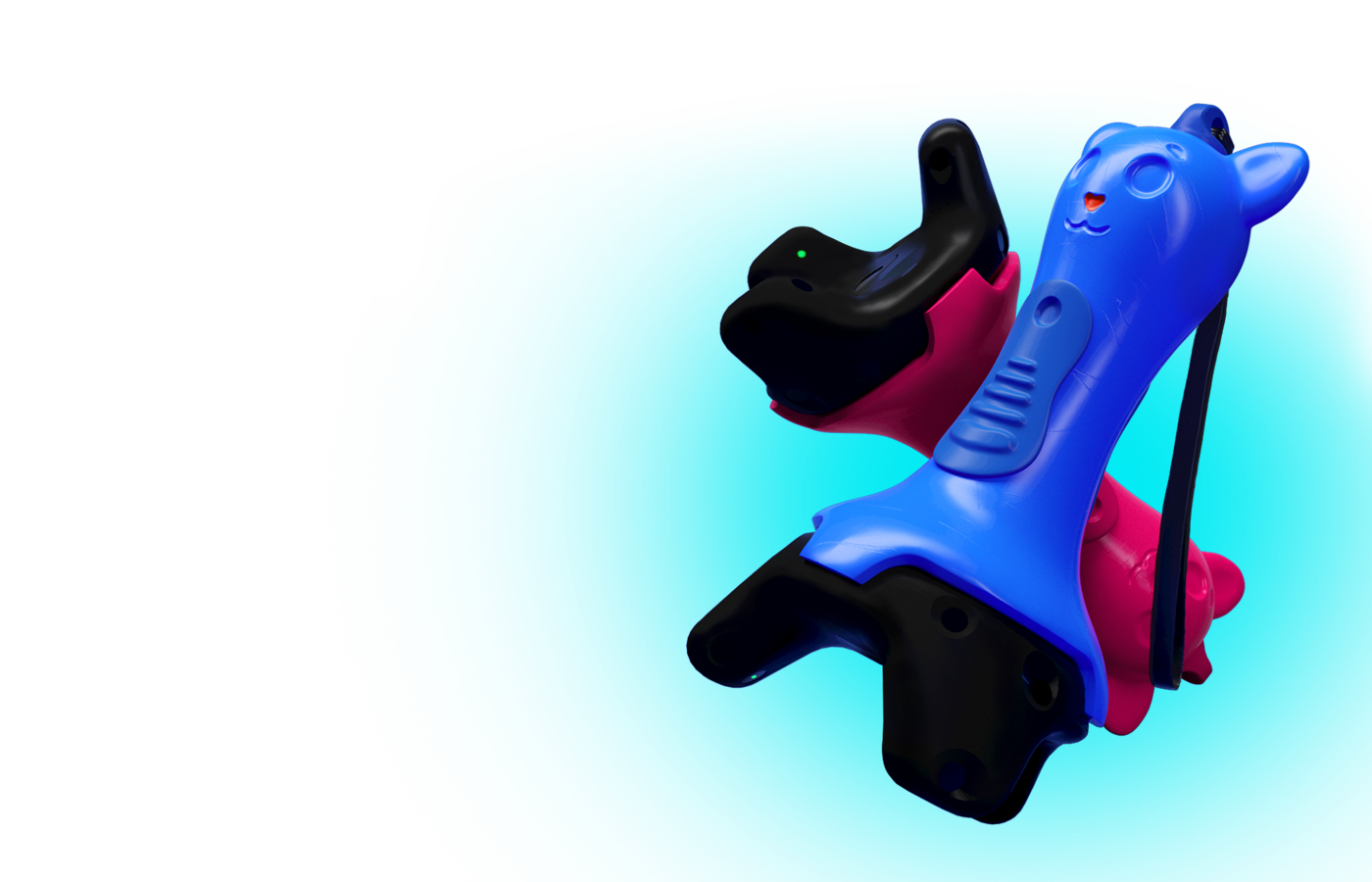 Scream, Jump, Act! And Other Game Interactions
With our main target group in mind, we didn't want to limit the way the audience was accessing the story, but rather extend the way the narration could be controlled. Hence, the gameplay includes other moments that require different kinds of interactions, mostly divided into two categories: sound-based interactions and movement-based interactions. The activity - whether screaming, making a funny face, jumping, following a dance sequence, making a gesture or repeating a rhyme - is detected on a tablet and managed by the narrator, who has the opportunity to personalize the climax and development of the story.
Lulu and Mika: Creating the Characters
In a small village immersed in an enchanted forest, two characters live and encounter amazing adventures: Lulu, a curious and smart kid, and Mika, his shapeshifter friend. While designing our main characters, there were some key elements which we took into consideration: since our audience had to identify with the main hero, we decided to go for a 6-7-year-old character with a humanoid form and defined his personality traits as an adventurer, inventor/curious and ready to have fun and help the others. Having just one main character was lacking something for us, we did not want to make the stereotypical hero-like character that can solve and tackle any situation by himself, so we created a sidekick with special abilities that would allow us to drive the story in different directions during the interactive moments and transport the kids into a more imaginative environment where many things are possible.
From Gibberish Conversations to an Original Soundtrack.
Inventing an entire new world, is quite something! We had to come up with a new internationally comprehensive language for children, asking ourselves if a little Indian girl aiming to play the game would understand what Lulu is saying as clearly as an Icelandic little boy. For that, we worked closely with our Film Music and audio design partners "Loy Production".

And this was their experience working with us on the project: "In Jazz, there are improvisations without words. It is called SCAT singing. This technique was the starting point to invent this universal language of Lulu and Mika. Then we were really lucky to find two talented actors to perform this language behind the microphones: Caro Scrimaldi and Pina Riedel. We wrote one simple but interesting melody which is played in all Lulu & Mika stories. The only variable was the tempo and the choice of instruments. For example, in the Circus story, you will hear more drums and trumpets, while the Underwater story is filled with a sunny reggae music flair."

- Loy Wesselburg -
Putting everything together
The adventures that our main characters experience are mainly story-driven. To be able to seamlessly transition between story and action, we used Unity to create all sets as fully realtime 3D environments. For story sequences, animations were created in Maya and then transferred into Unity's own timeline system. This gave us full control over the animations and allowed us to create cinematic visuals. When the story arrived at an interactive moment, we would transfer control over to the children and allow them to directly trigger and control animations of items or characters on screen. These were also created in Maya but the children were able to control the intensity or blend between several motions, so that simple inputs could translate into exciting and engaging actions on screen. The stories are narrated by a crew member. For that, we created a tablet application that directly communicates with the storybook and gives them story hints and action queues, as well as allowing them to take control of interactive moments and decisions.
Each story lasts around 10 minutes with branching storylines and up to 14 interactive moments per story.
One last thought...
"Lulu & Mika have become part of the Royal Caribbean family. Since launching the interactive storybook, thousands of Adventure Ocean Juniors & crew have made vacation memories with Lulu, Mika and all of their new friends on daily adventures. This is just the start of these lovable characters becoming a part of the Adventure Ocean & family experience on board."
Jared Finegold, Senior Manager Emerging Products & Digital Innovation
Royal Caribbean
Interactive Stories