PwC Germany
PwC Virtual Spaces - Business Metaverse Solution
"PwC Virtual Spaces" is the world's first comprehensive Business Metaverse Solution that enables collaborative work for PwC Germany internally as well as it's clients. We collaborated to conceive, develop, and implement a platform which encompasses various use cases ranging from daily business operations to customer communication and HR. PwC Virtual Spaces innovates in the use of a Business Metaverse while meeting the highest security standards, ultimately providing an immersive and accessible brand experience.
Set a New Benchmark
From the start, our shared objective was to create an innovative platform that not only revolutionizes the company's daily business practices but also makes a significant impact in a fast-paced industry.
Covering All Bases for Everyone
Having a bold goal is one thing, but integrating and implementing an environment for nearly 12,000 employees while upholding the stringent security standards of an accounting firm posed the primary challenge of this project.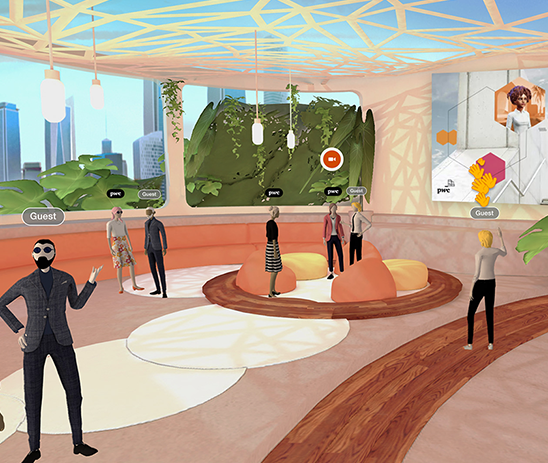 The Concept
Our concept was to create a comprehensive web solution that would allow associates and clients to navigate their virtual business avatars through picturesque work and event locations, fostering more focused and accessible interactions across international boundaries at all times.
Getting Started
With the common objective to lead by example, we developed a virtual collaboration solution with PwC while working remotely, conducting our daily meetings and project reviews within the platform itself. By immersing ourselves in a real use case, we were able to progress the project by implementing a well-informed strategy and design from scratch.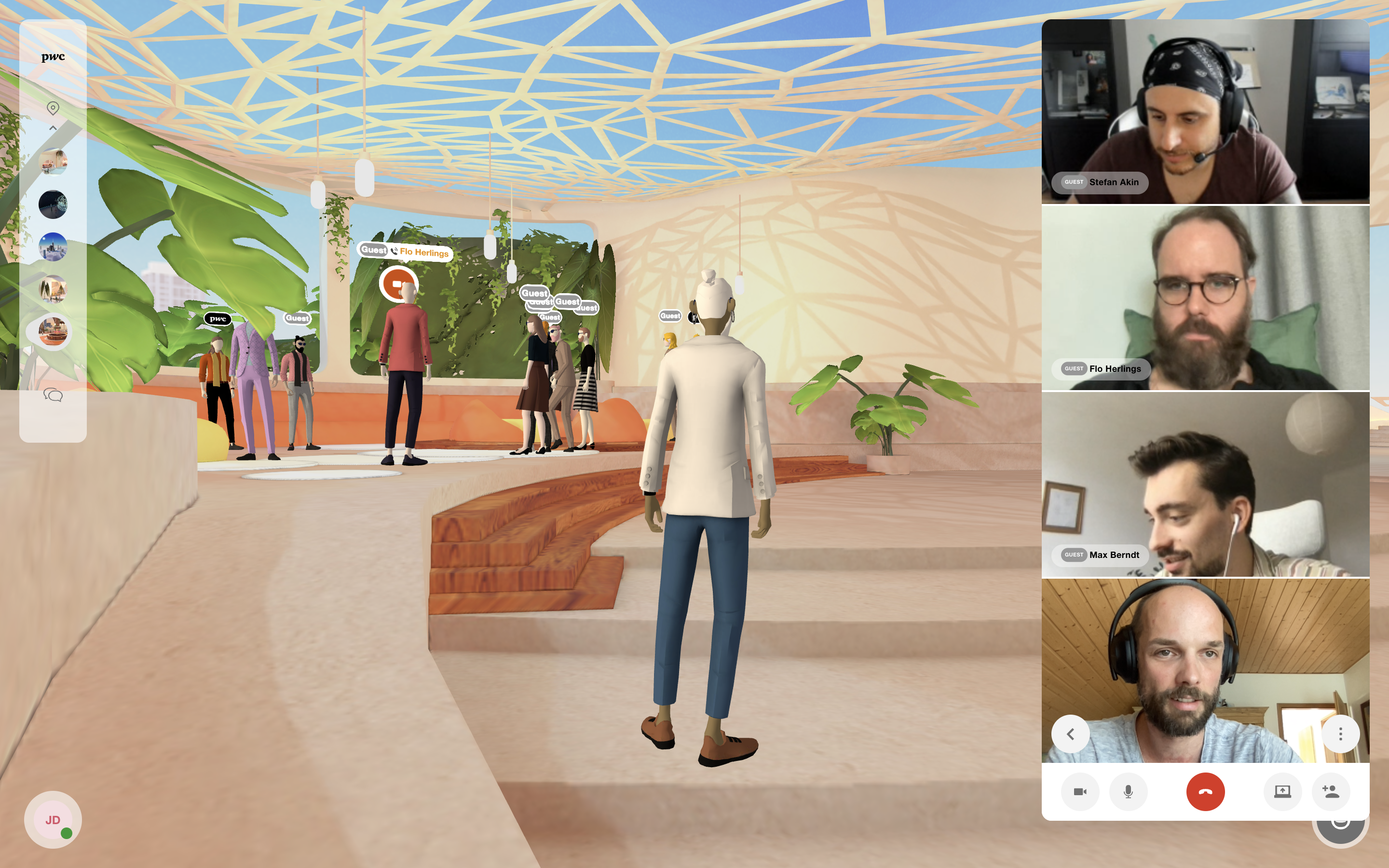 Use Case First
By custom designing and modeling a complete set of virtual environments, we created context-specific spaces for hosting various business use cases. These include enabling colleagues to conduct daily meetings and workshops, allowing executives to deliver live-streamed presentations to the public, and providing digitally savvy graduates with an immersive platform to engage with inspiring brand content.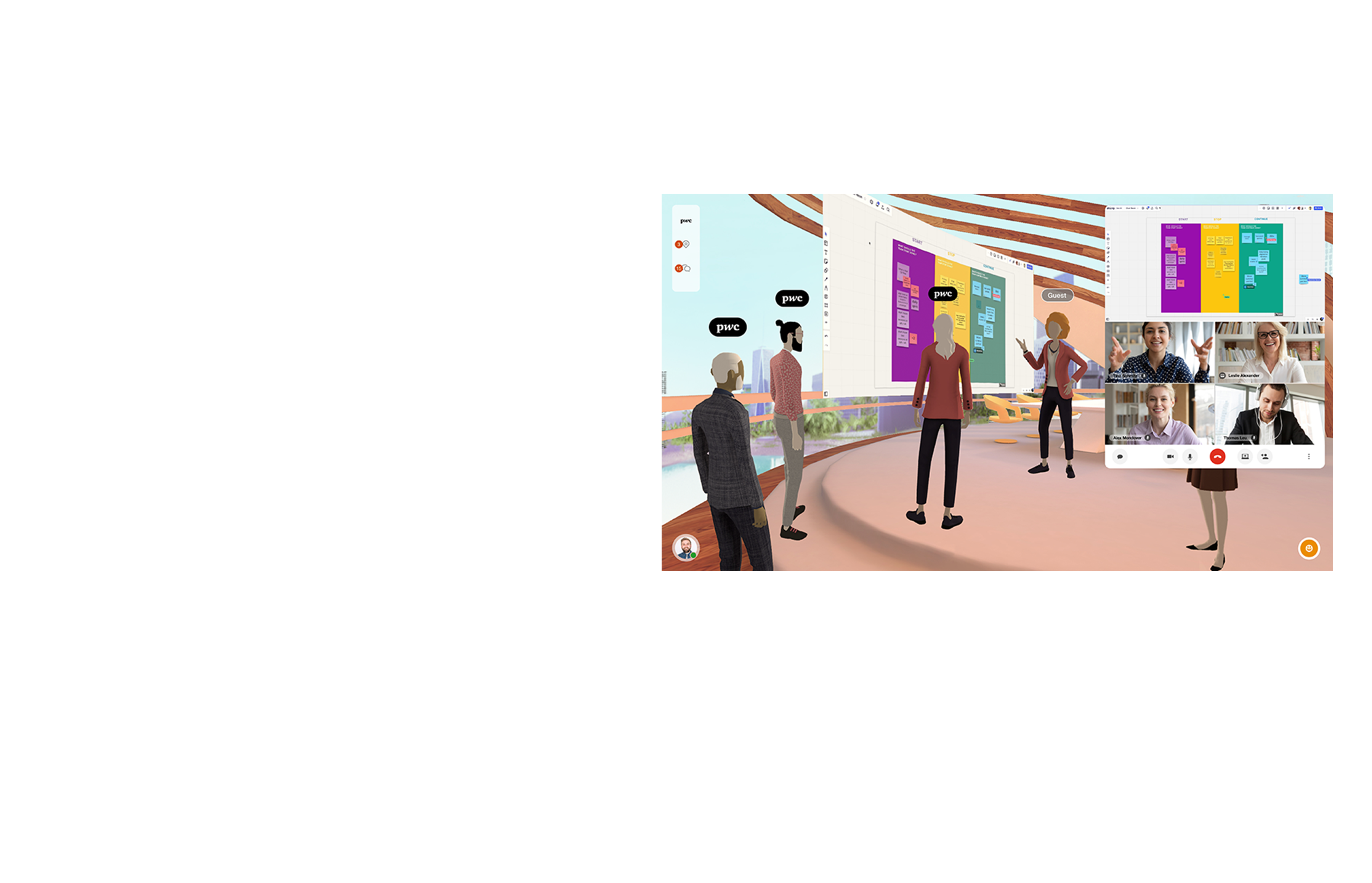 Talking Business
Every last detail corresponds to PwC brand values which are turned into design principles that inform the virtual spatial architecture throughout. Other features such as face-to-face avatar interactions as intuitive video calls for group or individual conversations further ensure natural dialogue situations.
Business avatars
The look and feel of the avatars have been fully aligned with PwC's requirements. In the avatar configuration, a comprehensive catalog of business fashion options is available for users to choose from.
Highest security standards
In order to run their own platform internally, the project was required to be custom built to meet crucial INFOSEC and PwC compliance standards of the highest level. With the ultimate goal of rolling out a new inspiring and efficient virtual business tool to employee devices across the German workforce and beyond, the solution was to be browser based yet securely impenetrable.
Built from scratch
The entire platform experience is powered by a custom-developed infrastructure named "REH", which marries a tailor-made combination of various technologies and frameworks with a custom 3D model, texture and lighting pipeline.
Doing Business in Virtual Spaces
We created an environment, where new work practices and modern tools meet the highest security standards, creating an immersive and accessible brand experience.