PETA "EYE TO EYE"
Mobile VR Experience
For PETA, the world's largest animal rights organistion, we developed in collaboration with Kolle Rebbe an unparalleled virtual reality experience that puts people face-to-face with a rabbit that's suffered cruelty. In the original experience – a travelling exhibition designed for a limited number of people at events, users engaged in a personal, live dialogue with the animal. Our goal was to provide this unique experience beyond the live conversation during PETA's Truck Tour, making it available for everyone worldwide.
A bespoke experience for everyone
The challenge: How to convey the emotional feeling of a personalised live conversation within an experience for the crowd? In collaboration with Kolle Rebbe, we developed an interactive story, based upon the most memorable conversations and insights from the live experience. In self produced 360-degree videos, the rabbit guides the user through the animal's world. Viewers will experience completely different storylines depending on their interactions with the rabbit and their preferences.
WebVR enables ease of use
In order to make the experience easily accessible and sharable, we used WebVR as the framework. This allows the user to easily experience the application via browser on both mobile and desktop devices, as well as on various VR headsets. Therefore, we optimised the mobile application for both aiming at both mobile and home use. Footage derived from Live Experience
The 360-degree videos are based on the environments and scenes of the original live application. For this, we recorded a script in which all information, video, body & face tracking were taken from the live experience and subsequently rendered as high-quality 4k video.

In order to provide the user with a smooth experience even at lower bandwidths, we decided to use HLS streaming. A technology that adaptively plays out a corresponding video stream based on the available bandwidth.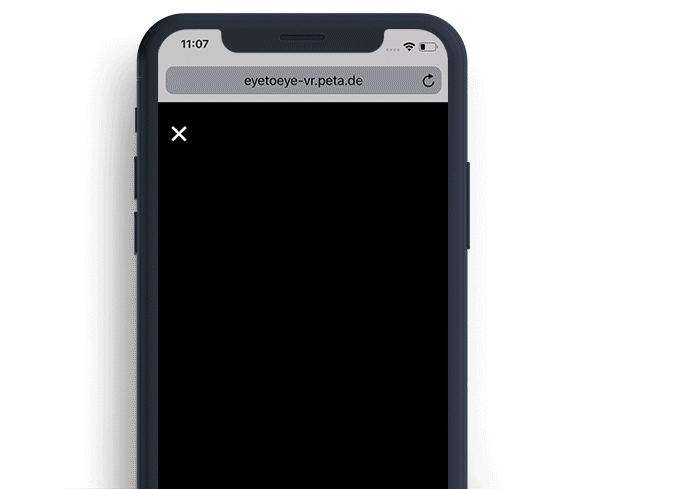 Inspiring people worldwide
Like our live experience, the mobile VR application inspired several thousand users all over the world to date and makes them think. In fact, since its launch in July 2018, 35.000 users have already used and shared the mobile VR Experience in large numbers. It's now being used by PETA at various events and festivals worldwide and is available in both German and English.