Esche Jugendkunsthaus
NICE - Sneaker unterm Hammer
The Esche - iconic Hamburg youth art house and street art institution - faced covid-related gaps in its donation pot. The plan matched it's culture - a sneaker art auction "Nice - Sneaker unterm Hammer". Over 60 pairs of sneakers were exclusively designed by young artists of the house and supporting greats of the hip hop scene. The Demodern part: the design for the whole campaign as well as the website - a somewhat different virtual gallery that fits the ash like **** (you know).
Sneakers turned into Art
The sneakers were auctioned off to boost the donation balance while bringing the Esche back into the collective awareness. And we had the chance to support. Our goal with the designs and the website: to showcase the sneaker artworks, to inspire potential donors and to activate as much audience as possible for the live auction. But above all, to credibly represent the style of Esche and its young artists.
Web design at its best
While almost 60 artists from all over Germany designed their very personal and unique sneakers, we developed in close cooperation with the Esche and Beatboy Delles - so to speak THE Esche mentor for visual street art - the appearance of "Nice" and especially it's website. All to give the artworks and artists a suitable stage, to announce the auction and to recommend the Esche to interested people.
For a good cause
Over a period of several weeks, sneaker fans were able to place bids for the art pieces. In addition to the kids' sneakers, there were also exclusively designed shoes from Jan Delay & Co. up for grabs. Finally, on auction day, which took place at the Affenfaust Gallerie in Hamburg, live bids were added. The entire proceeds of 25,000 euros went to the Esche Jugendkunsthaus ("the Esche") in Hamburg and will thus continue to offer young people the opportunity to live out their creative skills - from breakdancing to rap to graffiti.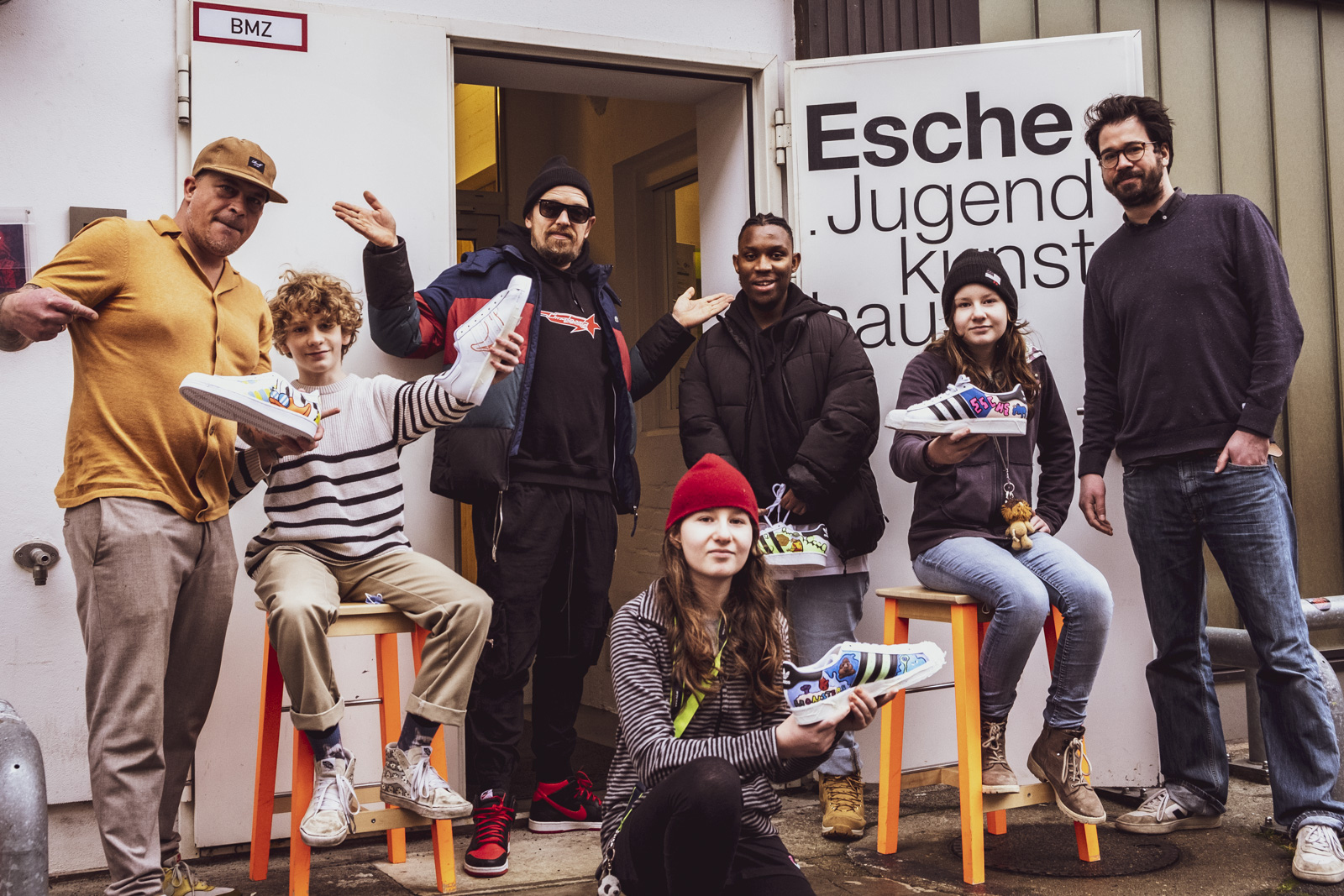 Scrolling first
To accompany the campaign throughout the entire period, we worked hand in hand with Esche protagonists and supporters to design a website that showcases the artworks vividly and celebrates the motto "Nice - Sneaker unterm Hammer" with playful highlights. Details and contents are revealed via "Hammer" per scroll & click. Images and elements tell their own story as you hover. The process itself was based on the motto: fun, collaboration and creativity.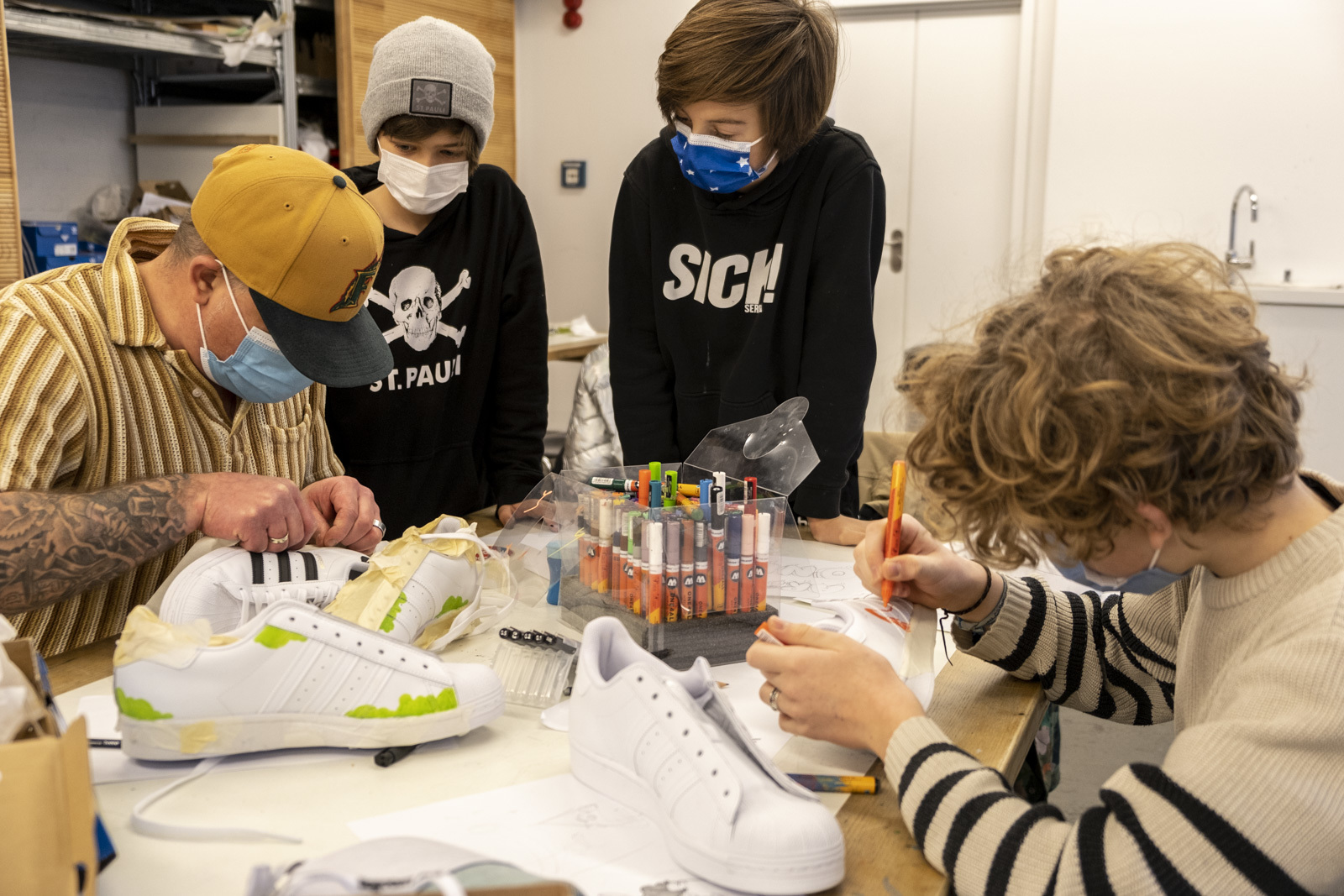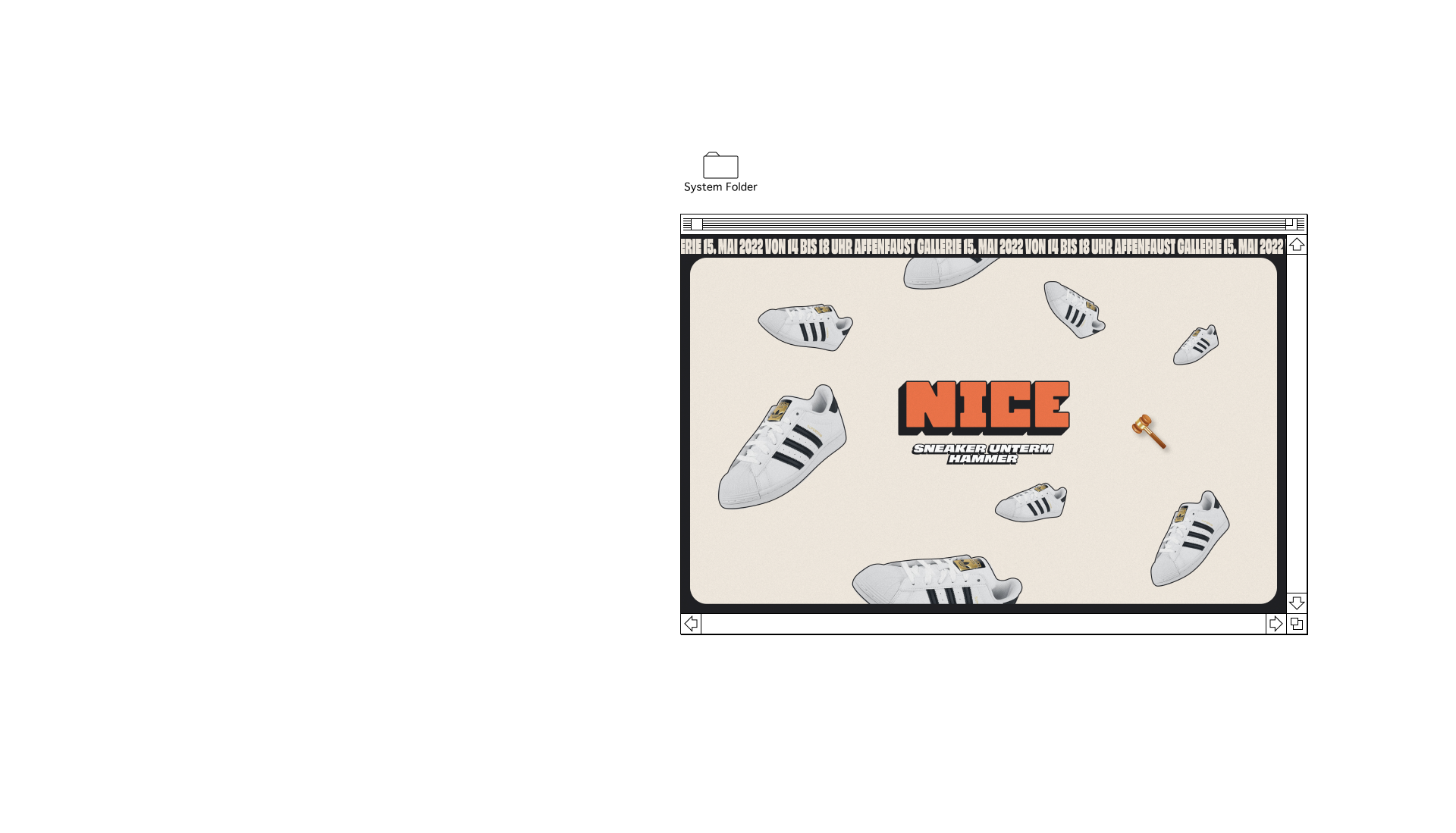 3, 2, 1, mine!
In mid-May, the Hamburg Affenfaustgalerie hosted the big auction day with numerous visitors who were able to bid for the highly coveted sneakers.
Esche Jugendkunsthaus
NICE - Sneaker unterm Hammer