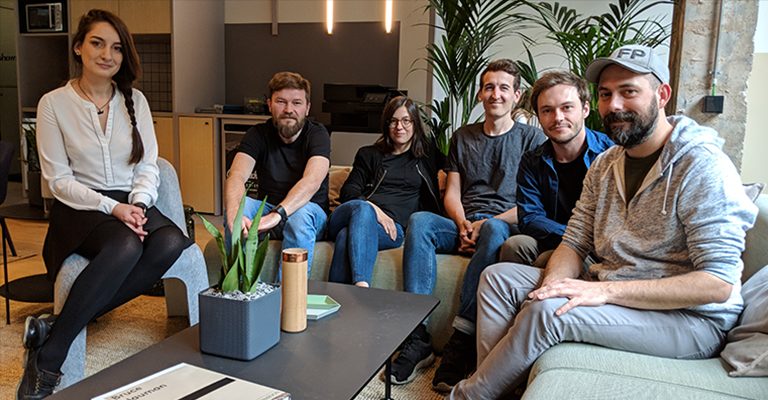 Claudia on 4/12/2018
Demodern goes Frankfurt: Our third location opens its doors in the city at the river Main
Cologne / Hamburg / Frankfurt am Main, April 12, 2018 - Let's Push Things Forward! Our claim will also be heard in Frankfurt from April onwards, because - drum roll - we are opening a third location in the city of green sauce, Äppelwois and Handkäs' to enrich Frankfurt with our expertise in design, creative technologies and user experience. The team is also already up and running: with Marius Bulla as Director Creative Engineering, Eva Schommer as Account Director, Dominic Opitz as Creative Technologist, Christof Pohl as Creative Technologist, Valeriya Krasteva as UX Designer and Sebastian Schuchmann as Creative Engineer, Kristian and Alex hired six excellent digital specialists. In June, the top creative Andreas Schmidl joins us as creative director.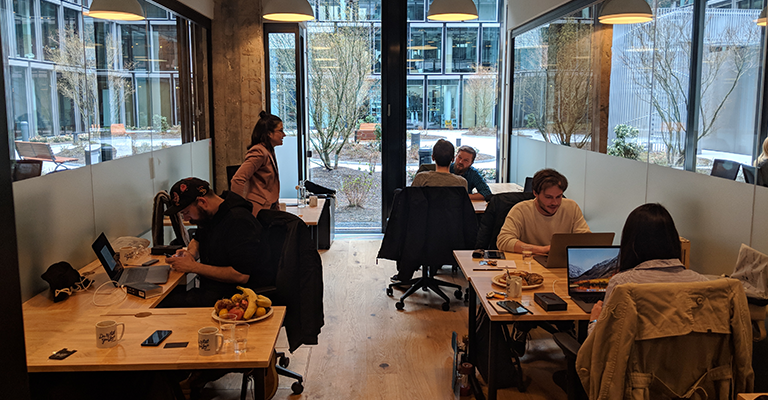 "Our locations in Cologne and Hamburg have developed greatly in recent years and have grown considerably. Therefore another location was the logical consequence for us from a personnel strategic perspective. Not only because of the international atmosphere that prevails in the city: In Frankfurt we find extremely talented people who want to work with us in new ways of communication and want to realize innovation-driven projects for exciting customers, "says Kristian from Cologne. The seven-member team in Frankfurt acts without local CEO and is completely self-sufficient - according to our concept of self-responsible working, which has convinced not only the new Frankfurt colleagues from us as an employer and agency. "Our flexibility and creativity is a major benefit for our customers. With the expertise and know-how of our new employees, we offer them the most innovative and creative solutions, strategies and technologies even more effectively than before ", says Alex from Hamburg. The experts will initially start at WeWork Goetheplatz, the search for a suitable office is currently ongoing.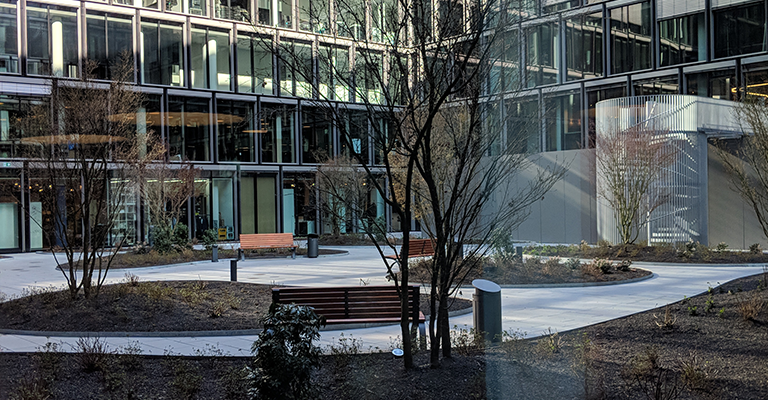 Part of the Frankfurt Demodern team are the following seven digital specialists:
As Director Creative Engineering, Marius Bulla (40) assumes the technical lead in Frankfurt. He also comes from SapientRazorfish, where he spent 18 years working for clients such as Samsung, DHL and Audi in various positions, most recently as Technical Director. He will develop creative projects from a technical perspective and will bring us with his technological know-how to a higher level.
Eva Schommer, 37, joins the Frankfurt office as an account director and will actively help to build it up. Before joining, she worked as Account Director Digital at Zum Goldenen Hirschen, Frankfurt, and most recently in the same position for SapientRazorfish in Frankfurt. In her career, she has been in charge of clients such as Fiat Group Automobiles Germany AG (Jeep, Fiat, Alfa Romeo, Lancia Abarth, Fiat Professional), IKEA or ProSiebenSat.1 Media SE. She will demonstrate her many years of expertise in account management, project management and consulting for us.
Christof Pohl, 38, joins our Frankfurt team as a Creative Technologist. His last stop was Cheil Germany, Schwalbach am Taunus. He worked for brands such as Samsung, BMW and Telekom and developed as an application engineer augmented and virtual reality applications. In addition, the 38-year-old founded the "Studio Color Space", which is specialized in video mapping and interactive installations. Christof will especially promote AR and VR projects for us.
Valeriya Krasteva, 30, joins us as an UX designer. After her bachelor degree in "Digital Media Animation and Game Development" and her time as an UX architect at SYZYGY, she now starts at our Frankfurt place. With her focus on the design of interactive applications and her experience in the development of games, she will strengthen and expand our expertise in these areas.
Another expert is the 29-year-old creative technologist Dominic Opitz. He comes from SapientRazorfish and most of the time he worked in London. As Senior Developer Mobile Solutions, he was in charge of clients such as Audi, McDonald's and Hugo Boss at his previous employer. He will use his good eye and analytical thinking to develop web and mobile projects.
Sebastian Schuchmann, 21, already convinced us of his talent as an intern in Creative Engineering at our Hamburg location. He is studying Interactive Media Design at the University of Applied Sciences Darmstadt (HDA) and therefore stays with us as a working student in Frankfurt. During his internship in Hamburg, he experimented with new technologies such as face tracking, body tracking or VR and successfully used them for customer projects.
More articles about our new location
Demodern eröffnet ein Büro in Frankfurt... HORIZONT
Demodern nimmt am Standort Frankfurt am Main die Arbeit auf... ONEtoONE
Demodern eröffnet dritten Standort in Frankfurt... newbusiness